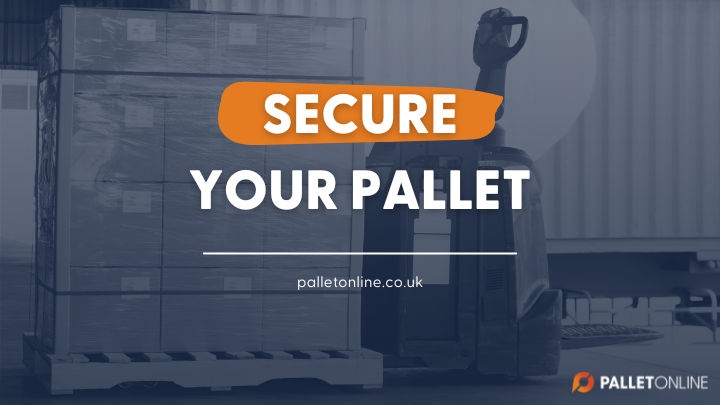 While this may not be your first time using a pallet courier, can you honestly say that you know the easiest and quickest ways of securing your pallet?
Apart from knowing courier regulations and restrictions like the back of your hand, understanding the importance of securing your pallets is equally as important.
Luckily, being a pallet courier ourselves, we can tell you everything you need to know about packing and wrapping your pallets ready for their journey.
Without further ado, let's begin...
1) Wrap Each Pallet by Hand
Wrapping a pallet can take time, effort and cost money too.
But knowing how to wrap a pallet easily by hand will make the process feel like less of a chore and more of a handy task!
Wrapping can either be done using equipment that the professionals use or simply without (the manual way!).
Either option works well, but when wrapping by hand you may like some reassurance that you're on the right lines, right?
Well, listen up! We can help you out a little...
Just before you start, if you have access to a turntable this would help take the hassle out of walking around the pallet to wrap it all.
This handy little tool is a platform that turns 360° with your pallet sat on top, allowing you to stand still with the pallet wrap to palletise your goods.
Plus, you can use a pallet jack to lift the pallet with your items loaded release it onto the turntable and start the pallet wrapping process with little to no effort needed from you.
There are several tools and pieces of equipment you can use to help palletise your goods, but if you don't have access to any of them, don't worry!
Wrapping your pallets by hand can be done just as easily with a little help from your friends, colleagues or relatives.
But while we're on the topic of wrapping, it also helps to have a pallet wrap dispenser (you can find them on Amazon.co.uk) for your wrapping material.
This takes the pain and hassles out of having to physically unravel your pallet wrap every few seconds.
Essentially, pallet wrap dispensers serve the same purpose as a tape dispenser and just makes the job that little bit easier!
But again, it's not a crucial toll as long as the pallet is wrapped to meet the courier's regulations and guidelines.
2) Make Sure Your Pallet Wrap is Waterproof
Honestly, you'd be surprised at how much difference pallet wrap makes when shipping pallets through a network.
Pallets can be moved up to 8 times on their way to the delivery point.
For this reason, wrapping them properly is crucial when it comes to the protection of your goods.
Pallet wrap is an extremely effective and efficient way to wrap pallets for storage, shipping and distribution.
The stretchable plastic film keeps items tightly bound, and indeed, waterproof once wrapped.
But if there are holes in your pallet wrap once applied, protecting your goods from water damage is virtually impossible.
Proper use of pallet wrap will also help keep your items secured together from the collection to delivery point, too.
Not only does pallet wrap protect against damage and prevent items from falling from the pallet itself, but it also helps to keep everything sheltered from dust and debris!
Though you may not have ever seen a warehouse in person before, just know that they can get very dusty, very quickly.
3) Make Sure There's NO Overhang!
If your items overhang the pallet by even just 1 or 2 centimetres, most pallet couriers will refuse to handle your goods.
For your pallet delivery to run smoothly, there needs to be plenty of space between all items and each side of the pallet.
Pallet couriers very rarely accept shipments of items that don't fit comfortably on the pallet base.
Essentially, if your item hangs over the edges of your pallet, it's more likely to damage neighbouring pallets.
Plus, those overhanging items are far more likely to become damaged in transit, i.e. parts may snap off or become chipped after being knocked about.
4) Pack Just Enough Boxes
The average full pallet can hold around 60, 12'' tall, wide and long. But remember that you shouldn't stack these any taller than the maximum height specified by the pallet courier.
Also, space depends on pallet size, i.e. a quarter pallet will hold fewer boxes than a full pallet would.
The more boxes you need to ship, the larger the pallet size you will need.
But it works both ways as the fewer boxes you have, the smaller the pallet size you are going to need.
5) Invest in Some Straps
Finally, strapping your pallets is the best way to maximise security during their journey.
Despite what you've heard, it's down to you to provide straps for your pallets if you wish to lower the risk of damage. The courier plays no part in this.
Online is the best place to start looking for pallet straps. You can either buy ratchet straps or a roll of pallet strapping tape, but they are equally the same price.
You can get 1,000 metres of pallet wrap for under £20 or you can buy sets of 2 ratchet straps for less than £10 from certain online businesses, like Screwfix and B&Q.
About Our Pallet and Wrap Service
As a leading pioneer in logistics and pallet distribution, PalletOnline offers some of the most competitive rates in the industry.
We don't just provide the best pallet delivery services, we can also palletise your items before collection takes place.
At PalletOnline, we have our very own Pallet and Wrap service whereby our drivers load and wrap your pallets for you.
Pallet and Wrap is just £25+VAT and includes the pallet wrap and the pallet itself.
This service is only available in certain regions, so if it is available in your collection area, you should see Pallet and Wrap in the checkout.
Also, the actual wrapping of pallets normally happens back at the collection depot but may take place upon collection.
This depends on how much time the driver has to complete their remaining collections, but also, whether they had enough space on their vehicle to bring the pallet and pallet wrap with them.
As long as you have selected the Pallet and Wrap service at the checkout, all you need to do is make sure you have your items ready to collect along with any additional protective packing materials.
Please note that strapping materials are not included in this service.
As mentioned above, you would need to provide any pallet straps and hand them over to the driver at the point of collection.
They will then be able to attach the straps once your goods have been fully palletised.
Also, if the driver leaves without palletising your goods, try not to worry too much!
This is common with Pallet and Wrap and just means that the driver may either need more pallet wrap, an additional pallet or has run out of time to palletise your goods before completing their collection.
If this happens, your items will still be loaded, wrapped and secured to a pallet ready for delivery. It just means that this will take place back at the collection depot instead.
We would never forget - how could we? After all, we are leading industry pioneers!