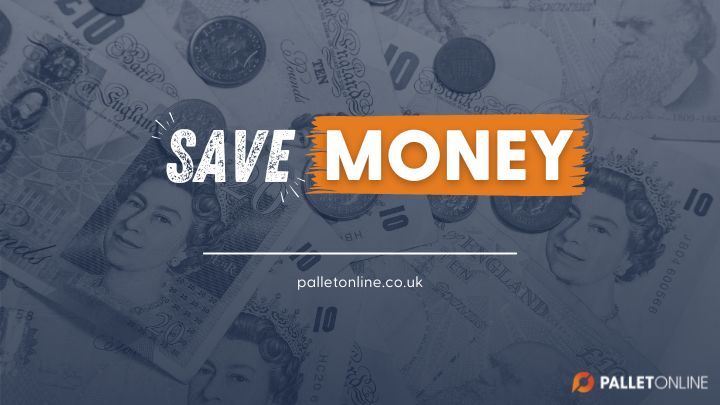 As long as you have too many goods or items too large for normal couriers, almost anyone can send a pallet. But the real question is, how do you save money shipping pallets?
Like we said, almost anyone can send a pallet but not everyone knows how to keep shipping costs to a minimum.
Luckily, we are here to tell you how you can save money by sending goods as pallets!
Let's dive right in!
How Do You Ship a Pallet?
Essentially, pallet deliveries are available to anyone and everyone so long as you are sending items that are accepted through the couriers' delivery network - make sense?
Let's say you promised a friend that you would send them 10 boxes of frames for their new home.
Now, a normal courier would likely say no and advise you to go to a pallet courier instead. But what is a pallet courier, you ask?
Well, a pallet courier is more or less a courier that can ship larger items or items of a larger capacity - get it? And this is normally a cheaper shipping method too!
In the scenario above, you would get a quote from your local (trusted!) pallet courier and begin packing your frames ready to ship to your friend in their new home.
To ship pallets with no issues, you will need the following materials:
The correct sized pallet
The correct number of pallets
A tape measure
Plenty of pallet wrap
A handheld heat gun
Additional strapping materials, like ratchet straps
All labels (normally provided by the courier)
As long as you have ticked everything off that list, you should be good to go.
At this point, all you need to do is find yourself a reliable, cost-effective and efficient pallet courier to collect and deliver your items on the day stated - lucky you found us!
What Are Loose Cartons?
Put simply, loose cartons are just individual shipments of fewer boxes - much less than a pallet can hold.
Such deliveries typically cost more than pallet deliveries and are harder to track through their journey.
There are more shipments, thus more tracking numbers and this demands more time and attention!
If all items are headed to the same place, i.e. if you have a large-scale retail customer and you need to ship multiple things out to them, then a pallet delivery is the most affordable way to go.
You will find it much harder to keep track of your items if they are shipped in loose cartons rather than together as pallets.
What is a Standard UK Pallet?
Essentially, the term standard is just another way of saying 'widely used'.
A standard UK pallet measures 1.2m by 1m (1200mm x 1000mm) and is used widely in logistics and pallet distribution.
Not only are standard pallets used by pallet couriers to transport goods, but they are also used by smaller businesses to store and safely transport their goods.
Also, standard UK pallets can hold items as heavy as 1,000 kilograms but as you can imagine, you may need a little help moving them.
Without the help of a pallet courier, you run the risk of damaging your items or causing harm to yourself and others around you.
On another note, weight and height restrictions generally vary depending on the size of the pallet - make sense?
For example, a quarter pallet can be no taller than 60cm (including the height of the pallet) and weigh no more than 250kg. These limits will increase the larger the size you select!
Standard Pallet Sizes Explained
There are a few different pallet sizes used in logistics and pallet distribution, so it's important that you know the difference between them and which one to select for your delivery.
Generally, pallet couriers refer to the pallet sizes as a quarter, half, full and oversized pallets. All of them share the same length and width (pallet base of 1.2m x 1m) but feature different heights and weight limits.
Here are the PalletOnline pallet sizes, along with their height and weight limits:
As long as your items are within the maximum length and width measurements, all you have to worry about is the height and weight restrictions in place by the courier.
All pallets shipped with PalletOnline must meet the Palletline network restrictions. If the maximum height limit is exceeded, your pallets could be refused.
Can Pallets Be Reused?
If you send goods as pallets to others, the chances are you may even receive goods as pallets too. If that's true, you can save even more money by reusing your pallets!
Naturally, pallets are disposed of or recycled once fully offloaded and would otherwise just go to waste. But if they're not damaged, why throw them away?
Taking empty pallets from deliveries accepted by you and using them for future deliveries costs nothing. All you would need to do is supply the pallet wrap and other materials, but the pallets are free nonetheless.
Otherwise, sourcing new pallets will cost you every single time you want to arrange a pallet delivery. Keeping the ones you already have and reusing them is key to saving more valuable money!
If you do reuse your pallets for future deliveries, be sure to check them for wear and tear to stop the worst from happening.
We also recommend applying appropriate treatment to your pallets, especially if you are going to be using them again and again.
This can either be a lacquer, varnish sealant or you can have your pallets heat treated professionally for a small cost.
Top tip: look out for a 'HT' stamp on your pallets as they may have already been heat treated! In which case, you won't need to have them treated again for a while.
Maximum Height Limits Explained
Despite what you may have heard, the maximum height limit for pallet deliveries depends on the courier you choose and their delivery network, too.
For example, our partner, Palletline, allow pallets strictly no taller than 2.2m through their network but other networks may have a smaller or larger height limit - it pays to do your research!
Height limits also depend on the pallet size, and again, this will differ depending on the courier.
All pallet couriers normally base their pallet sizes on their network restrictions, so you must check with them before booking.
One thing that's the same with every pallet network is the rule on full pallets and their height limits.
However tall your items are, your pallet must never exceed the maximum height of a full pallet. This is their maximum network height limit - as long as you are below this number, you should be fine!
You should always measure up before selecting your pallet size. This way, you know in advance whether your items fit on a quarter, half, full or oversized pallet.
While an item may fit the length and width, it may exceed the height of a half pallet. So, what are your options? There are only two for you to choose from.
Option one: you would need to select a full pallet for your delivery and make sure the pallet does not exceed the maximum height limit of a full pallet.
Option two: if your pallet doesn't fit (lengthways) on a full pallet, then you will need to talk about booking an oversized pallet. This is normally additional full pallet spaces to account for any extra length on your items.
Booking Your Pallet Delivery With PalletOnline
PalletOnline offers competitive pallet delivery rates and booking online is very easy to do!
Simply head over to our homepage and enter the collection and delivery location postcodes before selecting 'get quote'.
From there, your pallet will be collected by one of our drivers on the day stated and will go through a series of rigorous checks before delivery.
Once your pallet passes these checks, our delivery depot will assign your pallet to a driver who will aim to deliver with no interruptions and delays.
For more details regarding sending a pallet delivery with PalletOnline, please get in touch by sending a message using our Live Chat service.