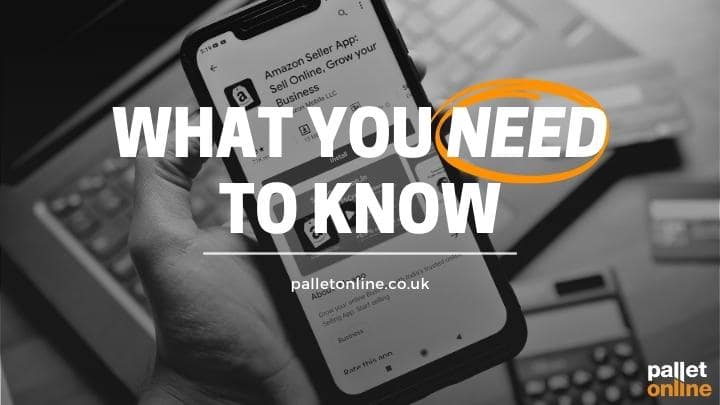 Recently, Amazon Fulfilment has become one of the most popular ways for vendors to be more profitable.
More than 2 million people and businesses are selling on Amazon around the world, but how exactly do they do it?
You, too, can send pallets to Amazon by following our expert advice!
Since this may be your first time sending pallets to Amazon, we have lined up everything you need to know to make things easier.
Let's get started!
Who Can Send Pallets to Amazon?
Almost anyone can list items for sale on Amazon, from wholesale items to products you simply no longer want. But being a successful Amazon vendor is something that takes practice.
Fulfilment by Amazon allows you to automate order fulfilment by taking advantage of advanced shipping and fulfilment services.
This means that you can earn many more sales from Amazon shoppers and see your profit turnover improve rapidly, too.
Roughly 48% of all Amazon sales come from third-party sellers. Plus, out of the top 10,000 sellers, more than half utilise FBA services through their local pallet courier.
What is Amazon FBA?
FBA is short for 'Fulfillment by Amazon'. This process boils down to you selling items and Amazon shipping them to your customers.
All you have to do is find a reliable pallet courier to help move your goods from your site to the correct fulfilment centre.
Essentially, you are not allowed to turn up unannounced at Amazon's fulfilment centres. Instead, you will need to find yourself a trusted pallet courier who can ship your items directly to Amazon.
Once they have your goods on their end, they will store them in their warehouses until a customer orders one of your items.
When one of your customers select an item you are selling, Amazon will pick, pack, ship and track the order for you. Amazon will also keep your customer fully updated with the whereabouts of their order.
If your customer isn't happy with the item and wishes to send it back, Amazon will also handle the returns and refunds process for you.
How Amazon FBA Works
Amazon handles the difficult parts for you within FBA, making the entire process much easier for vendors like you.
As soon as Amazon receives your pallet delivery, they will sort and add the items to their inventory. This means that they are stored safely in their warehouses until purchased by Amazon shoppers.
From this point, Amazon will take care of the entire transaction for you, including accepting payment and updating your inventory right away.
Plus, to help make sure your positive reputation is maintained, Amazon always checks-in with the customer to make sure they are satisfied with their purchase.
They also take care of any general queries, refunds, and returns to make your job easier.
However, if you receive any feedback on your product listing, it is up to you to respond and take the necessary action.
What Are the Benefits of FBA?
Amazon's FBA program is one of the best ways to grow your business. As Amazon has masses of loyal customers, you can get your products in front of more people and increase your total sales.
Asides from an increase in sales, the FBA program also offers effortless logistics and shipping.
If you have ever managed FBA yourself, you will understand just how time-consuming it can be!
Without Amazon's help, higher sales would mean more time spent packing and shipping - or more money spent hiring people to handle it.
But Amazon FBA allows you to outsource, taking advantage of their expertise.
Not to mention, Amazon is renowned for quick delivery, including same-day and next-day delivery on certain items.
So, the sooner your goods reach the Fulfillment Centre and your inventory is updated, the sooner your Amazon shoppers will receive their items.
How To Book An Amazon Pallet Delivery
To book your Amazon pallet delivery with PalletOnline, simply head over to our homepage and select 'Amazon Fulfilment', enter the correct details and we'll take it from there!
Please make sure you have selected the correct fulfilment centre before confirming your booking details. If you enter the wrong FC, be sure to let us know immediately so that we can amend this for you.
All you need to do is make sure your goods are packed and wrapped to Amazon's strict packing requirements. They may refuse your shipment if you fail to meet their guidelines.
Also, you must pack and wrap pallets yourself when sending them to Amazon Fulfilment Centres. For this reason, we do not offer the Pallet and Wrap service for Amazon pallet deliveries.
For more information or concerns regarding Amazon Fulfilment, please visit our Help Centre. We have plenty of helpful articles that will help set you on the right track.
Alternatively, call and speak with us directly or send a message via our Live Chat service.
Questions & Answers
Amazon FBA, or Fulfillment by Amazon, is an e-commerce service that streamlines the selling process. Sellers store their products in Amazon's warehouses, and Amazon handles storage, packing, shipping, and customer service.This service provides faster shipping options, increases product visibility, and simplifies international selling, allowing businesses to scale and focus on their core operations.
Becoming an Amazon seller is a simple process. Start by creating a seller account, either Individual or Professional, based on your selling needs. Provide essential business and banking information, then list your products with detailed descriptions and images. Manage your inventory and orders through Seller Central, and utilise Amazon's tools and services for success. With dedication and quality products, you can thrive in Amazon's global marketplace.
We provide a very cost-effective courier service for your Amazon goods. The cost of your Amazon pallet delivery may fluctuate based on the number of pallets you require. Whether you need standard-sized pallets or oversized ones, we've got you covered. Simply head to our homepage to obtain your free and instant pallet delivery quote.