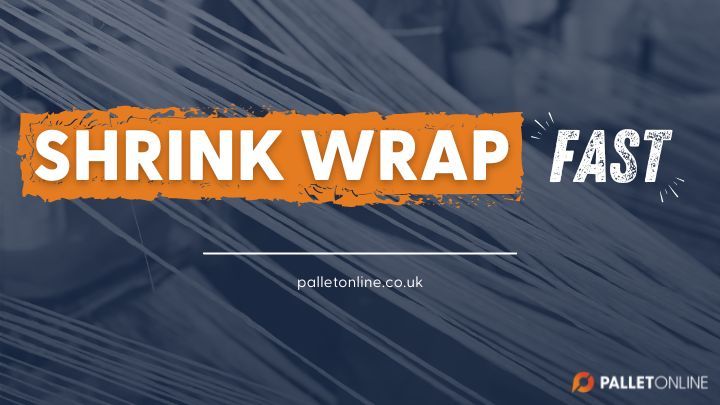 Packing and wrapping your pallet properly are both vital steps towards ensuring your goods travel safely to the delivery location.
However, applying shrink wrap can often prove a little time-consuming, particularly for those who like to get things done properly on their first attempt.
Luckily, we can tell you the quickest ways to shrink wrap a pallet without any unnecessary hassle or even wasted time - after all, we are the experts!
What is Shrink Wrap?
Essentially, shrink wrap is a material that consists of polymer plastic film. After heat is applied, normally with a handheld heat gun, the shrink-wrap shrinks tightly over the items it is covering.
If you don't have a heat gun, the product and shrink-wrap can just as easily be passed through a heat tunnel on a conveyor and it will give the same result.
Moreover, applying shrink wrap to pallets helps to keep items secure during transit. You can use either PVC or polyolefin plastic wrap, which you prefer or has been recommended for the items you are shipping.
To shrink wrap a pallet, you have to carefully apply heat to the plastic film. Doing this better seals the pallet, but also helps to keep all items sat closely together during their journey. How you do this depends on the equipment you have.
If you don't have the appropriate equipment, i.e. a handheld heat gun or conveyor and heat tunnel, you may want to consider asking the courier if they offer a wrapping service.
Either way, your pallet needs to be wrapped with either shrink wrap or an alternative wrap film to be shipped through any pallet network.
With our help, you can learn how to shrink wrap your pallets fast. We have a few methods that will help speed the process up, giving you more time to focus on other jobs without spending hours and hours wrapping your pallets.
Method 1) Shrink-Wrap Using a Heat Shrink Bag
The first thing is first, place the heat-shrink bag over your items and the pallet itself - remember to leave space for pallet trucks and forklifts to access and move the pallet.
You should always make sure the bag fits snug over the goods and the base of the pallet, as you don't want anything to come loose during transit. Then make sure you tuck any excess plastic around all corners and edges of the pallet.
Once finished, you can start to carefully apply heat to the heat-shrink bag. Always start at the base and ideally use a handheld heat gun to heat the plastic; doing this will shrink it to the pallet and your items, so nothing can move.
Top tip: All heat guns will feature different operating and safety guidelines, so make sure you follow any instructions that are included!
When the base is secure, you must do the following:
Secure the top of the bag to the items
Use a slow (back-and-forth) sweeping motion to seal each side of the pallet
Lastly, remember to inspect your efforts. While this may add a little time to the process, it would cost you much more time if you had to re-apply the heat-shrink bag as a result of poorly wrapping your pallet the first time.
At the end of the process, your pallet should look and feel like a single unit. By this, we mean that it should not wobble, not be stacked in a pyramid shape and items should not be spaced significantly apart on the pallet, underneath the heat-shrink bag.
If there are large gaps present, your items are still likely to move around during transit and therefore, your efforts in applying a protective film may have been wasted.
Method 2) Manually Applying Shrink Wrap
The term manual may sound like it involves too much valuable time, that is not the case - every way is manual, but some more than others.
You simply just need to ensure you have the right tools and equipment to help speed the process up. Examples of such tools are a shrink wrap dispenser and ideally a turntable to sit your pallet on to apply the wrap.
Begin by picking and preparing your shrink film - PVC or polyolefin. Your pallet must be loaded and stacked the correct way to meet the requirements and guidelines of your chosen courier before applying the shrink wrap.
Depending on the items you are planning to ship, you will need roughly a yard of the film and then squeeze around 8'' of the ends together in a loose rope - this can be tied to the corners of the pallet for extra stability.
Here are some other things for you to keep in mind when choosing your shrink wrap:
PVC is an older and more common (and less expensive) type of film. Many people use this to wrap items as it is more brittle.
Polyolefin is a newer and more expensive type of film. However, it does have less odour and is much less brittle, making it a better choice for heavier jobs.
From there, start by securing and wrapping the base of the pallet by threading the rope end of your film material in and around the corners of the pallet.
When it comes to applying the layers of wrap, it helps to have a turntable. This way, you can position your pallet on top and rotate as you apply the shrink wrap - this way is much quicker!
However, if you don't have a turntable at hand, simply walk around the pallet and apply your layers of shrink wrap this way instead. You may also find it easier to use a shrink wrap dispenser tool with either method.
Always start with the base when applying shrink wrap material - this needs to be strong and secure! Working in the same direction as you started, wrap the base on the pallet so the plastic is snug and wrap this at least 4 or 5 times. Make sure you go around and under the corners of the pallet as well!
After you have done this, wrap the remainder of the items. Rotating the same way, move further up as you wrap the film around the pallet and goods. Doing this will properly secure your items to the base.
When you reach the top of the pallet, you can either finish wrapping or wrap back down the pallet once more. If the job looks too thin or loose, you should wrap it down to the base of the pallet again.
Remember: A poorly wrapped pallet is a dangerous pallet. It's better to take your time when wrapping pallets or have someone experienced and someone you trust wrap them for you.
Finally, you should carefully apply heat to the shrink wrap to make the pallet more secure. Once applied, the wrap will shrink and tighten around your items, helping to protect them during transit.
Not just that, but proper application of shrink wrap will minimise the risk of anything falling onto you or anyone else handling your pallet.
For more advice and top tips on how to pack and wrap pallets, please head over to our Help Centre. Alternatively, you can get in touch with us via Live Chat with any queries you may have regarding preparing for your pallet delivery.