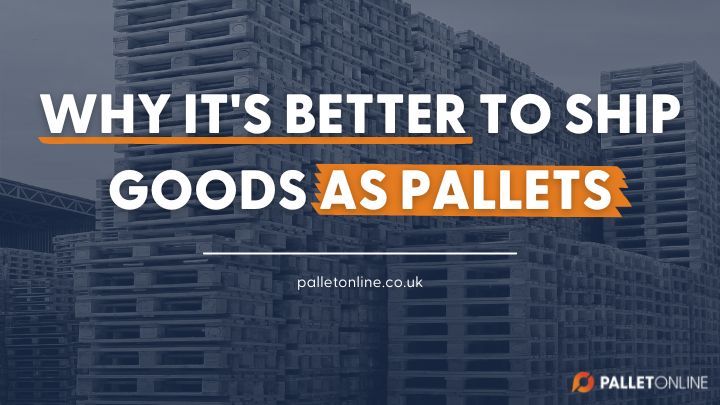 When you have several items to send, you should consider pallet shipping rather than arranging several individual deliveries.
Thousands of businesses are often torn between sending a loose carton or shipping on pallets, but luckily, we are here to help you make the best decision.
To begin with, the difference between pallet shipping and sending loose cartons is that pallets are typically designed to hold more boxes.
So, if you often send multiple items then pallet delivery companies are the best solution.
When Should You Ship a Pallet?
When it comes to shipping items, you should always consider the size, weight and quantity before deciding on the best courier services. As it stands, both loose carton and pallet courier services offer different delivery options.
It's always better to weigh up the pros and cons of each means of transport before committing to anything. When you send a pallet, the courier will normally offer additional services to help when handling larger and heavier shipments.
For example, some pallet delivery services include the option to shrink wrap the items to the pallet for added security and others even offer specific delivery slots like day delivery.
Not to mention that there are many different pallet sizes, from a quarter to a full pallet and even an oversized pallet; most pallet couriers work around you and your needs.
Pallet Deliveries Are Cheaper
If you were to calculate the cost of sending multiple boxes, it works out much cheaper to book a pallet shipment instead.
You can search for the cheapest pallet delivery rates in your area and almost always get a pallet delivery quote before actually booking anything. That way, you can make sure you are getting the very best pallet courier services in the UK and Europe.
Added Protection and Security
Each time you import or export goods, shipping via a pallet courier offers added protection and security for your items.
Such companies are experts at handling items with care and are equipped to carry and transport pallets without causing any damage to them whatsoever.
Easier to Track Deliveries
By shipping on pallets, not only will all your items travel together but they will be much easier to track as well. Most pallet couriers allocate a tracking reference when booking a shipment, which allows easier access to updates regarding the whereabouts of your order and gives you that added peace of mind.
However, if you send your items via an alternative means of transport, the courier may ship them in a few separate deliveries which can be scheduled on different dates.
Of course, this means multiple tracking references and the entire process can become much more difficult than it needs to be; shipping goods as pallets is certainly the easier option!
Higher Insurance Available
Every reputable business wants to be certain that their goods are insured should the worst happen in transit.
Almost all every-day couriers offer basic insurance for parcels, but this is not enough to cover large amounts of goods; and there is no amount that can compensate for the loss or damage of certain items.
Pallet couriers offer their own type of insurance, usually based on total consignment weight rather than the total value of items.
For example, some offer a certain amount per 1kg of goods while others offer better insurance that covers more than the basic insurance would.
However, failing that you can always enquire about higher insurance options with the pallet courier, just to be on the safe side.