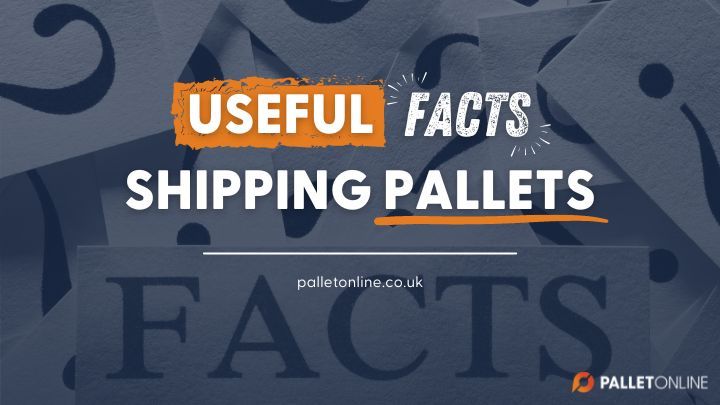 Shipping pallets of goods can prove to be one of the best decisions you make for your business, or even yourself for that matter.
However, before you ship goods through a pallet courier, there are a few things you should know in order to make sure everything goes to plan.
To help get everything on track and help you better prepare for shipping pallets with a pallet courier, we have mapped out a few top facts that we think you need to know!
1) Most Couriers Only Accept Wooden Pallets
Regardless of which courier you choose for shipping pallets, most of them will only accept wooden pallets. This is because they offer more structural support and don't break as easily as plastic pallets tend to do.
Before you arrange for a pallet courier to come and pick up your palletised items, it can be worth checking the pallet requirements with the company.
They may accept plastic pallets, but as we mentioned earlier, most will only agree to handle wooden pallets as they are generally more accessible and are easier to move around in warehouses.
2) It Pays To Make Sure Your Goods Are Fully Insured
Though pallet couriers will do everything in their power to make sure your items are shipped safely and reach their destination with no damage, sometimes things can happen when you least expect them to and things unfortunately can become broken if not packaged properly.
If the worst does happen, then you'd feel that much better if you knew your items were insured; it's just not worth the risk!
If details of insurance aren't clear before checking out, then you must always ask the courier for more information first.
3) Your Pallet Should Be Wrapped Before Shipping
Obviously, it is always advised that if you don't know how to package and wrap a pallet properly that you have an expert do it for you.
Some couriers offer this service, but others may not and therefore, you need to work harder to make sure your goods are properly covered and protected if the worst should happen.
Your pallet should be wrapped before you book a pallet shipping in UK based regions. If your chosen courier arrives to collect and your pallet is unpackaged and unwrapped, they can refuse to handle your pallet.
So as to avoid frustration and wasted time when booking a pallet shipping in UK regions, always remember to wrap and package your pallet by at least the day before your courier is scheduled to make their collection.
4) Maximise Space When Packing
Efficiently utilising space is a valuable skill in various scenarios, and when it comes to pallet packing, it's no different.
Mastering this art can help you save money by avoiding unnecessary expenditures on extra pallets.
However, it's crucial to strike a balance. Overloading a pallet to the point where you're crossing your fingers for items to remain intact is a risky strategy, and overpacking can lead to significant damage.
The key here is to optimise your available space by arranging boxes side by side without leaving any gaps.
Empty spaces create opportunities for movement and, ultimately, damage. So, the goal is to maximise your space while ensuring the safety of your goods.
5) Shipping Freight Via A Pallet Courier Is More Cost-Effective
Can you imagine how much it would cost to send hundreds of packages with a standard shipping company? Never mind the price, how about the inconvenience of not knowing a definite collection date until the courier arrives? Exactly!
Ideally, you want to get more for your money and when shipping freight via a pallet courier, you will get your money's worth for sure.
Comparing rates from multiple pallet couriers in your area is a wise move. Different couriers have varying pricing structures based on their networks.
While some still use manual methods like phone or email quotes, it's recommended to opt for a courier with instant online quotes for a more efficient and less time-consuming experience. Your choice depends on your preferences and needs.
6) Select the Correct Pallet Size
Before scheduling your collection and delivery, it's important to make sure you've chosen the appropriate pallet size! The correct size should easily accommodate your goods without any overhang, and there should be no gaps between the boxes.
If your goods don't fit on a standard pallet for any reason, please notify the courier. In such cases, they might request additional full pallets to accommodate oversized items, which is typically the procedure for oversized goods.
If your items cannot comfortably fit on standard UK pallets, they will need to be securely placed and fastened to an oversized pallet.
7) Check Your Couriers Weight Restrictions
Most pallet distribution companies have specific weight and height limits you should know about.
Typically, you can find these details on their website before scheduling your pallet deliveries.
As we're in partnership with Palletline, our weight limit is capped at 1,200 kilograms.
If your shipment exceeds this weight, it'll require a forklift for handling and proper securing onto an oversized pallet before it can be collected.
8) There Are Some Things You Just Can't Ship On Pallets
Quite often, couriers will tell you a whole list of items you can ship on pallets while things you just can't send are not so often spoken about.
Though that's not to say that they are never mentioned, as all pallet couriers have a list of the items you can and can't ship on a pallet; the list of things you can send is much larger than those you can't send.
For more information regarding pallet shipping with PalletOnline, please contact us directly via Live Chat or by calling. Our friendly customer care team will always be happy to help.