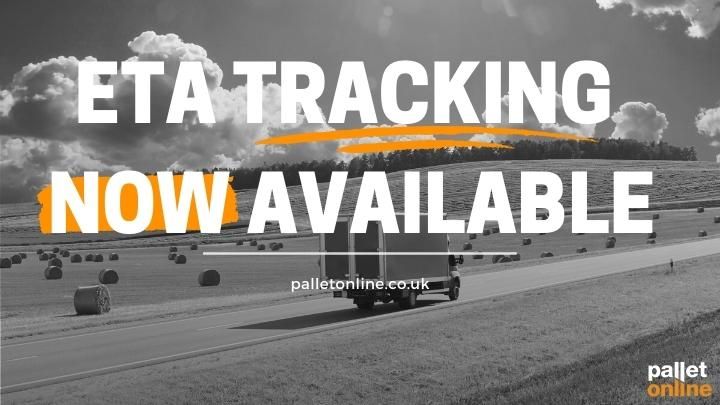 At PalletOnline, we understand the importance of tracking your order and knowing roughly when you can expect delivery to take place. For the very first time, you can now track your delivery ETA's when you place an order with us.
The first thing is first, we always love hearing your feedback - it allows us to make improvements based on your preferences and requirements. With this in mind, we have listened to your recent feedback and produced a more in-depth service to make shipping a pallet easier than ever before.
Our new ETA tracking service will cover all the various steps of pallet delivery. This is in the form of eight different stages which includes the following:
Collection - your products have been collected before being scanned into the relevant depot
Quality Hub - your goods are passed through a rigorous quality control process to identify any issues before delivery
Journey to the Hub - everything has been scanned in and is now ready to move to the Network hub
Arrival at the Delivery Depot - this is confirmation that your goods have arrived at the delivery depot
Ready for Delivery - everything has been scanned onto the delivery vehicle and we are now waiting for confirmation of the departure from the depot
Out for Delivery - the journey to the specific location has begun. This is when you will need to ensure that you are ready to receive your goods.
At Delivery Location Ready for Delivery - your goods have arrived at the delivery location and we are ready to complete the booking.
Delivery Complete - success! The pallet delivery has been completed. Thank you very much for using our services.
You can access tracking information by logging into your account or entering the Order ID, Booking Reference or delivery location postcode on the tracking page.
Why is ETA Tracking Important?
We at PalletOnline understand that more and more people are becoming first-time pallet shippers, so it's crucial that we help provide as much clarity as possible around deliveries and how you can track every order.
Tracking is a huge part of shipping, no matter what you are sending. The idea is that you know where your goods are currently, and when to expect delivery to be attempted. It also allows you enough time to make sure there is someone ready to accept the delivery, too.
Various sectors are implementing rigorous tracking structures, and as leading industry pioneers, we know that this has become an essential customer expectation - and rightly so!
Other than peace of mind and keeping track of your goods from collection to delivery, ETA tracking offers flexibility and convenience. By this, we mean you no longer have to wait around and waste your time guessing when to expect your delivery.
ETA tracking allows you to be flexible, working around your estimated delivery time slot. You can do everything you need to and still be there at the time of delivery - just remember to check for tracking updates!
Plus, if that's not enough to convince you of how crucial ETA tracking is for those who ship palletised goods, you can also request a call from the driver up to 1 hour before delivery. This should give you plenty of time to make sure there is somebody onsite and ready to accept delivery.
How To Book Your Pallet Delivery
Booking a pallet delivery with PalletOnline has never been so easy! All you have to do is head our website, enter the collection and delivery location postcode and select 'get quote'.
From there, you will be asked to select the pallet size and number of pallets required for your delivery. You will also be able to add any additional services, i.e. pallet and wrap or a tail-lift service, before checking out.
Just before you book your pallet delivery, we always recommend scanning through to see if all the details are correct and that nothing has been missed.
Finally, if you are confident that all the booking details are correct, simply confirm your order, kick-back and let us do the hard work! All you have to do is make sure everything is packed and wrapped (unless you selected our Pallet and Wrap service) and we'll take care of the rest!
For more details regarding our pallet delivery services, please get in touch by either sending a message via Live Chat or calling and speaking with us directly.
You can also find more top pallet courier tips and expert advice by heading over to our Help Centre!