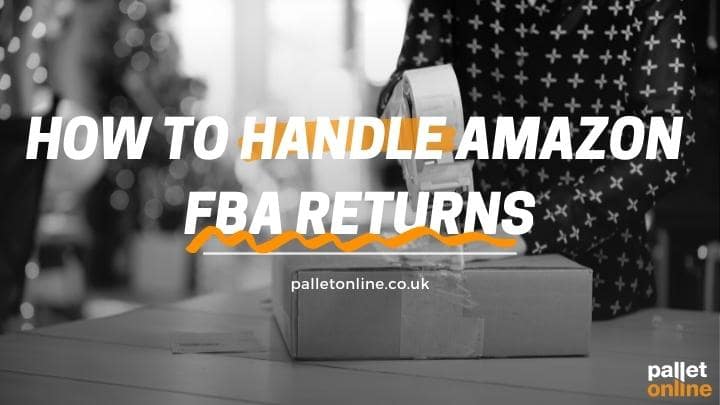 A customer returning a product is something that no business manager would want to go through, particularly if your business is just taking its first steps.
Not to mention that Amazon FBA deliveries typically involve various steps when it comes to processing and completing returns. But thankfully, these steps also tell you exactly what, where and when things went wrong. This will allow you the chance to better handle returns moving forwards.
In this article, we're going to tell you exactly what you need to know to properly handle your Amazon FBA returns.
Returning Items To FBA
The first thing is first, Fulfilled by Amazon is different from Amazon itself. Essentially, customers are allocated a 45-day window to return any faulty or damaged products for which they wish to be refunded.
When you are notified of a customer return, it's always better to wait a few weeks to receive the return before issuing the customer a full refund.
However, if the customer fails to return the item within that timeframe then it may never make its way back to your Amazon FBA return inventory.
On the other hand, Amazon may also label the product 'unsellable' if it is returned defective or is damaged in any way.
Depending on the reason or circumstances for returning a product, you have to approach the issue differently. For example, you will be reimbursed by Amazon in most cases, but there are certain situations when you will have to deal with the problem yourself, so to say.
How To Access Amazon Return Reports
Aside from the usual email from Amazon to inform you of the order refund, there are two other ways through which you can get your hands on the return reports.
To begin with, go to your Amazon Seller Central account and click on 'Reports' at the top. Then select 'Fuflilment' and head to the returns page.
A more detailed report of returns can be generated if you click 'Reports', then 'Payments' - you can manually generate a report for a certain period this way.
Doing this will allow you to find out if Amazon has refunded the price of an item to one of your customers. However, remember that these methods do not tell you whether the customer has successfully returned their item or not.
Checking If The Product Has Been Returned
To check if a product has been returned or not, you will need the order number from the refund notification that Amazon will have sent to you via email. You will then need to go to your Amazon Seller Central account and click on 'Orders'.
Once you have done the above, select 'Manage Orders' and click on 'Advanced Search' within the drop-down menu that will appear on your screen.
On the following page, paste the order number into the search bar. You will then be shown which products have been returned by the customer. Once you have done this, you will be able to determine the refund amount for the customer, if not already issued by Amazon.
However, this is not how the story ends; you will also want to check if Amazon has put the product back into your Amazon FBA return inventory. To do this, you will need to copy the ASIN/SKU of the item and go to 'Manage FBA Inventory'.
Paste the ASIN/SKU into the search bar and if the product doesn't show, you may want to scan through your archives. You can also run a search that includes archived items.
Opening A Returns Case With Amazon
If you still don't know the whereabouts of your item and you have no idea where it may be, then you should open a case with Amazon to find out more. However, it is recommended that you wait a bit before doing so, as processing returns can take a while and Amazon may not have gotten around to adding the product to the Amazon FBA return inventory.
When you open an FBA returns case, Amazon will provide all the information needed to resolve any issues. They will also let you know whether or not the item has been returned so that you can expect it, if undamaged and resellable, to show up in your inventory again.
Try not to worry if your questions are still unanswered. At any time, you can open a direct line of communication with Amazon to work towards resolving your Fulfilment by Amazon returns issue.
Plus, you can always contact Amazon through your Seller Central account if you have any concerns regarding your FBA returns.
After all, Amazon is the expert at everything FBA related and will be able to provide you with the support and advice you need to resolve everything and get your stock updated - this must be as accurate as possible at all times to avoid further problems.
The Bottom Line
To put it simply, before assuming that your customer has forgotten, refused or failed to return their item, remember that Amazon's pallet distribution network and its similar services are huge.
At peak times, some of their customers (Amazon sellers) may experience slight delays with getting their goods to and from their Fulfilment Centres, and there may also be a small wait to hear back from them.
Of course, this means it may take a while before you hear back about your FBA returns. With this in mind, try to be as mindful as you can as delays can sometimes happen during peak times. It also helps to be a little patient - we're all human, after all.
As soon as the waiting is done, you will have to go through all that we mentioned above. This is how you properly handle Amazon FBA returns.