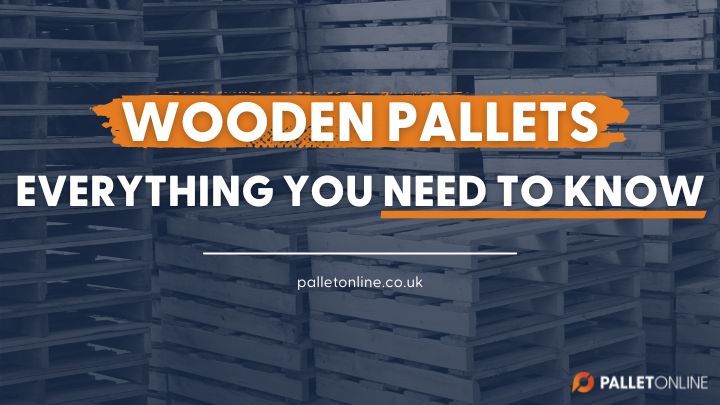 Are pallets the cheaper, easier and faster solution to shipping in large numbers?
The question circling hundreds of minds before deciding on how much money to part with for safe shipping - and rightly so!
But before shipping your goods on pallets, there are a few things you need to know, including what pallets are made of.
Luckily, we've answered some of the most frequently asked questions about wooden pallets just for you...
What Type Of Wood Are Pallets Made From?
Ever wondered what type of wood standard UK pallets are made from? Well, you're about to find your answer!
Much to your surprise, both hardwood and softwood are used in the production of wooden pallets.
More specifically, pine and oak wood are examples of the most common types of soft and hardwood used by pallet manufacturers.
Normally, wooden pallets are advertised just as it says on the tin: 'wooden pallets'. There's no real need to get specific with the type of wood each pallet is made of, as long as they do the job they were manufactured to do, right?
Regardless of the type of wood, all pallets are treated before they're handed over to the capable hands of their new owners.
Types of pallet treatment generally include heat-treatment, kiln-dried, debarked and methyl bromide (chemical) treatment.
Once treated, pallets are stamped with the initials of which treatment they have undergone. See the examples below:
HT - means that the wood has undergone the heat-treatment process, preventing infestations of pests and wood rot
KD - means that the wood has been kiln-dried. This is similar to the heat-treatment process
DB - means that the wood has been debarked (had all of its bark removed)
MB - means the pallet has been treated with methyl bromide. Try to avoid pallets that are stamped 'MB', particularly if you are shipping food supplies.
How Are Stringer and Block Pallets Different?
While there may be no obvious difference between wood stringer and woodblock pallets, some would argue differently.
Actually, block pallets are considered much stronger and more robust than stringer pallets.
Contrary to stringer pallets, woodblock pallets have a base made of solid wooden blocks; this offers additional structural support when carrying a little extra weight.
Essentially, there are nine blocks with each woodblock pallet. One is placed in all four corners of the pallet and the other five are fixed to the centre and sides for additional support.
While stringer pallets are held together by stringers. These are large wooden boards that help maintain the pallets' structure.
These are two-way pallets, however, they can still be accessed by forklifts and pallet jacks just as block pallets can!
If you struggle to tell the difference between stringer and block pallets, remember that blocks are easier to move - pallet couriers love them!
How Much Weight Can Wooden Pallets Hold?
Wood pallets are widely used in the pallet shipping industry, but it pays to know more about their weight capacity before arranging to ship your goods.
As you (likely) already know, pallet networks set their own weight limits and restrictions, but there is only so much a pallet can hold before taking some damage.
Essentially, if your pallet is made of hardwood then it will usually have a higher weight capacity than pallets made of softwood.
As it stands, wood stringer pallets can hold up to 2,500 pounds while block pallets are capable of carrying up to 5,500 pounds, thus block pallets are considered to be the better option of the two.
This would also explain why most pallet delivery couriers use and only accept block pallets.
Can Wooden Pallets Be Recycled?
While pallets that are made of wood are generally affordable, they also can be used again for many more pallet shipments and are widely recycled, too.
Pallet wood is a strong and durable material, so it would take a lot of wear and tear to prevent you from reusing it.
At the same time, if there is too much wear and tear you can just as easily recycle a wooden pallet or give them away to people who are building upcycled projects.
Plenty of people rely on old and worn pallet wood to create household or garden furniture on a budget, so it's always worth recycling them as they can be put to good use!