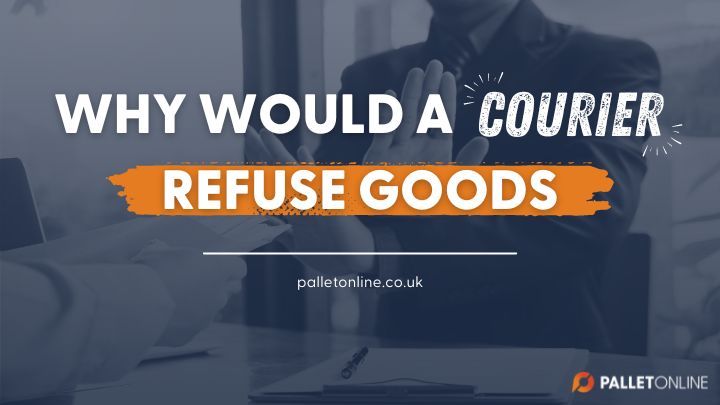 You hear the word refused and automatically start to panic. Instantly, you jump straight to thinking of what went wrong.
Believe it or not, the answer is almost always something simple and silly.
There will always be some frustration centred around a refused pallet delivery, but there are easy ways of finding out the cause.
And there are even easier ways of preventing refused deliveries from happening again!
So, keep your eyes peeled and brain switched on; we've got a few things to explain!
Let's dive right in!
Forgetting To Mention Your Oversized Pallet
The biggest reason for refused goods is pallet size. You wouldn't believe how many times a courier picks up on items that overhang the pallet they are sat on and have been forced to refuse them through their network (too risky).
For example, if you purchased a half pallet but your goods just about squeeze onto a full pallet, you should make the courier aware of this before collection.
A courier that offers an oversized pallet delivery service will be fully equipped and will have no struggle moving or carrying your pallet to their delivery truck.
All you have to do is simply arrange your oversized pallet delivery and ask about the number of pallet spaces you will need to make sure everything travels safely.
If you fail to request an oversized pallet delivery and your items are too large for a full pallet, the courier will refuse to handle them.
Supposing they were to accept your items on the wrong pallet size, they would be liable for any damage caused to your goods or even other pallets on the vehicle.
In this case, the courier would have to spend more money to compensate for the damage or loss of items at their own fault.
There Was Nobody Available At The Time
Pallet couriers will refuse goods if there is nobody present at the time they arrive onsite.
Most couriers will never just assume which pallet they are supposed to handle and therefore, they will leave empty-handed if nobody is waiting or at the premises to assist with collection.
In most cases and like any logical-thinking person, the driver would prefer to get it right the first time rather than guess and get it wrong.
So, if there's nobody there to advise them on what needs to be collected and your goods happen to be refused, then this is likely the reason why.
You Have Packed Personal Effects
Certain pallet couriers, if not all of them, do not allow personal effects in pallet shipments.
This includes all personal belongings, such as jewellery, books, personal care items or simply anything that you would miss if it happened to go missing or get broken.
They normally refuse them as they are not licensed or equipped to handle such goods.
Not to mention that there are transport companies out there who specialise in this type of shipment, so make sure you do your research first!
You can find out what is and is not allowed through the couriers' network by asking them directly, or looking on their website for details.
Most logistics companies have a long list of prohibited and restricted items at hand and you can find everything you need to know, on there.
The Goods Are Not Properly Wrapped
Another common reason for goods to be refused is the lack of proper wrapping. By this, we mean your goods were not wrapped to the requirements.
For any pallet to be accepted through a distribution network, it should be wrapped and packaged to meet all the correct requirements, i.e. all items laid flat on the pallet and a good amount of pallet wrap applied.
Using pallet shrink wrap is a relatively easy task and should be applied once you have loaded and secured all items to your pallet, ready to be shipped to your chosen destination.
Also, it wouldn't hurt to double-check that you have enough pallet shrink wrap to properly wrap your pallet - the more, the better. After all, the last thing you want is a repeat of events!
There are plenty of pallet wrapping tips out there, so be sure to do your homework and find the easiest way of wrapping your pallet.
Turning Up Late
If you show up 10 minutes after the driver has arrived, they will only have 5 minutes to pick up and load your pallet onto their delivery vehicle.
In which case, being late will result in an unhappy and disappointed driver waiting on you to complete collection and move on to their next appointment.
As drivers are normally given 15-minute windows, there is no chance they will be able to complete the collection in less than 5 minutes and finish all the paperwork as well.
Plus, if you leave the driver waiting at the collection point and show up very last-minute, they may not only refuse to take your goods with them but may apply additional charges.
In this case, they are likely to charge you for the failed collection and a second collection attempt (further down the line).
For more expert advice and top tips, head over to our Help Centre!
If you wish to discuss a recent refused collection or wish to arrange a re-collection, please call and speak with us directly.
Alternatively, you can send a message using our Live Chat service and we will get back to you promptly.