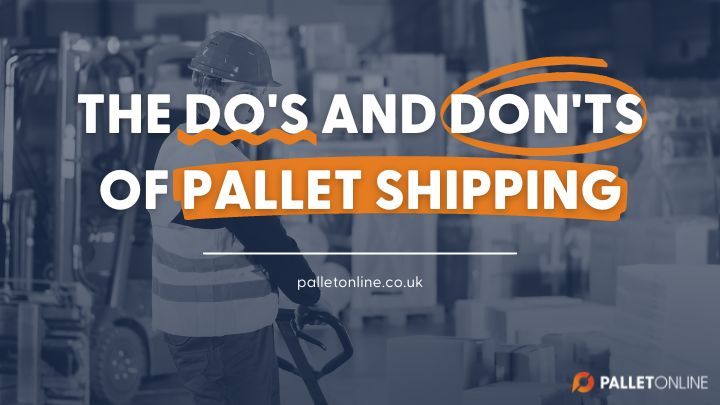 Prepping for pallet shipping can be tricky to master, especially if you are new to pallets!
Before reaching out for help from a pallet courier to deliver your goods, there are a few things you should know.
Although it's a common theme to look up the things you can't do when pallet shipping, it's also handy to look at the things you can do, too!
How To Pack A Pallet
Firstly, to pack a pallet properly, remember to maximise your space (use this well).
To do this, be sure to invest in some additional packing materials as these will help eliminate gaps inside boxes - so there's no room for damage!
Also, think carefully about where you place your items; This should be done in a certain way to avoid squashing anything underneath.
Gather the heaviest - not necessarily the largest - boxes and load them to the pallet first. Placing these at the bottom of your pallet will reduce the risk of your items arriving damaged.
Then, you can begin to load the others on top (in weight order). Start with the heaviest first and load the lightest last - make sure they're neatly stacked, too!
Where possible, try to avoid loading boxes in pyramid shapes as pallets are moved several times before reaching the delivery point, and thus loose boxes are more likely to damage.
Top Tip: before shipping pallets, make sure you have PLENTY of pallet wrap. As a wise folk once said, ''it's better to have too much than too little!''
Plus, for engines and car parts, we'd recommend using ratchet straps to secure them. The same applies to all other heavy or loose items.
What To Avoid When Packing Your Pallet
Realistically, if there are gaps between boxes, then there's room for movement in transit; This means there is plenty of opportunity for damage!
Avoid leaving gaps between boxes when loading your pallet.
You can do this by learning safe ways to position boxes on pallets or even watching a few tutorials of packing boxes on pallets.
When boxes slide around in transit, not only will the outer layer protecting your goods become damaged, but as will the items inside the boxes.
So, take your time when loading boxes and make sure there are no obvious gaps.
What To Do For Same-Day Collection
By selecting collection on the same day your booking is placed, surely you intend to use the quickest service available.
With this in mind, it's only fitting that you help speed the process up as much as possible by checking that you have everything required.
Plus, the best way to allow a smooth same-day collection is by waiting at the collection site and ensuring easy access for the delivery driver.
If ever in doubt, leave a note when booking your collection; Usually, you can leave details in 'booking notes'.
That way, you'll be contacted right away if there are any problems.
What To Avoid With Same-Day Collection
Despite the pressure of acting fast, it helps to have everything in order before collection.
Avoid weighing your goods on the day of collection; You MUST do this before booking as you will need to select the correct pallet size based on weight.
This allows the courier to advise you on whether you will need additional equipment, i.e. a forklift, tail lift and such.
Not just that, but it will help the driver know what they're collecting and how much space they need to keep clear on their trailer.
Moreover, avoid packing and wrapping on the day; Pallets MUST be ready at least the day before collection.
What To Do For Standard Collection
Always be ready and waiting for your pallet collection.
Collections can happen early in the morning or later in the afternoon (at any time).
If the driver shows up and you're not there to hand the goods over, you'll have to re-arrange collection and may even face additional charges.
Also, make sure all shipping labels are attached! Without them, you run the risk of your pallets getting lost in storage.
Choosing the Best Pallet Delivery Company
Choosing the right pallet delivery company for you is essential to ensure you're getting the best value for money.
There's nothing worse than getting regular updates from your delivery company telling you about delays or even damage.
Here's what you should consider when choosing your pallet delivery company:
Trustworthy -

It's advisable to steer clear of any freight broker when selecting a pallet delivery company. Your preferred pallet delivery service should possess a well-established network of dedicated depots to ensure that your cargo remains in the hands of trusted delivery partners.

An effective method for verifying this is by conducting research on the pallet courier prior to making a booking, and investigating their affiliations with certified distribution networks to confirm their legitimacy.

Palletline Network - You'll definitely want to seek out pallet companies that have established partnerships with the Palletline network. This affiliation opens up a wealth of shipping possibilities and enhances the safety and security of your valuable cargo.

Palletline holds the distinction of being the trailblazer in pallet distribution, with countless individuals entrusting their shipments to their extensive network on a daily basis.

Amazon Deliveries - If you're an Amazon seller, it's crucial to select a company capable of transporting pallets to Amazon's Fulfilment centers. This entails partnering with a pallet courier endorsed by Amazon as one of their preferred carriers.

Opting for a courier outside this preferred list poses potential risks to the security of your merchandise and, notably, your standing as an Amazon seller.

Collections and Deliveries -

Based on the importance of your business and your desired speed of customer goods delivery, you may consider selecting a company with expertise in same-day pickups and next-day deliveries

Order Tracking

-

To enhance your safety and security measures, it is vital to have the capability to monitor your order's status once it has departed from either your residence or the company's warehouse. This valuable data enables you to predict the expected delivery time of your products and share this vital information with your customers.

Customer Care

-

Every pallet company should maintain a high standard of customer service that is both competent and welcoming. This is crucial because should any issue arise with your pallet, you will inevitably need to engage with their customer support team.
What To Avoid With Standard Collection
Finally, silly as it sounds, avoid being late for your pallet collection.
While the pressure is slightly less than same-day collections, if you need time to head over to the collection point to meet the driver, they may be forced to return to the depot empty-handed!
In which case, additional charges will apply, and it will be down to you to arrange another attempt.
Avoid missing collection by asking the driver for plenty of notice is a great idea; That way, you won't have to worry about rushing on-site to assist!
We believe we have the perfect solution for you. At PalletOnline, we believe we have the best pallet delivery service in the UK and our customer support is second to none. Get a free and instant quote in seconds today!