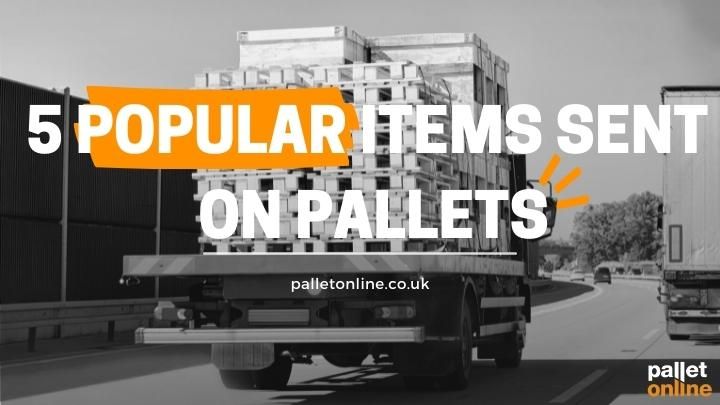 While there are many restricted or prohibited items to keep in mind when sending a pallet delivery, the list of things you can send is much more varied than those you simply can't send.
Every pallet courier differs in terms of what you are not allowed to ship but they more or less accept the same items through their networks.
You would be surprised at some of the things businesses and individuals send through pallet shipping networks every day. So without further ado, here are 5 surprisingly popular items people send on pallets!
Washing Machines
Admittedly, washing machines are tricky to move at the best of times, let alone loading them to a pallet without harming yourself or damaging the machine, for that matter.
Their heavy base and bulky dimensions make them harder to move by hand, thus a pallet is an ideal way to get washing machines from one place to another safely.
Attempting to transport washing machines yourself can prove more hassle than it's worth. For this reason, most people prefer to send them on pallets as this means of transport is typically less stressful and you can also guarantee that everything will reach its destination intact.
Not to mention that you can send much more than just one single washing machine via pallet delivery. This is the reason manufacturers of such domestic appliances often ship their products on pallets; for ease of transport and added peace of mind.
Car Parts And Engines
You can send car parts and engines on a pallet. Yes, you heard that right. However, to do this without running into any problems, you should always make sure you follow the rules set in place by the pallet courier.
What do we mean by this? Well, when you send car parts they should be in good condition, but most importantly, they must be sellable. Before you load any parts to your pallet, make sure everything is as it should be to minimise putting any other consignments or workers at risk.
Also, if you are planning on shipping an engine, there is a particular way to prepare, load and secure it to the pallet. To begin with, engines must be fully drained of all fluids to be accepted through any pallet network - no matter which courier you choose, this is the same.
Fluids include water, oil and any residual fluids as well. We recommend placing the engine on an absorbent or oil-resistant material, on the pallet. This will ensure that if any liquids are missed (though very unlikely), the material underneath the engine will absorb this and prevent any leaks and minimise risks during transit.
Car parts and engines are particularly popular with eBay sellers, and so sending them through a pallet courier is perhaps one of the safest ways of ensuring your items reach their destination intact and on time too.
If you need further support or advice on how to prepare engines for delivery, you can always ask us! We have plenty of experience and knowledge in shipping engines and will do our best to put your mind at ease!
Sports Equipment
Despite what you might think, sports are becoming increasingly popular across the globe and it seems as though everyone wants to get back into shape.
Whether you run a gym or leisure facility and need equipment shipped urgently, or you are purchasing bulky exercise machines to keep fit at home, sports equipment is considered one of the most popular items shipped on pallets.
Being far too bulky and heavy to shift by hand, sending sports equipment on a pallet is the easiest solution to reaching its destination safely and undamaged.
After all, could you imagine the struggle of moving a cross trainer or heavy weights without the help of a pallet courier? Exactly!
A pallet courier and all the correct tools (pallet trucks and forklifts) will ease the process of moving heavy items like sports equipment from place to place.
Electronics
Despite a small risk, thousands of people ship electronics on pallets every year with no hesitation.
In fact, they have proven to be amongst the five most popular items shipped on pallets in the UK and are likely to stay that way for a while.
One electronic item we don't recommend sending on pallets is televisions and such.
Most pallet couriers won't accept them through their network, while some will still accept computers, laptops, speakers and other items.
However, it's always better to ask if you're not sure on which electronics you can ship on pallets - items may differ depending on the courier.
Glass or Bricks
You might not think it, but glass and bricks are some of the most popular items sent on pallets each year.
Whether it's builders that need materials for their jobs or just people wanting to complete a building project of their own, sending glass and bricks on pallets is more popular than you'd imagine.
While most couriers accept glass and bricks, there are certain guidelines you should follow to fully protect your items but also, to ensure the courier will accept your pallet.
For example, selecting an oversized pallet if your glass or bricks exceed their maximum weight allowance or packing them a particular way for that matter.
For more information regarding sending a pallet delivery, please do not hesitate to get in touch. You can do so by calling and speaking with us directly or by sending a message via our Live Chat service.
Alternatively, for advice and top tips, you can always visit our Help Centre!