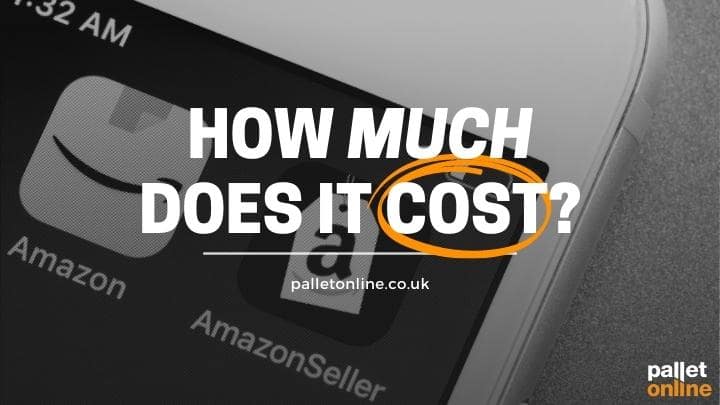 Amazon has recently changed the way that pallet deliveries are booked into their Fulfilment Centres throughout the UK and Europe.
This change has resulted in thousands of business querying the cost of sending a pallet to Amazon, but also, what those changes mean for them as Amazon sellers.
Essentially, vendors are not allowed to use the previous Carrier Appointment Request Portal (CARP) system to book their deliveries with Amazon. Instead, all Amazon sellers must arrange an FBA pallet delivery to their chosen FC through a trusted Amazon preferred carrier.
Of course, this leads to the question of whether the new booking process will incur additional costs for businesses throughout the country.
In this article, we will explain how much it costs to send a pallet to Amazon and how the process works. This should help to put your mind at ease when preparing for your next Amazon pallet delivery!
How Do I Send a Pallet to Amazon?
To begin with, Amazon pallet deliveries and normal pallet deliveries are similar but at the same time, two different things. By this, we mean that there are different rules and regulations for both, but despite their differences, you still must follow the pallet couriers' rules too.
To ship a pallet to Amazon, you must follow Amazon's strict packing and labelling requirements for your shipment to even be accepted. Should your pallet not meet the packing requirements, your shipment will more than likely be rejected and either returned at your expense or disposed of appropriately.
Of course, if your goods are rejected, this will come with additional costs as you will either need to pay for the courier to collect from Amazon and deliver them to you or on the flip side, pay for more goods and re-book the entire delivery.
When it comes to Fulfilment by Amazon (FBA), Amazon handles everything past the point of the delivery itself, i.e. offloading the trailer and updating your inventory etc.
However, in terms of the actual delivery to Amazon's Fulfilment Centres, you would need to arrange this through an Amazon preferred courier as they do not accept deliveries attempted by sellers themselves - this is part of their strict regulations!
You should also consider the height of your pallets and all other restrictions before planning on shipping goods to Amazon. These details can be accessed through your Amazon Seller Central account.
By checking their restrictions, you can become familiar with any items that are prohibited as well as their strict packing and wrapping requirements, too.
Everything you need to know about sending a pallet to Amazon can be found in your Seller Central account, but if you are ever in doubt, never be afraid to ask for help!
Does Amazon Accept Plastic Pallets?
Essentially, like most partners in logistics and pallet shipping, Amazon prefers the use of wooden pallets rather than plastic. The reason is simply that wooden pallets are often much easier to recycle, are stronger and all pallet couriers use them - they are generally the standard 1.2 metres by 1 metre and are pretty much the only type of pallets Amazon accepts.
While Amazon doesn't like plastic pallets, this does not mean that they will refuse your shipment entirely - don't worry if you have already shipped your goods on plastic pallets. However, for future reference, you should always try to send your goods on standard wooden pallets as per Amazon's packing guidelines.
Not to mention that there are very few pallet couriers, affordable ones at least, that would agree to send plastic pallets through their pallet distribution network. Plastic pallets are more susceptible to damage during transit, thus risking the safety of your items.
For this reason, most couriers will advise you on loading your goods to a wooden pallet before sending them to an Amazon Fulfilment Centre. However, they cannot and will not load and wrap pallets for Amazon FBA as this goes against the Amazon packing requirements and could get them into serious trouble if anything goes wrong.
How Much is a Pallet Delivery?
The cost of a pallet delivery, whether that be a normal or Amazon pallet delivery, depends on several things. The biggest contributing factor is pallet size, the number of pallets and total consignment weight; these determine the cost of each delivery, along with the distance from the collection to the delivery address.
However, other contributing factors can determine whether the cost will be bumped up or potentially lowered. For example, if the courier offers a faster collection (same day collection service), this would normally carry a small additional cost on top of the normal shipping rate.
While if you selected the standard shipping dates and went with the bare minimum (the basics) the courier offers, you are likely to pay less in shipping costs. It depends entirely on what you choose; the cost is mostly down to you.
Also, the cost depends on the courier you choose to handle your Amazon FBA delivery. Most pallet couriers are always offering competitive shipping rates, but you should always select a courier that has been approved by Amazon to pick up and deliver freight as they will be able to offer you the lowest rates!
What is Amazon LTL?
Essentially, Amazon LTL refers to shipping a Less than Truckload of goods to Amazon. This type of shipment works when an Amazon seller does not require the entire load space of a delivery vehicle (FTL) but rather just enough space for roughly between 1 and 6 pallets.
Every pallet courier, partnered with Amazon, will base their costs on multiple different things, i.e. pickup locations, space required, number of pallets to deliver and so on. Either way, Amazon LTL is widely considered one of the most cost-effective means of shipping goods to Amazon Fulfilment Centres throughout the country.
How Do LTL Shipments Work?
With Less than Truckload deliveries, several sellers would utilise the space of one delivery vehicle between them. For example, one person may send 6 pallets, while another may send 4 pallets to Amazon; space is shared, and delivery cost equally shared between those who book an Amazon LTL delivery.
Not only is this means of delivering goods to Amazon considered one of the most cost-effective, but it is also one of the most environmentally-friendly options - more fuel is saved by using one vehicle between several people, rather than one for each.
How Do You Become an Amazon Partnered Carrier?
As we mentioned, the way we deliver goods to Amazon Fulfilment Centres has changed slightly. Now Amazon accepts deliveries from their preferred carriers, which are almost always licenced couriers rather than the sellers themselves.
The changes that have been made regarding how deliveries to Fulfilment Centres are booked mean that you should now be booking shipments through an Amazon preferred courier.
From there, they will request your preferred delivery date with the Amazon bookings team and wait for them to confirm this. However, keep in mind that this date may be pushed back slightly at times where there is an increased volume of deliveries, i.e. during the Easter and Christmas periods.
What Does Amazon Do with Their Pallets?
In terms of what Amazon does with their pallets - the pallets that are left once they have offloaded your goods from their trailer - it is virtually impossible for them to return every pallet to its rightful owner.
For this reason, empty pallets are almost always given to businesses who request them, recycled or even re-used at the Fulfilment Centre. There is limited space at each FC to store thousands of empty pallets, so these seem like the most reasonable options.
The only reason a pallet would make its way back to you from the Fulfilment Centre is if your goods are refused and you arrange to have them picked up. In this case, they would be secured to a pallet and returned this way - and you would get your pallet back!
Who Can Deliver to Amazon Fulfilment Centres?
As much as you would rather deliver the goods to Amazon yourself and you may have sorted a means of delivering them to the FC, Amazon does not accept deliveries attempted by the seller. It must be an Amazon preferred carrier delivering your pallets.
Currently, only Amazon-approved carriers are allowed to make an Amazon pallet delivery. This means that you will need to do some research before arranging your Amazon pallet delivery and locate a reliable preferred carrier to assist you with the process.
Once you find the best Amazon preferred carrier, you can then proceed to discuss booking delivery slots with them. Each courier will do things slightly differently from one another, so remember that getting to know their system and how it all works can take some getting used to!
You will want to work with the courier as closely as possible to try and obtain the earliest delivery slot Amazon can offer you. Keep in mind that these delivery slots are dependent on capacity and shipping volumes at each Fulfilment Centre.
Even if your premises is one minute down the road from the appropriate Fulfilment Centre, attempting to make delivery yourself will result in Amazon refusing and you will have had a wasted journey.
Where Are Amazon Fulfilment Centres in the UK?
There are several UK Amazon Fulfilment Centres, but selecting the right one is crucial in ensuring your goods are sent to the right location. Sending them to the wrong FC can result in severe delays or worst of all refused delivery.

While the correct Fulfilment Centre may be further away from your location than the one you have in mind, there are certain FC's that accept different types of goods.
In which case, checking that you selected the right Fulfilment Centre before arranging your Amazon pallet delivery is vital.
Here is a list of all the UK Amazon Fulfilment Centres:
BHX1 - Rugeley
BHX2 - Coalville
BHX3 - Daventry
BHX4 - Coventry
BHX5 - Rugby
BRS1 - Bristol
CWL1 - Swansea
EDI4 - Dunfermline
EMA1 - Derby
EMA2 - Sutton in Ashfield
EUK5 - Peterborough
EUKA - Peterborough
EUKB - Peterborough
EUKD - Widnes
GLA1 - Gourock
LBA1 - Doncaster 1
LBA2 - Doncaster 2
LBA3 - Doncaster Pantry
LCY1 - Amazon Fresh
LCY2 - Tilbury
LTN1 - Milton Keynes
LTN2 - Hemel Hempstead
LTN4 - Dunstable
MAN1 - Manchester
MAN2 - Warrington
MAN3 - Bolton
MAN4 - Chesterfield
MME1 - Durham/Darlington
MME2 - Bowburn
PUKC - Deeside
XBH1 - Daventry
XBH2 - Rugby 2
XUKA - Runcorn
XUKK - Birmingham
How Should I Pack My FBA Items?
Before booking your Amazon pallet delivery, you need to know exactly how to pack your items for safe shipping to the right Fulfilment Centre. Reading Amazon's packing requirements will significantly reduce the risk of a rejected or delayed shipment.
To make sure everything remains in place during transit, we recommend using plenty of protective materials, i.e. bubble wrap and packing peanuts. Fill each box of goods as much as possible with the protective packing materials and leave no air space!
Air space means that your items are more likely to shift on the move, potentially resulting in damage. In which case, if your goods reach the Fulfilment Centre damaged, they will either be turned away at your expense, or disposed of appropriately.
Remember to stock up on your packing materials as they will prove worthwhile when everything arrives in pristine condition.
As per Amazon's packing requirements and rules, sellers must pack all pallets themselves. Assisting with loading, packing and wrapping pallets for FBA is something that no pallet courier can or will agree to do.
Learning how to get it right on your own the first time is something you need to do well in advance. This way, you can be certain that your shipment will be accepted by the Fulfilment Centre the first time around.
About PalletOnline
PalletOnline is an Amazon preferred carrier. We are trusted to ship hundreds of pallets to Fulfilment Centres all across the country at some of the most competitive rates! Plus, our drivers are friendly and knowledgeable; you can always count on them to help put your mind at ease.
To book your Amazon pallet delivery with PalletOnline, simply head over to our website and select 'Amazon Fulfilment'. From there, enter the collection postcode and select the correct Fulfilment Centre - your free quote will be generated once you have selected the number of pallets.
You will also need to provide a few more details, i.e. the total consignment weight and full collection and delivery address details.
Once your booking is confirmed, we will take care of the hard work! All you have to do is make sure everything is wrapped properly and ready to be collected. Again, look at Amazon's packing requirements if you have any doubts!
For more details on sending a pallet to Amazon, please call 0845 658 0049 or send a message using our Live Chat service. Our friendly customer support team is always happy to help.
Alternatively, you can always get more advice and tips on packing goods for your Amazon pallet delivery by heading over to our Help Centre.