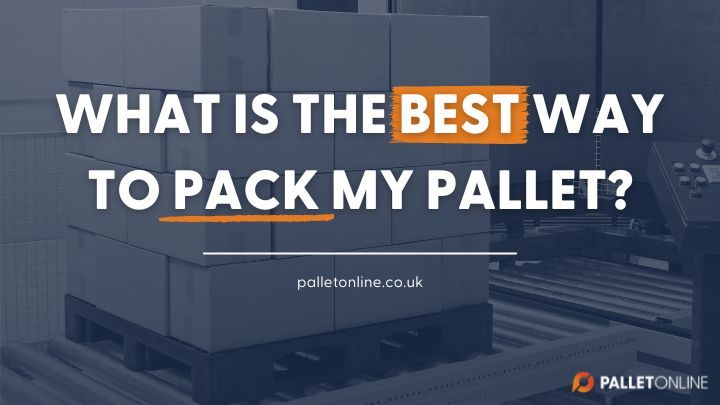 Proper pallet packing is a crucial step towards successful pallet shipping, yet so many of us get it wrong.
Essentially, arranging to send goods and packing them both require a different amount of attention.
When it comes to packing and wrapping your pallet, you surely want to know the easiest way of securing everything off the top of your head.
With a little help, you can learn the best way to pack your pallet to guarantee your items travel safely through the couriers' network!
Selecting the Correct Pallet Size
One of the biggest misunderstandings when arranging to ship items via pallets is the type of pallet and pallet size required. This often boils down to the classic guessing game and very limited patience or time.
Selecting the correct pallet size is perhaps the most crucial part of a pallet delivery; this pallet is going to hold your items from the point of collection to their delivery destination.
Imagine if you selected what you assumed was the correct pallet, but your items happened to hang over the edge and you are later informed that the delivery cannot go ahead - how frustrated would you be?!
But how do you know what the right pallet looks like? Well, it's easier than it sounds. The right pallet needs to be large enough to hold all of your items, without any overhang. Plus, your items need to fall within the maximum weight limit for that pallet size.
Normally, all couriers only accept standard UK pallets. These are your typical wooden, 1.2 metres by 1-metre base pallets and are used by logistical companies all across the country.
So, now you might be thinking 'how could I possibly not select the correct pallet, then?' When it comes down to it, the base of the pallet (the structure and size) stays the same but the height and weight limits change as the size increases.
For example, a quarter pallet allows items that are no taller than 60 centimetres and weigh no more than 250 kilograms, while half pallets can hold items that are no heavier than 500 kilograms and no taller than 100 centimetres.
Regardless of how tall or heavy the items, the width and length are the same - make sense? Check out the size guide below!
Now let's say your items do exceed the maximum width and length and you believe you can keep this quiet and get away with shipping on just one full pallet. No pallet courier will accept your items if they hang over the edge of your pallet as it is just too risky!
With this in mind, grab a tape measure and get measuring the following things before selecting what you believe to be the right pallet size:
the total height of the pallet (with your items loaded on) from the base of the pallet. Does this meet the max. height limit set by the courier?
the length of your item(s) when laid flat on the pallet. Does this exceed 1.2 metres? If so, you will need to contact the pallet courier to see what your options are!
the width of your item(s) on the pallet. Does this exceed 1 metre? If so, contact the pallet courier and find out what options you have!
the total weight of your consignment. Depending on which pallet size your item(s) requires, the total weight should not exceed the maximum weight limit in place by the courier.
Also, if you find that your goods are too wide and/or too long to fit on a full pallet, you will need to ensure you have selected and paid for the correct number of additional full pallets.
The best way of knowing how many more full pallet spaces you will need is by contacting the pallet courier and explaining your situation to them.
When you reach out, aim to be as honest as you can (there's no point in hiding anything, they will find always find out!) and give them the exact measurements of the goods you wish to send.
At this point, the courier will tell you if they can transport your goods and will advise you on exactly what you need to do to ensure everything travels safely through their network.
By guessing the right pallet size, you are far more likely to incur additional charges somewhere down the line. If the pallet courier attempts to collect your pallet and your items do not fit on your pallet, they stand the right to refuse to take the pallet with them on their vehicle.
In this case, they would return to the collection depot and you would be contacted to arrange a second collection attempt - for this, you will be charged. Not only will you have to pay the second delivery charge but you will still be charged for the first collection; it's not worth the risk.
For this reason, if you struggle to find the right pallet size you should always ask for some help rather than just guess!
Stacking Boxes - Even Weight Distribution
Supposing it's boxed goods that you're loading to the pallet and not loose items, stacking them can be tricky if you have an odd number to play around with. But it won't be tricky if you follow our simple advice!
Before you start, arrange your boxes into groups based on their weight, i.e. the lightest in one group and the heaviest in another.
This will help you identify which of your boxes to load first on the pallet - normally, this will be the heaviest of your goods.
This is the safest and most logical way of loading your pallet. You would then place the lighter boxes on top, which should help prevent those at the bottom of the pallet from becoming crushed or damaged in transit.
Also, all couriers advise against stacking in pyramid shapes as this increases the likeliness of boxes shifting around or even falling off the pallet.
The right way is to practice equal numbers, whereby on each side and level there is the same number of boxes stacked.
For example, on all four sides of the pallet there are 4 boxes of goods and stacked upwards there are also 4 levels (4 boxes high, 4 boxes wide).
This will help minimise gaps between each box - gaps mean airspace, and airspace normally means an opportunity for damage to strike!
Avoiding Overhang!
Firstly, what is an overhang, you ask? Well, we're about to explain it as simply as we can!
Essentially, if loose items or boxes hang over the edges of your pallet, whether it be by a few centimetres or a few inches, this is classed as an overhang in the eyes of pallet couriers and their partnered networks.
Overhang is never allowed, not under any circumstances and couriers never 'let you off' with items that overhang their pallet.
Why? Because items that overhang their pallet always result in damaged goods, and some cases, damaging other pallets that belong to other customers.
That is not to say that pallet couriers won't ship your items or boxes if they overhang their pallet, you just need to find out if they offer a service that caters for oversized items first.
If they don't, then you may need to find yourself a courier that does and find out what is required of you.
There are plenty of reliable couriers that offer oversized pallet delivery for all items that exceed the maximum length and width in place.
Normally, this means adding additional full pallet spaces to account for the extra room on the width and/or length of your items.
We always recommend measuring your goods before selecting the right pallet size. This will help you determine which pallet will hold your items comfortably with more than enough space on all sides.
Keeping Everything Flat
As standard for all distribution networks, items must be laid flat on the correct pallet to prevent anything from tippling over or rolling off the pallet during transit.
Plus, with everything laid flat on the pallet, it becomes much easier for the driver to load them to their delivery vehicle.
Not only does this help protect your goods on the move, but it will also give you a true idea of the length and width of your goods before deciding whether you will need an oversized pallet. All loose items should ideally be strapped to the pallet as well.
Attaching All Labels
As soon as everything is loaded to the right pallet, you need to think about attaching the labels. For pallets that are loaded and wrapped properly, simply attach the labels - make sure they are visible and well-presented if hand-written!
Normally, it's down to you to print any shipping labels off and attach them to your pallets ready for collection.
But what if you don't have a printer at hand? Well, you can just as easily hand-write your shipping labels on a piece of plain A4 paper! Make sure this includes all the details displayed on the digital copy of the label.
Attaching all labels is crucial when it comes to helping the driver identify where each pallet is going.
All pallets that have no label attached cannot and will not be sent through the couriers' pallet network and the driver will refuse to collect them.
With this in mind, aim to affix all labels to your pallets well in advance of collection.
This will help speed the process of the collection up too, as the driver won't need to wait around for you to attach your labels.
Applying Pallet Wrap
Last but by no means least, ensuring the complete safety of your goods is vital when it comes to pallet delivery.
With no pallet wrap, your items are far more likely to fall off the pallet, which is the reason no courier will accept pallets that aren't wrapped.
Naturally, pallet wrap comes in two main types: stretch and shrink wrap.
Either is ideal for making sure items don't move around on the pallet, so the choice is more or less down to personal preference.
For shrink wrap, the application involves using a hand-held heat gun and several layers are needed to fully protect the items.
Also, depending on the tools you have, i.e. a turntable or pallet wrap dispenser, applying shrink-wrap may require two people. One of you will hold and operate the heat gun and the other will apply the several layers of pallet wrap.
On the flip side, the process of applying stretch wrap is much easier and is considered one of the quickest options.
This can be done with just one person and is a simple process of walking around the pallet, covering all items with the wrap as it stretches to minimise airspace. This also keeps everything sat tightly together on the pallet.
Depending on the size and/or the number of items you are sending, make sure you have more than enough pallet wrap to keep them covered. This may cost more, but it would cost much, much more if anything was to happen to your items after handing them over.
Also, for additional protection, you can always use a tough rope or ratchet straps to secure any loose or bulkier items.
However, remember that this is not an alternative to pallet wrap. Appropriate use of stretch or shrink-wrap is mandatory and no courier will accept pallets that are not wrapped.
If you require expert pallet packing advice, you can always contact PalletOnline!
We are available on Live Chat from Monday to Friday, between 9am and 5pm, or you can call and speak with us directly.
Alternatively, you can find more useful help articles and top tips by heading over to our Help Centre!