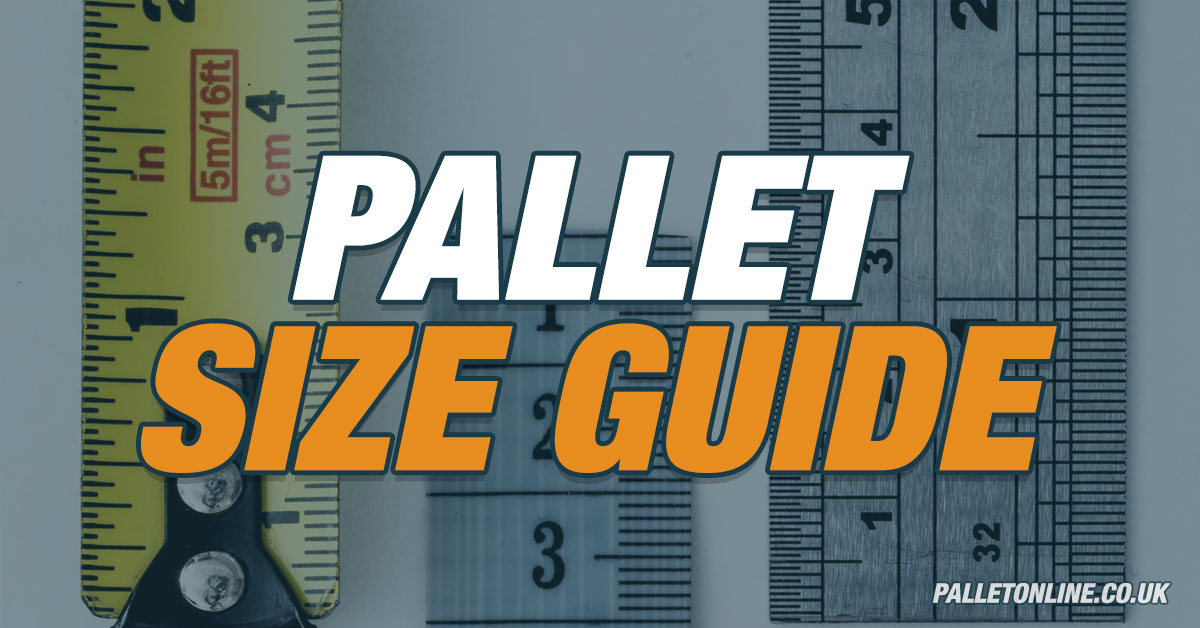 Knowing how to measure up is the key to finding the right pallet size, but make one slight mistake and you could cost yourself even more money on the run back to square one!
Luckily, we have some pointers to help you save money while taking the hassle out of measuring up for your next pallet delivery.
Plus, working out the size of the pallet you need (and getting it right) will help you figure out the cost of shipping your goods.
Normally, most pallet couriers use a pallet size calculator and a unique formula that will consider the weight of your items and the pallet size before offering you a quote for delivery.
Shipping rates are usually based on how much space each pallet takes up (on the delivery vehicle) and the distance between the collection and delivery point.
For this reason, you must select the right pallet size if you want to keep the cost of your delivery as low as possible.
The History of Pallet Sizes
There are several pallet sizes that you are likely to come across, including the standard UK pallet and other not-so-common pallet sizes.
Despite there being many, many options to choose from, most choose the standard pallet to make their life and job much easier.
However, this is not always the right pallet size to select. Every delivery is different, i.e. contains a different number of items with all sorts of weights, heights, lengths, widths and such.
Yet many people still take the risk and guess which pallet size they need, thus end up costing themselves more money and time than is necessary.
By now, you're probably thinking 'how many pallet sizes must there be?', so let us explain as simply as we can and help to clear up any confusion.
In the past, each industry would produce pallets for their very own purpose and with no real care for the size.
As long as it was fit for the items that they wanted to ship, it was good enough for them and everyone else.
Then, eventually, other popular sizes were introduced as a result of common trade routes and use:
Take the Europeans, for example, who transported goods via train and needed to come up with a standard pallet size that would fit through the doors of trains. These are 800mm pallets as we know them today.
On the other hand, trade between North America and the United Kingdom was done by boat and these pallets needed to fit through the shipping containers.
This lead to their 'standard' pallet sizes with the idea of wasting as little space as possible.
Choosing the Right Pallet Size
Each region has a type of pallet that they consider the standard pallet.
Allocating one standard pallet size helps to prevent people from pallet hopping or even securing their items to the wrong pallet, thus helping to avoid any issues or delays.
Overall, six categories have been approved by ISO and they are perfect for certain regions. These are listed below:
| | | |
| --- | --- | --- |
| Dimensions (WxL) Inches | Dimensions (WxL) Millimetres | Region of Use |
| 40 × 48 | 1016 × 1219 | North America |
| 39.37 × 47.24 | 1000 × 1200 | Europe, Asia |
| 45.9 × 45.9 | 1165 × 1165 | Australia |
| 42 x 42 | 1067 × 1067 | North America, Asia, Europe |
| 43.30 x 43 x 30 | 1100 × 1100 | Asia |
| 31.50 x 47.24 | 800 × 1200 | Europe (fits most doorways) |
Ideally, if you are shipping to another continent you should select a pallet that can be used in both your region and the other.
Most pallet couriers will advise you on their sizes and which you need to select based on several things, including the collection and delivery location.
With a little help from the courier, you will avoid experiencing any technical difficulties, delays and additional charges because your pallet was difficult to handle.
More to the point, using a pallet that is accepted in both regions (collection and delivery location) will help prevent your shipment from becoming delayed or even refused.
Guessing is very risky and is more hassle than it's worth, so it's always a good idea to do your research before booking.
Another option is custom-sized pallets. These are pallets that are measured to the item(s) you wish to ship and is a fantastic way of ensuring your pallet is not too small!
This may require an inspection but as long as it is made by custom order, it should be useable on any equipment, i.e. there should be no problems moving your pallet using pallet trucks and such other machines.
Also, you can use a pallet size calculator to work out which is the right size for your items. If not, you can always ask for help if you struggle to find the right pallet size!
Our Final Thoughts
Selecting the right pallet size may be a tedious task and of course, it depends on many different things. Still, making the right choice will save you money, time and the hassle of starting all over again!
By learning how to find the right size now, you will ease the process when it comes to booking your next pallet delivery. So, we hope this size guide proved useful to you.
In the meantime, if you need any additional support or advice, please do not hesitate to contact us.
You can do so by calling and speaking with us directly or by sending a message through our Live Chat service for a fast response.
Alternatively, if you require more information regarding pallet sizes, please visit our Help Centre.
Questions & Answers
The standard UK pallet size is 1200 x 1000mm. UK pallets are available in a number of different types and weight bearing capacities, and they are also widely used for the export of goods.
Multiply the height by the area to calculate the overall volume of the pallet (in cubic inches). For example, if you use a standard 40'' by 48'' pallet, and the total height of the pallet is 50'', then the volume would be 96,000 cubic inches (40 x 48 x 50)
When stacking them, you must not exceed 60 inches in height (or 5 feet). This is to make sure the pallet isn't overloaded and that forklift operators can work with a standard clearance that is safe for your freight.
Measure your pallet from the ground up to the highest point, including the pallet and the shipment. Then find the overall volume by multiplying the length by width by height (L x W x H).
A full truckload can vary from 24 to 30 pallets and more. With truckload freight, the space your freight takes up in the trailer has more of an impact than its weight, so truckload shipments can often range from 5,000 pounds to 45,000 pounds upwards.