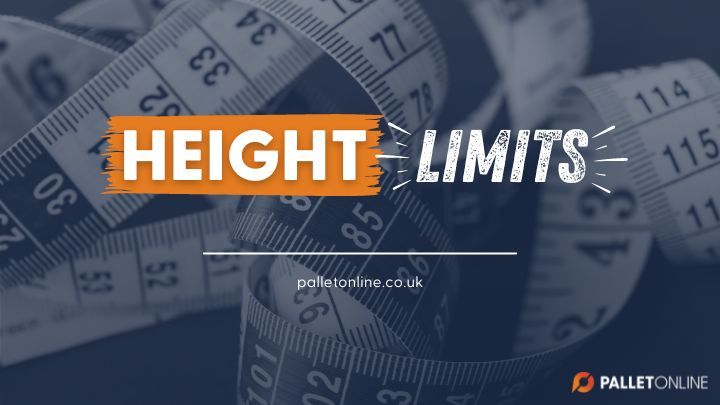 Shipping pallets is a responsibility that many welcome with open arms, but do you know the significance of mastering pallet packing and height limits?
Doing your research and taking all the right steps to meet the correct requirements is a great way of ensuring everything goes to plan.
Luckily, thanks to our expertise in pallet shipping we can tell you everything you need to know about pallet packing and the importance of height restrictions.
So, grab a pen and paper and let's dive right in!
What is the Most Common Pallet Size?
One of the biggest misunderstandings in pallet prepping is dimensions, but making this mistake yourself will ultimately cost you more time and valuable money.
What we mean by this is that so many people either miscalculate the measurements of their items or forget to measure at all.
But, if you miscalculate or simply forget to measure up, how are you meant to know if you are on the right lines?
To start with, you need to know that standard pallets are the most commonly used in pallet distribution and logistics.
Standard pallets are what most, if not all pallet couriers in the UK use for their shipments. These generally measure 1200mm x 1000mm.
However, the standard UK pallet has many different height and weight-bearing capacities, i.e. a quarter pallet holds less than a half pallet and such.
As UK standard pallets are widely used throughout the country for exporting goods, it pays to research the different sizes and weight-bearing capacities with your chosen courier first.
How Much Weight Can a Pallet Hold in KG?
When it comes to pallet delivery, weight capacity depends on the type of pallet used, i.e. wooden pallets can easily hold anything between 250 and 1,000 kilograms.
Weight allowance also depends on the courier and their delivery network.
For example, one courier may set the maximum weight limit at 1,000 kilograms while another may allow shipments up to 1,200 kilograms through their network at any time.
Regardless of the maximum weight limit, you should never exceed the weight limit in place for the pallet size you have selected!
How Much Does a Pallet Cost?
Depending on where you look, the average new pallet in the UK costs between £4 and £16. This price generally varies depending on whether the pallet has been treated and with what, too.
Used wooden pallets, on the other hand, will cost you less than newer models but be wary of their condition.
Some used pallets are robust and are worth their weight in gold, while others may end up costing you more money as time goes on.
On that note, the cost usually depends on where you buy the pallet, i.e. directly from a pallet manufacturer, on Facebook Marketplace or eBay, or even from your local hardware store.
All of these places will offer different costs based on quality, treatment methods used, the size of the pallet and so on.
What is the Maximum Height of a Pallet?
Height is one of the biggest confusions when it comes to pallet delivery.
Some simply guess the height of their goods, while others forget to measure at all.
Those that do measure their goods often measure up wrong. But there's a way that you can avoid having your delivery refused or facing complications between the collection and delivery.
Generally, every pallet courier will set their height limits based on their network restrictions. But all couriers have a maximum height limit that you must adhere to at all times!
This height limit is normally around 72'', so to be on the safe side, you should try to stick to this height (or under) for all items you are sending.
Should your items be taller, check the height limit with your chosen courier - ours is based on the Palletline network restrictions.
How High Can Pallets Be Stacked?
When storing pallets, we recommend stacking them no higher than 15ft but even that may be too high in some cases.
For example, if the on-premises storage space is busy, you have to take extra care when stacking your pallets.
Where there is likely to be more workers, aim to stack your pallets much lower than 15ft if possible.
This will ensure the workers are kept safe and there is no risk of pallets falling and causing injury to anyone walking below.
More to the point, as each pallet is between 5 and 7 inches tall, stacking them in large numbers can bulk up the total weight.
Plus, you know what they say, stack 'em up too high and they will soon come tumbling down!
In other words, aim for smaller stacks and less destruction will be caused should any of the pallets become dislodged or fall.
About PalletOnline
At PalletOnline, we offer the very best level of customer service in the industry!
We use our many years of experience to help make sure you have everything you need when planning to send a pallet delivery.
For more information about pallet measurements or to arrange a pallet delivery, please get in touch with PalletOnline.
Either call and speak with us directly or send a message through our Live Chat service.
Alternatively, you can find more information on pallet collection and delivery by heading over to our Help Centre.