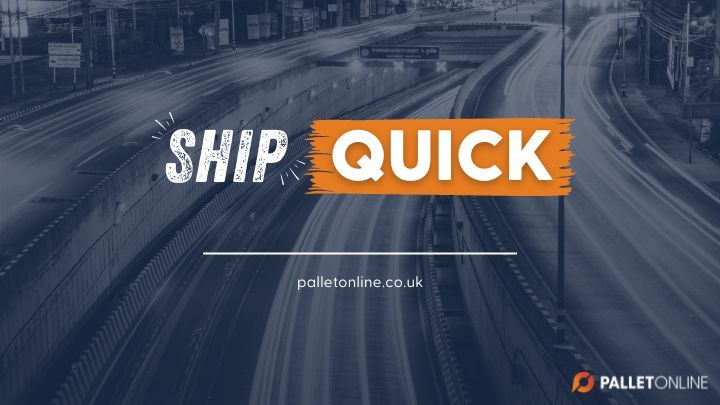 Thousands of people ship pallets often, yet the biggest concern is that the process can prove to be time-consuming. Wouldn't you agree?
While you may already know the ropes, brushing up on your knowledge will help you master the pallet shipping process and speed things up a little.
Luckily, we're willing to share the best-kept secret behind shipping a pallet of goods quickly.
So, listen up and get ready to take some notes - you may need them.
Let's dive straight in!
Load Your Items The Right Way
Securing a pallet may sound complicated, and if you're new to the process of shipping, it can be a little daunting.
But rest assured there is no step that you cannot do on your own with a little nudge in the right direction.
Firstly, there are several steps involved with securing a pallet but none of them are as complicated as you think.
So, get started by loading all your items onto the pallet. When you do this, remember that there's a certain layout for them.
All reputable couriers will advise against stacking boxes in pyramids. It's just simple physics.
Ideally, you should load your boxes in weight order (the heaviest first) as this will prevent items on the base of the pallet from getting crushed.
Each level of the pallet must have the same number of boxes like the one before, i.e. if there are 4 boxes on the base of the pallet, there needs to be 4 on the second level and so on.
Doing this will minimise movement during transit as the boxes will be sat flush next to one another, underneath the pallet wrap.
Strap Down Loose Items
As it stands, if your cargo is shorter than 5ft and weighs less than 1,100 pounds, you should use a tie-down, like ratchet straps.
If your goods weigh more than the above, you will need to use at least two tie-downs to secure your pallet. This also applies for goods over 5ft but shorter than 10ft!
Moreover, you would need to use at least 4 tie-downs if your goods are heavier than 10,000 pounds. You will also need additional tie-downs if your goods are longer than 10ft.
According to the Road Haulage Association, it is advised that you use at least one tie-down for every additional 10ft in length. This will help to minimise movement during transit.
However, even if there is not an additional 10ft in length, a tie-down is still required for bulkier or loose items.
Wrap Your Pallet in Under 5 Minutes!
The time it takes to wrap a pallet depends entirely on the method of which you use.
For example, you can either wrap your pallet by hand with no tools or equipment, or you can use such tools to help speed the process up massively.
Wrapping a pallet by hand can take around 5 minutes on average, not including the time it takes to load your goods of course.
However, if you have a keen eye for detail then this way is likely to take you slightly longer. But, there's nothing wrong with taking your time!
Time is of the essence when shipping goods, right? The quicker you pack and wrap your pallets, the quicker the goods will be collected and thus, they will reach their destination much sooner too.
Ultimately, one of the quickest ways of wrapping pallets is done using a turntable. Turning 360 degrees, a turntable allows a seamless application of the pallet wrap in well under 5 minutes!
This method normally takes no more than 90 seconds per pallet, making it the fastest solution to wrapping your pallets and shipping your goods quickly.
Top Tip: remember to stack your pallet to the correct requirements! The last thing you want is for your items to move around frantically during transit.
If you don't feel comfortable wrapping pallets yourself, you could always ask the courier if they offer a service that takes care of this part for you.
Should they offer such a service, it is worth keeping in mind that this will normally involve a small additional cost.
This small fee will cover any materials provided by the courier, i.e. the pallet itself and the wrapping materials.
The Right Way to Thread Excess Wrap
So, now you're past the point of wrapping your pallet but there's just one small problem: you can see excess pallet wrap hanging loose and you have no idea how to tackle it.
There's an easy way to solve this, though. And it doesn't involve cutting the loose wrap off and risking unravelling all your hard work!
Firstly, grab around 8'' of the end of the wrap and squeeze it into a loose rope.
Then you're going to thread the loose rope through and around just one corner of your pallet.
Once you have done the above, tie the loose rope to fully secure.
You will then wrap this around the base of the pallet, trying to maintain a consistent and firm stretch, making sure you wrap it securely enough to maximise stability.
This will also help avoid anything falling off when on the move.
Never Stack in Pyramids!
Again, stacking boxes in pyramids can cause issues when shipping pallets and thus, shipping delays are more likely.
Simply put, boxes at the very top of your pallet are more likely to fall or move around frantically during transit.
For this reason, there should be no odd number of boxes on each of your pallets, i.e. if there are 4 boxes on each side of the pallet, moving up to the next level there should be 4 boxes on each side of the pallet too.
Though it may not seem like a huge problem, numbers must remain consistent with all pallet deliveries.
Odd numbers of boxes are as good as loose items without tie-downs, and as you can imagine, these are far more likely to move around and become damaged during their journey.
On the same note, there should also be no gaps between any boxes, small or large. Everything needs to be sat flush on the pallet, close together.
Again, gaps are likely to result in significant movement during transit and may result in damaging part or all of your shipment before reaching the delivery point.
For more information regarding booking a pallet delivery, please contact PalletOnline!
We will be happy to discuss our service offerings with you in more detail over the phone, or via our online Live Chat service.
Alternatively, you can find more useful top tips and pallet courier advice by heading over to our Help Centre!