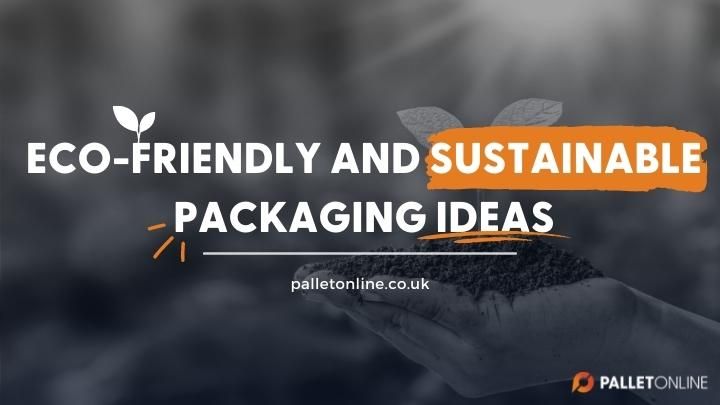 It's no secret that we all want to cut down on waste going to landfills and be more eco-conscious. That's why we've compiled some environmentally friendly packaging ideas for your products!
While it's probably the most useful kind of packaging we can use, most plastic packaging isn't any good for our environment. Did you know that 12 billion tonnes of plastic waste is expected to reach landfills by 2050?
For that reason, we hope these alternatives will be a greener option for you in the future.
Biodegradable Stretch Wrap
As previously mentioned, single-use plastic products are suffocating our planet, and plastic stretch wrap plays a big part in that. That's why many companies are now manufacturing biodegradable, environmentally friendly stretch wrap that will degrade far quicker than the typical synthetic material.
Did you know that it takes thousands of years for plastic stretch-wrap to decompose as opposed to its biodegradable alternatives which take just 3-6 months? I know which one I'd rather use!
There are many biodegradable stretchwraps available on the market, however, if you're not prepared to switch to a biodegradable option, did you know that you can recycle your used stretch wrap?
PALLITE Pallets
Unfortunately, plastic isn't the only thing that is harming our environment. Unused and broken wooden pallets sitting around often end up being broken down and burned, and as pallets are often treated to prevent the wood from rotting if they get wet, burning them can release harmful chemicals into the atmosphere.
Fortunately, pallet manufacturer PALLITE has come up with a solution, making pallets only from recycled paper and glue. Genius!
PALLITE claim that their pallets are "100% recyclable" and are "up to 83% lighter", reducing overall consignment weight and making shipments much more cost-effective for haulage operators! Lighter pallet shipments mean less load on the truck, less fuel consumption and smaller carbon footprint!
Trusty Cardboard
Good old cardboard! We see it every day, but there are much more uses for cardboard than simply boxing up products... Plus, it's biodegradable and recyclable!
When shipping pallets, cardboard can be used for many things, such as capping the top of your pallet and protecting those rough edges, which can cause damage.
Carboard boxes are also a great way to make your pallets more stackable, and goods more secure.
Combine these uses with biodegradable shrinkwrap and PALLITE pallets, and you'll be the Attenborough of the logistics industry in no time!
Upcycle, upcycle, upcycle!
Nobody likes seeing a yard littered with empty, used pallets. Let's be honest, they're not the prettiest pieces of equipment, are they?
When you've got old, tired pallets lying around, there are many things you can do to upcycle them, including turning them into beautiful storage units or shelves.
Not sure where to start? No problem! We've made a blog just for this - have a browse of 5 Easy Pallet Projects you could get started on today!
---
Well, there you have it!
Just a few small steps can make a huge difference in the future, and we hope you found our sustainable suggestions useful.
We'd love to know if you try any of these tips! Let us know what you're doing to make our planet a cleaner place to live on our socials.
Happy Hauling!