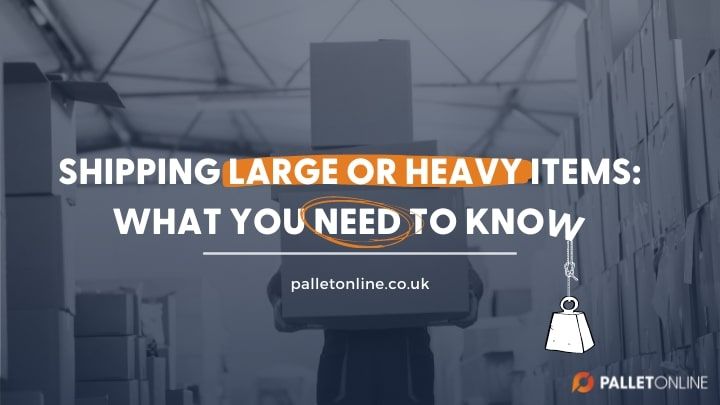 The thought of lugging a large or heavy parcel around doesn't sound so appealing, does it?
However, with the right planning and materials, shipping heavy freight no longer has to be a pain!
To make it easier for you, we thought we'd compile a bunch of useful information so you can ship your next large load with ease!
Things to consider when shipping large and heavy items
Weight
As we're talking about shipping heavy goods, it'd be a bit silly not to include the weight of the items, wouldn't it?
When you're shipping heavy goods, it's important to note the exact weight as this will affect whether you will need special lifting equipment such as tail lifts, forklifts or lift assists. The type of service you'll book will also be influenced by the weight of your goods (e.g. if you're shipping a quarter or half pallet)
Want to ship a heavy item? Here at PalletOnline, we can accommodate shipments up to 1200kg!
Dimensions
As with any pallet shipment, noting the dimensions of the item/s you want to ship is paramount. Without knowing how high or wide your goods are, you won't get past the first step!
The main dimensions you'll need are length, width and height (LxWxH). This is important, as different sized shipments will require different services.
We've made it easy to know which pallet size you need to book with our handy pallet size guide and calculator!
Carrier's rules and conditions of carriage
While heavy goods aren't forbidden, terms & conditions still apply.
Make sure you've also familiarised yourself with our prohibited goods list.
Fragility
If you're shipping large, fragile goods, it's crucial to protect them from damage during handling or transport. While our insurance will cover damage for up to £5 per kg, it's always best to prevent damage at the start.
It's recommended to protect your goods using plenty of bubble or stretch wrap and ensure your goods are secured to the pallet (this is especially important when shipping heavy items!) - ratchet straps or rope could be used for this.
Don't have any of the above to hand? No worries!
You can browse and buy a variety of packaging materials via our shop!
How much does PalletOnline charge for the shipment of heavy or large goods?
All of our prices are unique and take several factors into consideration, such as weight, distance and pallet size, which means we aren't able to give an exact quote right here, right now.
However, you're in luck! Our quoting system will allow you to get an instant price!
Simply enter the collection and delivery destinations, pallet quantity and weight and you're good to go!
---
If you're looking to ship your heavy goods with confidence, PalletOnline is trusted by thousands of businesses and individuals alike.
As a member of the UK's most reliable pallet network, your pallets are in good hands!
Get your instant, no-obligation quote today.