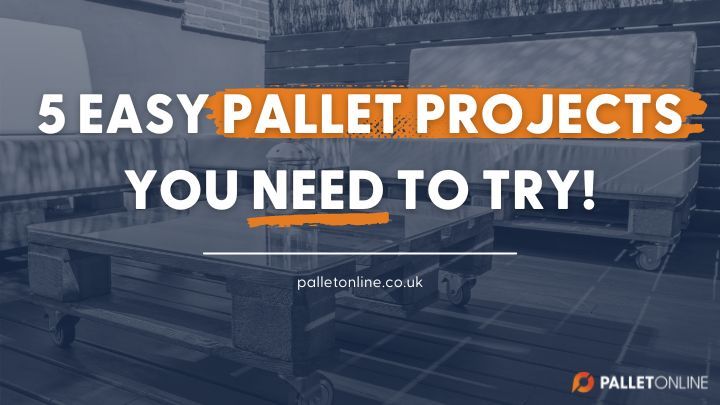 Millions of people and businesses use wooden pallets every day for shipping goods, but they can also serve many other purposes, including transforming your home with a bespoke pallet project.
Check out these FIVE easy pallet wood projects, hand-picked from the countries' favourite DIY ideas; we knew you just had to try them out!
Quirky Wall Panels
You've thought hard about it: your walls need a little TLC, and you've seriously considered investing in panels, but decided your money is better off in the bank.
But, did you know there's a cheaper and quirkier way of panelling those walls of yours? And no, it doesn't involve hiring a budget decorator to make a mess - thankfully!
All you need is many wooden pallets (literally, LOTS of them!) and a well-stocked toolbox.
You can add a lick of paint if you'd prefer, but most people leave their pallet panels in their natural shades for a more rustic effect.
And remember to varnish your panels before securing them to the wall, as this will protect them from wood rot and dampness.
Rustic Pallet Signs
For this, you'll only need one pallet. But that depends on how many pallet signs you'd like to make.
You'll also need a steady hand, a keen eye for detail, a hammer and a few nails. Try to avoid smothering your sign in paint to maintain a rustic look and feel!
If you like, you can whitewash your sign before painting on your pattern; to do this, simply mix white latex paint and water at a 1:1 ratio, and once dried, use a small piece of sandpaper to distress the wood.
Doing this will add a little bit of character and give it a retro look - perfect for any shabby chic lovers!
Ladder Shelf
With a wide bottom and a slimline top, pallet ladder shelves are the perfect addition to any home; they make for a very cosy decor in the winter months, too!
For this, you may need a couple of large pallets, a saw, a sander, a hammer and some nails.
Once your shelf is up and standing, apply a thin layer of varnish to protect against scuffs and stains.
Crate Storage Unit
Inspired by the modern storage cube units, your handmade crate storage unit will leave your friends and family envious! But not to worry, you can always help them make their own once your's is finished.
This is possibly the easiest thing to make from wooden pallets and crates. Plus, it requires very little time and energy.
All you need is five or six medium wooden crates, some nails, a little bit of white latex paint and some water.
The build itself is easy, but the decorating will likely be your favourite part; mix white latex paint and water at a 1:1 ratio before coating the crates.
Once the paint has dried, carefully distress the corners with sandpaper.
Garden Gate
Like many with a green thumb, your garden may be lacking something that you just can't put your finger on; it's not a pond, it's not a shed... bingo! There's a hole in your garden where a gate should be!
You can build a garden gate in just a couple of hours with recycled wooden pallets, and all you need is a few pallets, some hinges and your toolbox.
Once you've picked apart your pallet and all that's left is the A-frame, assembling your new garden gate is easy.