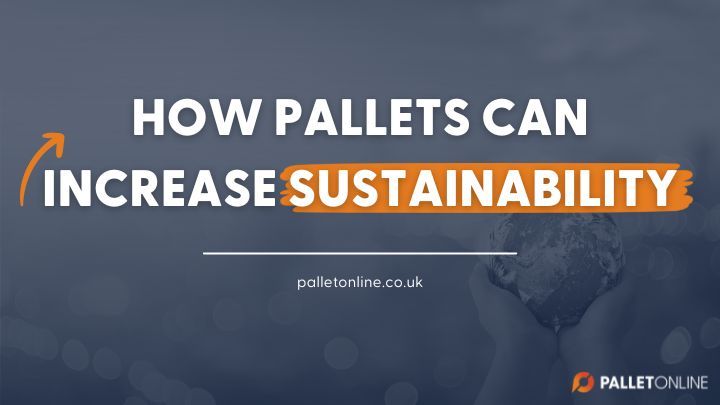 Pallets play a significant part in the smooth running of supply chains, but the biggest question is, how can they help our environment when we're so heavily reliant on them?
But, there's more to pallets than meets the eye and, believe it or not, they increase sustainability every time you use them.
Here's how you're helping the environment every time you ship pallets...
You Can Ship More on Pallets
Unlike parcel deliveries, where there are limits to what and how many items you can send at once, pallets allow you to ship much more in one go; you can even have everything delivered together no matter the number of pallets.
You can also deliver heavier and bulkier goods, such as appliances, furniture, and bulk foodstuffs, that you would otherwise struggle to ship through a standard parcel delivery service.
Wooden Vs Plastic Pallets - Which is Better?
Despite biased rumours that wooden pallets are better than plastic, there is no right or wrong answer.
Generally, wooden pallets are better for the environment as they're widely recycled and reused, and there is little cost involved for those looking to ship through pallet couriers.
However, wooden pallets can often involve general maintenance, i.e. heat treating the wood to prevent pest infestations and storing them indoors away from the wet and cold.
Of course, those who don't have the time to maintain wooden pallets could always look to plastic pallets instead; these require very little upkeep and can be less prone to damage, too.
But then again, your choice depends on how often you'll need a pallet and what for. For example, if you only plan on shipping pallets once or twice, wooden pallets would be the most cost-effective option.
Whereas if you think pallet shipping will be a regular thing, you may be better off investing in plastic pallets as these will last much longer, costing you less money in the long run.
Recycle and Upcycle Wooden Pallets
Moreover, you can use wood in ways that you can't with plastic, i.e. recycling wooden pallets into pallet furniture.
Supposing you have no reason to use them anymore, you can make many things from your wooden pallets, including pallet garden furniture.
Recycling them into something new could potentially save you hundreds on new furniture. Of course, you'd just need to get some tools and paint at the ready to put your own finishing touches on!
Reuse Plastic Pallets for One Cost
Conclusively, plastic pallets are good for one thing: you only have to pay one cost.
For B2B (Business to Business) shipping, plastic pallets can save you hundreds, if not thousands, as the chances are that you won't need to buy them every time you want to ship goods.
On the flip side, wooden pallets can usually be repaired if they do become damaged, and at little cost, too.
Nonetheless, many people are reluctant to spend time and money repairing wooden pallets when they could just as easily buy plastic pallets and reuse them every time.
Regardless, both wooden and plastic pallets are doing their part in increasing sustainability; both can be reused and widely recycled.