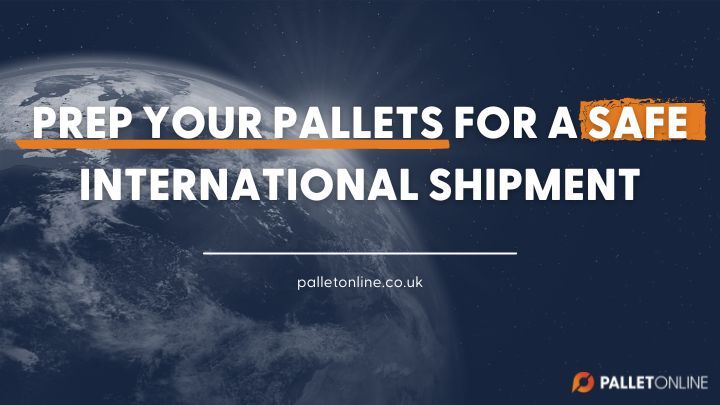 Whether you're new to international pallet shipping or not, learning the correct ways to prep your pallets will ensure a safe arrival.
Luckily, we've got everything you need to know about preparing your pallets for international shipping.
Step 1. Check if Your Goods Are Restricted
First and foremost, you'll need to check if your goods are restricted before attempting to ship them overseas. Otherwise, you run the risk of having your pallets rejected at the border.
The best way to check for restricted goods is by searching the country and their restrictions, i.e. 'Restricted goods in Poland'. This will generate a brief list of items you can't ship to that country, but of course, you should also check with the courier, as they may have additional restrictions.
Step 2. Make Sure Your Pallets Are ISPM15 Approved
Though pallets are used by millions of people every day, very few know the risks involved with Wood Packaging Materials (WPM).
With most pallet deliveries, not just international shipments, your pallets need to be ISPM15 approved to prevent the spread of harmful tree and forestry pests and diseases.
If your pallets are anything other than ISPM15 approved, there's a chance they will be refused.
Step 3. Load Your Pallets the Right Way
Then, of course, loading your pallets the right way is crucial, but what exactly is the right way?
Logically, always aim to load the heaviest items first, so they're comfortably positioned at the base of the pallet and then end with the lightest; this will help reduce the risk of damage in transit.
Any loose items should be well-wrapped and strapped to the pallet, while boxes should sit side-by-side with no wriggle room - giving room for movement increases the risk of transit damage.
Step 4. Buy Plenty of Protective Packing Materials
FACT: There is no such thing as too many packing materials in logistics; the more protective materials you use, the safer your pallets will be.
But the question is, which packing materials do you use? There's plenty to choose from, but try to pick materials that will better protect your goods.
For example, if you're shipping furniture made of MDF (Medium Density Fiberboard), you'll want to separate each piece with cardboard sheets and protect the edges with corner boards, too.
Then again, packing materials depend on the item you're shipping.
Let's say your items are already packed into boxes, all you'd need is anti-static packing peanuts to minimise movement inside the boxes and plenty of shrink or stretch wrap.
Step 5. Check Your Commercial Invoice
When shipping internationally, you'll need a Commercial Invoice with all the correct details. Otherwise, your pallets will be refused or held until you can provide the correct information.
If you're not sure what details are needed for your Commercial Invoice, you can view the full list of requirements on our website.
Step 6. Allow Plenty of Time for Customs Clearance
Lastly, if your pallets are headed overseas, your goods will likely need to make their way through customs clearance.
At this point, any customs delays are out of the courier's hands and depend on whether you've provided all the right information.