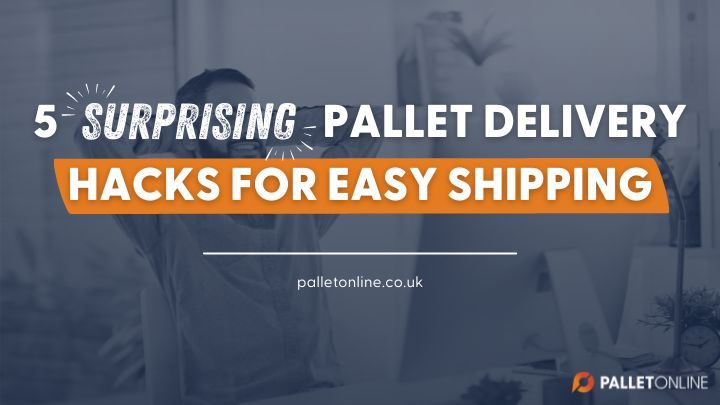 One of the biggest mistakes you can make in shipping pallets is refusing help; often, a little guidance and gentle nudge in the right direction is all you need.
As leading pallet experts, we thought it was only fair to share the FIVE must-know pallet delivery hacks to help ease the shipping process.
Allow Plenty of Time for Delivery
Where possible, plan well in advance of any deadlines, but more importantly, consider the impact of rushed or potentially late shipments on the delivery point.
Last-minute pallet delivery bookings are a BIG no-no in the world of logistics, as delays are likely during peak times.
In essence, the narrower the delivery window, the more stressful the process will prove to be.
As logistics is an industry where time frames can never be guaranteed, allowing extra time for your goods to arrive at their delivery destination will help avoid unnecessary disappointments.
Bookmark the Best Pallet Packing Guide
Next, try to source the very best pallet packing guide online and bookmark it!
Tip: if you're using Google Chrome, click the little star at the top right of your screen and select 'add bookmark' to save the tab for next time. You can give the bookmark a name, like 'Pallet Packing Guide' or something else.
Take a look at our pallet packing guide here!
But hold on! What exactly does the best pallet packing guide look like?
Well, a good pallet packing guide shows the basics of how to pack your items onto a pallet based on their dimensions, weights and quantities.
While the best guide will shows what is needed to pack your items onto the pallet and how to maximise safety, i.e. recommended protective packaging materials and expert packing tips.
Print Your Labels in Advance
The main reason for missing and misdelivered pallets is a lack of shipping labels; if there's no name or address attached, locating the right pallet becomes a nearly impossible job.
Once you've made a booking, all labels must be printed or written and attached to each pallet.
That way, the haulier knows where the goods have come from and where they are going.
Plus, should they need to complete a warehouse check, your labels will help them identify the pallet sooner.
Find a Courier with a Pallet Delivery Tracking App
While most pallet couriers provide regular tracking updates, unfortunately, not all of them have a tracking app.
In almost all cases, tracking apps are handy if you need to know the status of your order urgently. Updates are available at the click of a button whenever you need them.
Don't Be Afraid to Use Plenty of Packing Materials!
There is no such thing as too many packing materials in logistics; the more you use, the better your items will be protected.
That doesn't mean using excessive amounts of shrink wrap and hoping for the best, it means using lots of other protective packing materials, like bubble wrap, anti-static packing peanuts and corrugated cardboard.
More importantly, your packing materials will depend on the items you're shipping, their shape and their weight. So, be sure to do your research and help protect your goods on their journey to the delivery point.