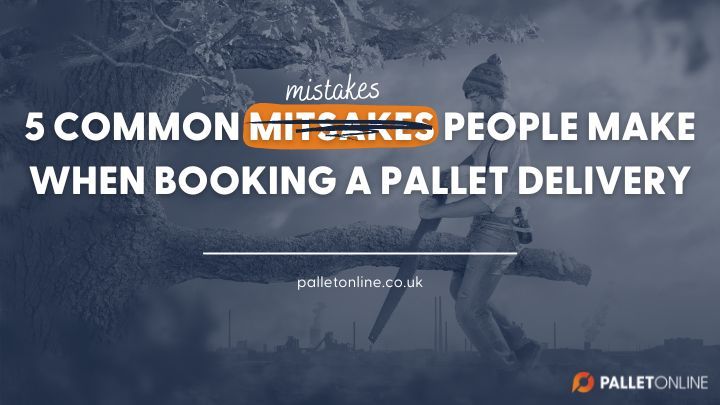 Whether you're new to pallet shipping or it's included in your everyday affairs, logistics is an industry where mistakes can be easily made, yet easy to solve with a gentle nudge in the right direction.
Learn how to avoid the 5 most common mistakes made when booking your pallet delivery.
And who better to turn to for advice than an expert pallet courier? Believe us, we've seen it all!
1) Booking it Last-Minute!
Whether it's a holiday abroad, a gig or even a pallet delivery, booking last-minute very often leads to disappointment.
If your delivery is crucial and needs to arrive by a specific date, you should consider this when booking and aim to arrange delivery a day or so in advance.
Doing this will allow extra legroom for potential shipping delays; many things can happen in logistics, so it's better to expect the unexpected.
Then, even if you face delays of just one day, your goods are still likely to reach the delivery point in plenty of time.
2) Skipping the Unsuitable Goods List
When it comes to restricted goods, bypassing the courier's list of unsuitable goods is a big no-no; if it's on the list, it's not worth the risk!
Restrictions are in place for a reason, and usually, sending restricted goods will jeopardise the chances of getting any insurance compensation should such items become damaged in transit.
As the sender, it's down to you to check the courier's complete list of restricted or unsuitable goods before booking your delivery. And if you can't see a list on their website, always check with them directly.
3) Entering the Wrong Address
Guilty as charged; we've all been there! Yes, it happens to the best of us at the worst times.
With the help of auto-fill and internet caching, it's easy to fall victim to the temptation of handing all the hard work to the robots that usually fill in your payment and billing details, right? We feel you.
But in this case, you'd be better off manually entering your address details to avoid sending your goods to the wrong place, and thus causing panic!
Remember, before you make payment, double-check that you've entered the correct collection and delivery address as it's not always possible to change them afterwards.
4) Leaving Labels Unattached
Again, another big no-no is leaving labels unattached. By this, we mean not attaching your shipping labels to your pallet(s) and sending them on their way.
Not only does this risk delivery delays, but missing labels are one of the biggest reasons for pallets reported lost after collection takes place.
If you have no means of printing the digital copy of your shipping labels, we'd suggest hand-writing them on a plain A4 piece of paper and attaching them to your pallet(s) before collection.
As long as your hand-written labels show your booking reference or order number and the delivery address, this should be just as good.
However, these should be written clearly for the delivery driver, so they know where your goods are going.
5) Hesitating to Ask for Help
Last but by no means least, hesitating to ask for help when it's needed the most is the biggest reason for mistakes when booking, no matter how familiar you are with something.
Logistics is an ever-changing industry, with many freight hauliers moving their business online; that's a lot of new technology to get used to, with many new processes to wrap your head around, too.
No pallet courier is the same, either.
From online booking systems to pallet size guides and customer service offerings, every haulier is different in its own ways.
Regardless, the right pallet courier will offer support when you need it.
Never hesitate to reach out and ask them for help, after all, that's what they're there to do!