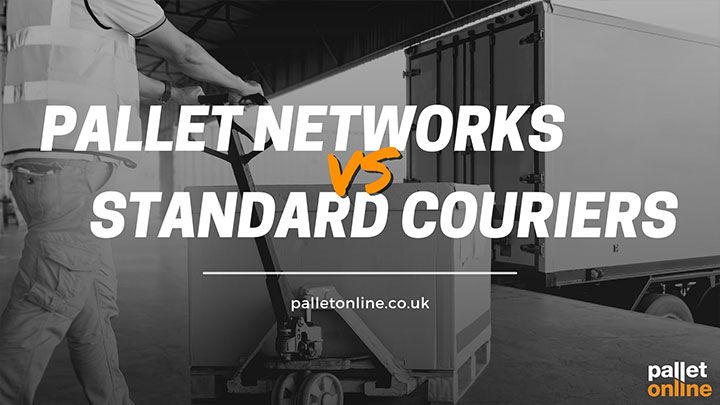 What you wish to ship will determine the type of courier service needed, and with one of the industry's busiest seasons fast approaching, now's the time to weigh up your options...
With our help, you can make the best decision in good time!
Here's everything you need to know about pallet networks and standard courier services...
What is a Standard Courier?
Firstly, a standard courier is essentially a parcel delivery company; when you buy something online, that business may arrange delivery directly to you using standard courier services.
Such services are more for smaller and lighter goods, and thus you will normally find that the delivery cost is smaller, too.
An example of a standard courier is Hermes, DPD or Royal Mail, which work with businesses to ship smaller parcels to their customers.
Standard delivery drivers mark off each package as they go, and their automated system updates ETAs for their remaining drops.
What is a Pallet Network?
In short - a pallet network is made of hundreds of hauliers that work together as members, shareholders or licensees to offer reliable and affordable courier services.
Hauliers deliver and collect pallets locally to their depots; pallets for delivery outside of the area where your local depot is based get transported to a closer depot within the network.
Plus, pallets go through several checks and inspections between the collection and delivery depot to certify the goods are suitable for shipping.
Back at the delivery depots, pallets are sorted into different postcode areas then drivers are assigned to drop them off at their final delivery point.
Is a Standard Courier Best for Businesses?
For smaller businesses, standard couriers are ideal, supposing you only have lightweight goods to ship.
Let's say you sell bedding, and this week you sold 30 bedding sets to 30 wonderful customers who selected a next day delivery for their new purchases.
In this case, a standard courier will likely be the better option as you can ship 30 individual packages to your 30 customers, and they should arrive around the same time.
While if you had only one customer and sold them 12 large boxes of plastic cups, plates, bowls and cutlery, a pallet courier would be the better option as you can ship everything together at one cost.
It's also worth remembering that standard couriers have a much lower weight allowance than pallet couriers as their drivers don't have the tools and equipment to carry heavier goods.
Pallet Couriers Cheaper for Business to Business
Conclusively, if you sell business to business, pallet courier services are certainly the cheapest option, and you're guaranteed to have everything delivered together in one shipment.
Not to mention that you can know where your pallets are at every point between collection and delivery; if no status shows when tracking, you can contact your local depot for an update to report back to your customer.
Plus, all you need to do is pack your goods for collection (some may even do the packing for you), book your delivery and let the pallet courier do all the hard work for you - it's that simple.
And remember, quality comes before cost; the cheapest doesn't always mean the best.
Why You Should Choose a Pallet Courier
If you're running a business that ships goods regularly, or if you're simply looking for a convenient way to send multiple items in one go, we believe that opting for a pallet courier is the best choice. Here's why:
More customised services - Traditional couriers limit your options with fixed delivery times, but pallet delivery services offer flexibility. You can choose pickup and delivery times that work for you, even with budget-friendly options.
Ability to claim for damage or loss - Sending items yourself can lead to damage or loss, especially without insurance. Most freight delivery companies automatically provide basic pallet courier insurance for added peace of mind.
Reduce the cost with shared truckload space - Today, freight delivery companies are getting eco-friendly and cost-effective. They're sharing truck space, serving multiple customers, and keeping your shipping expenses low.

Pallet couriers offer affordable and reliable freight services, making sure every customer's budget stays intact.