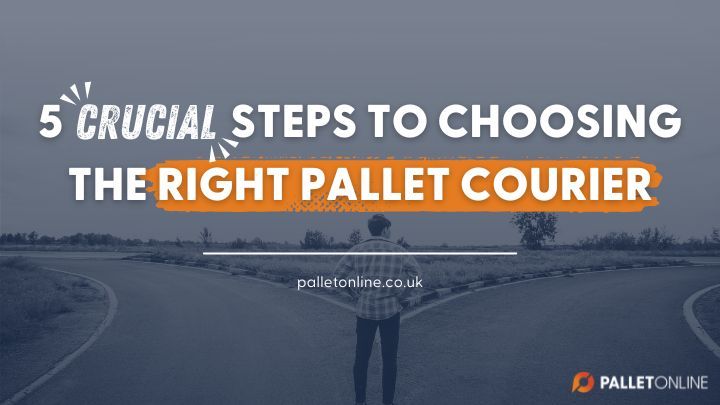 When shipping certain goods, pallet couriers are the safest option to ensure everything arrives in pristine condition and on time.
But how can you be sure you've chosen the right pallet courier?
With our expert advice, you can learn the 5 most crucial steps to choosing the right pallet courier in under five minutes!
Step 1: Deadlines and Delivery Speed
First thing's first, consider the importance of delivery time.
For example, is it vital that your goods arrive on a specific date and time? If so, try to source a pallet courier that can offer a same-day collection and next day pallet delivery.
This way, you will know that you have done everything in your control to have your pallets collected and delivered in good time.
Top Tip: it's always better to plan pallet deliveries where possible.
Disappointing as it may be, certain things can happen in logistics that ultimately cause delays; these things are simply beyond anyone's control.
A prime example of this is the recent HGV driver shortage; this has led to several pallet networks hiring agency drivers to help keep up with heavy demand.
But, with many drivers self-isolating or reaching retirement, the pressure is on those remaining to increase their working hours in a desperate attempt to clear the backlogs.
Regardless of all the extra hands on deck, delays are only natural during busy periods.
Step 2: Pallet Sizes and Weight Limits
Even if you've booked a pallet delivery before, pallet sizes can be confusing at the best of times!
Regardless, you need to know if your goods fit the standard pallet size before booking your pallet collection and delivery to avoid any last-minute additional charges.
If your goods are too large or heavy for a standard courier, shipping them through a trusted pallet courier service is your best option.
Nonetheless, there are still limits in place, and you'll need to know if your goods exceed them before arranging anything.
You can do this using either a pallet size guide or a handy pallet calculator tool - either option will tell you if you can ship via pallets or if you'll need to source another means of transport.
Step 3: Tracking and Proof of Delivery
All pallet couriers can tell you the whereabouts of your goods, but not all offer modern and accurate order tracking.
No matter what you're shipping, tracking gives some peace of mind that everything is going to plan and, in most cases, gives you plenty of time to prepare for collection and delivery, too.
On that note, be sure to choose a pallet courier who can offer reassurance and tell you if everything is on track, i.e. through a tracking app, page or direct customer support.
Step 4: Good Customer Service
Essentially, customer service is immediate support from the pallet courier themself.
Whether calling their mainline or contacting them directly, the right pallet courier will be there whenever you need them.
But remember, as most pallet couriers run as part of a network, phone lines can get very busy at peak times of the day.
In short - pallet networks are made of hundreds of depots that deal with everything from basic queries to collection and delivery issues, so try your best to remain patient!
And if there's an option to get in touch through a live chat or messaging service, take that option as it's usually the quickest way of getting support when you need it.
Step 5: Cost Vs Value
In most cases, there's a reason why some products or services are cheaper than others: they tend to hold less value.
Naturally, many people are attracted to the cheapest options, but cheap doesn't necessarily mean better value...
After all, if you buy cheap, you'll often buy twice!
If you find a pallet courier service that seems too good to be true, chances are you should go with what your gut is telling you.
Exceptionally cheap services usually come with non-existent customer support, meaning you'll have to deal with any issues yourself.
Nevertheless, the best way to know if you're getting the best cost to value is by getting a few pallet courier quotes and comparing them!
Lastly, remember that quality is often worth its weight in gold.