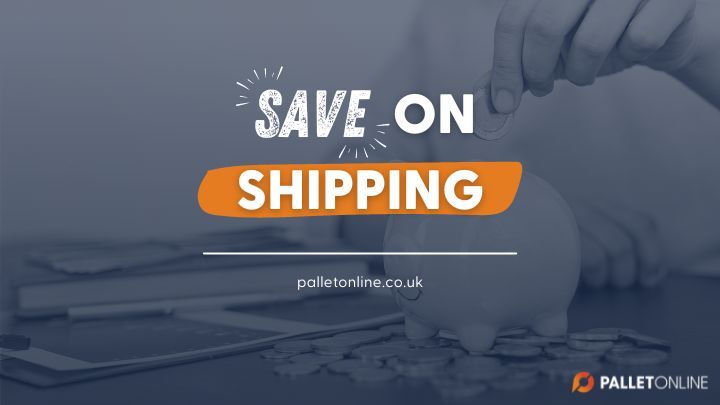 Picture this: you ship pallets often and believe you're already getting the best price. But with a little help from us pallet experts, discovering new ways to save on pallet shipping costs takes minutes!
There's no shame in scouting for cheaper options; every penny saved is a penny earned, as they say.
So, get stuck into our ultimate money-saving tips and make every penny count!
Measure Up Properly
Firstly, one of the most common reasons people overspend on pallet shipping costs is simply down to measurements; getting them wrong can prove painfully expensive.
Before packing everything onto a pallet, you need to know how to measure up (the right way) to avoid spending unnecessarily on space you may not need.
But don't worry: there are quick and easy ways of doing this...
Tip 1: grab a measuring tape.
For the height, measure from the bottom of your pallet (the base) to the top.
For the length, measure from one end of the pallet to the other. If your goods are smaller than the pallet, you should still include the pallet itself in the measurements.
For the width, measure between the two shortest corners, and again, include the pallet itself.
Even if you don't have a pallet at this moment in time, you'll still need to measure your goods to work out if they will overhang once loaded.
Tip 2: find and use a pallet calculator.
Once you've measured up, try to find and use a pallet calculator.
You can find these by simply searching 'pallet calculator' in Google; doing this, you'll pull through multiple different versions, so try to pick one that's easy to use.
Using a pallet calculator will help make sure you're not overspending on pallet spaces you may not need.
In other words, you can book the exact number of pallet spaces every time.
Source A Reliable Pallet Courier
Arguably the easiest way to save on pallet shipping costs is by sourcing a reliable pallet courier; going by word-of-mouth is best, or even stalking their reviews!
FACT: good businesses are easy to spot through honest reviews.
But that's not to say that you shouldn't trust businesses with a handful of bad reviews and good ones; not everyone will have the same standards and opinion.
The point we're trying to make here is to read up on recent reviews and take note of how each business responds to customer reviews.
How quickly and carefully they respond to bad customer reviews will determine whether they're reliable enough to win you over.
Better yet, if a business is recommended to you by friends, family or even your work colleagues, you should take a chance on them.
After all, they must have had a good experience with that company to recommend them so highly!
Consider FTL Shipping
Possibly the easiest way of saving on pallet shipping costs is by shipping more goods, less often.
Of course, what works for one may not work for another, but it's worth considering in the future.
Most pallet couriers offer full truckload (FTL) shipping services, which is perfect for businesses that ship in large numbers.
Despite shipping everything all at once, less often, you're still paying one price; businesses are saving thousands of pounds a year shipping in full truckloads.
Aim To Pack More (with Less Dunnage)
You may have heard about packing materials and how you should use more of them for pallet shipping, but that's not strictly true.
Using fewer packing materials will help save space on your pallet, meaning you can fit more into it and avoid having to source an additional pallet.
As long as you pack enough dunnage to eliminate air and gaps inside your boxes, you can hold back on any extra materials.
For loose items, you'll need just enough dunnage to protect everything on the move; don't go overkill!
Using too many packing materials can take up more space on your pallet; the more space needed, the more pallets you will likely need, and thus your overall shipping cost will increase.
Trial Shipping During Off-Peak Times
Naturally, shipping goods at busy times of the year will often come with increased costs; depots are dealing with more freight, staff are working harder, and deadlines are much stricter during peak times.
While you may not have noticed the effects of busy periods yourself, it's still helpful to know when things can get a little busier than usual, right?
Peak times for all pallet couriers and networks are:
- New Year - at this point, most pallet couriers are picking up the backlog from over the Christmas period, making them much busier than usual
- Good Friday - the run-up to Easter is extremely busy for Amazon sellers (in particular) promoting Good Friday deals
- Easter - busy for Amazon sellers and retailers stocking up in time for Easter chaos
- Christmas - this is easily the busiest time of the year for pallet couriers and ALL other businesses
Although there's no way around the prices of shipping goods during peak periods, you may be able to shave a few pounds off through careful planning.
Remember: aim to ship your pallets ahead of busy periods!
Not only will this potentially lower your shipping costs, but it will also help make sure everything arrives on time.