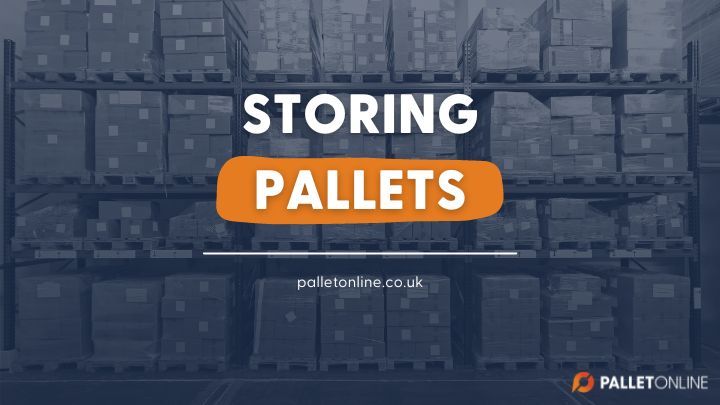 Thousands of people handle pallets every day but have no idea how to store them safely.
A small minority are unaware that their method of storing pallets is indeed dangerous.
As a result, they continue to put themselves, their goods and others at serious risk.
Could you be amongst that small minority?
Learn how to store your pallets safely with our expert tips!
Why is Storing Pallets Safely SO Important?
First and foremost, poorly stored pallets increase the chances of serious accidents and damaging pallet racking systems.
Not just that, but if your pallets are damaged before handing them over for shipping, you may face disputed insurance claims.
While in your capable hands, you must do everything possible to keep your pallets in pristine condition!
How High Can You Stack Pallets?
No matter what type of pallet you are stacking - empty or loaded - without pallet racking each pile should be no taller than 15ft. That is the recommended height limit for safe pallet storage.
For freestanding storage, you may even want to knock a few feet off for added safety.
However, if you are looking to store pallets yourself, you need to find a means of doing so safely, i.e. investing in a decent pallet racking system.
If a pallet racking system is not available, try to position your pallets well out of the way of others.
You see, most warehouse storage facilities have (HUGE) pallet racking systems, so all pallets have plenty of space to sit tight until they need to move again.
Warehouse Storage Cost Per Pallet
If storing pallets is not your finest skill, you do have other options.
One example: renting warehouse storage as and when you need it.
But remember that all warehouses have different storage rates depending on capacity and volumes - quality does come at a price!
Trusting a warehouse to store your pallets will eliminate the hazards involved with doing this yourself, meaning much less responsibility on YOUR shoulders.
Understanding Pallet Storage Risks
FACT: careless stacking is the number one contributor to hazards in pallet storage.
Pallets stored poorly are enough to put anyone at serious risk, especially as pallets could fall if the stack is knocked (even slightly).
In which case, the entire stack or racking system could collapse, costing you more money and causing problems further down the line.
Plus, if you store pallets yourself, make sure you carry out a daily risk assessment and that any hazards are dealt with immediately.
When renting warehouse storage space, all responsibility past the point of booking (thankfully) falls on the shoulders of the warehouse staff!
Building Stacks Without A Pallet Racking System
With no pallet racking system, building stacks for safe pallet storage is tricky and, honestly, not worth the risk.
For example, you want to store three pallets (without pallet racking); Two of which are large and light, and the other is smaller but heavier. You would have to dedicate different sections to avoid damaging the pallets.
For freestanding storage, you should aim to build stacks for each pallet size, with the heaviest at the bottom and lightest at the top.
But with a pallet racking system, the pallets sit on different levels without touching and thus, storing and moving them is less risky.
Learning the Best Handling Techniques
Lastly, the key to safe pallet storage is learning the best handling techniques.
Before you move anything, you should know that there are ways to make this job much easier.
Using the wrong equipment or incorrectly using tools will risk damaging and loosening your pallet's baseboards. In which case, your goods are more likely to become damaged and you'll have the hassle of making a claim, too!
The easiest way to avoid damaging your pallets is by moving them with pallet trucks and, where necessary, forklifts after proper training.
PalletOnline Warehouse Storage
At PalletOnline, we offer an affordable way to store your goods!
You will be pleased to know that there is NO middle man here; Your goods are stored directly in our onsite warehouse facility.
Plus, our heavy duty racking system, fully trained workers and 24-hour onsite security ensures your pallets are in the safest of hands!
To enquire about our bargain warehouse storage, all you need to do is head over to the 'Storage' page on our website and complete our simple online form.
We're available on Live Chat for fast support should you have any questions.