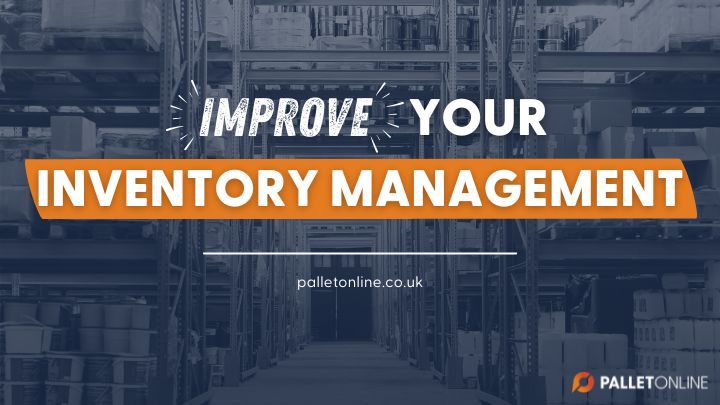 No matter how well you control the flow of goods, predicting spikes in consumer demand and knowing when to top up stock levels has become much more difficult.
With consumer demand constantly fluctuating, you must prepare for good AND bad days while avoiding periods of very little or even too much stock entirely!
But don't worry, we've got you covered with our handy top tips and suggestions!
What Is Inventory Management?
Managing inventory means monitoring the stock you currently have and knowing when to buy more!
To do this effectively, you must know stock patterns like the back of your hand; What do you have and of what quantity? Where is your stock kept, and in what condition?
But more importantly, managing your inventory means making sure you are storing your goods efficiently to keep inventory costs low.
Plus, you will significantly reduce the amount of time spent counting and controlling anything that enters and leaves your business.
Asking for Supplier Assistance
Firstly, there is no shame in asking for help.
Assistance from suppliers is a great way to manage and monitor your inventory.
Truthfully, thousands of reputable businesses take full advantage of supplier assistance to control their inventory and rule out any potential mistakes when entering data; And as you may well know, running a business can be quite trying at times.
As demand grows, you may find it tricky making sure goods are readily available for your customers; The old, new and even the forthcoming!
While you may not have ever considered inventory control the key to keeping your boat above water, now is the time to take that leap.
Having a reliable supplier to help you is also a great way to relieve some of the everyday pressures of running a business.
You can even be sure that you have enough supplies without increasing your overhead spend at all.
And, of course, it helps to have an easy-to-follow management process!
Assign Someone to Manage Inventory
Nominating someone to take care of stock for you is another way to stay on top of inventory levels.
Ideally, you should trust this person to update stock levels every time you send and accept goods deliveries.
Your goods inventory must be updated at ALL times, especially if you are shipping pallets regularly.
Assigning someone to take charge of this will help with that, but remember that this must be a person you can trust.
Keep On-Top Of Stock Levels
When it comes to monitoring stock levels, turning a blind eye will only create havoc.
In this case, you can either have too much or too little stock; Either one is bad.
Both will increase your overhead spend, and depending on where the counter lands, you may have to source more goods on short notice or find a way to shift your excess stock - and fast!
Without a doubt, you should monitor stock levels frequently.
By noticing when numbers are dropping, you can aim to keep your overhead spend to the bare minimum.
When this happens, look to the reorder point and try to keep your inventory levels up wherever possible; Customers are far more likely to return if you have plenty of stock on your website.
Focussing on your customers is crucial; Remember that delivery turnaround is the key to maintaining a good reputation. Plus, turnaround is perfect for managing your stock turnover.
If your goods are delivered quickly with no problems, you'll know not to mess with any figures until your next customer order or stock delivery.
But if delivery isn't a success, you will need to account for returned goods, too.
Thankfully, with a little help from a reliable pallet courier, you can make sure your goods are shipped safely and on time, as often as you need.
Purchase a Software for Easier Management
Plenty of businesses manage their stock levels using unique inventory management software and often reap the benefits of such help!
Investing in stock management software will allow you to personalise your database, meeting your individual and general business needs.
Plus, stock management will become much easier, and the software will help your business keep on top of ALL goods entering and leaving your premises every day.
Consider Product Turnaround
All businesses sell products or services (or both). That's just a given.
But luckily, there's a much quicker and easier way of managing what you sell, and that's by finding a system that focuses more on products that sell fast rather than those that take slightly longer to sell.
Your product turnaround will help you figure out exactly when to top up the goods that sell fast and hold back on those that your customers aren't so keen on buying.
Develop a Tracking System
Lastly, developing a tracking system will help keep you and your customers up-to-date with the whereabouts of each shipment at all points.
An effective order tracking system will allow you to monitor the location of goods while providing updates regarding any issues with shipping.
For example, if there are problems at any point of the journey, your tracking system will help you determine when to expect everything to return to normal.
It should also help clarify the number of goods being returned to your premises, too.
Luckily, you can use a unique reference (usually an Order ID/Number) to track goods on the move with practically all pallet couriers nowadays.
At PalletOnline, we offer fast and reliable pallet courier services at competitive rates. Get your FREE pallet delivery quote by heading over to our home page!
For further assistance, the quickest way to get in touch with us is through Live Chat.