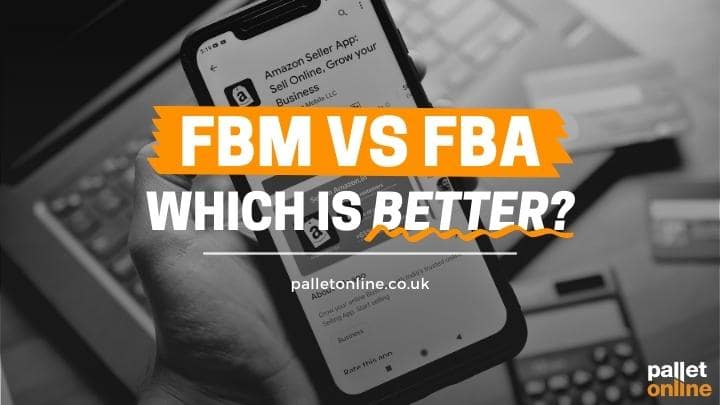 Whether you're a reputable business or a soon-to-be Amazon seller, you have to agree that there is nothing as crucial as your goods reaching the right place, at the right time.
Becoming an Amazon seller means more opportunity to grow your profit margins and overall sales, but first you need to decide whether FBM or FBA is the best route for your business.
We're here to help you make the right decision...
The Main Difference Between FBM and FBA
FBM and FBA are different in many ways, but there is one significant difference between the two: seller responsibility.
With Fulfilled by Merchant, it's down to you to list your products for sale on Amazon (through Seller Central) and store them until you make a sale.
When you do make a sale, it's then down to you to ship those goods to the buyer.
For FBM, you will have to sort your own means of storage.
Whereas with FBA, this is all taken care of as your goods are stored in Amazon Fulfilment Centres.
Amazon will later pick, pack and ship items for you as and when they are sold.
Normally, you would use FBA services to ship pallets into Amazon Fulfilment Centres; As soon as your goods are accepted, Amazon handles everything else.
All you need to do is keep on top of managing and updating your inventory!
When Should You Choose FBA?
Essentially, Fulfilled by Amazon is ideal for regular Amazon sellers or anyone who doesn't want the responsibility of storing, picking, packing and shipping goods directly to each buyer.
Now that FBA services are offered only through 'preferred carriers' or 'Amazon-approved carriers', all you need to do is pack and wrap your goods on pallets and book a collection with your chosen courier.
From there, your Amazon-preferred carrier will collect your goods and request confirmation of a booking date from the Fulfilment Centre.
According to the Terms and Conditions of Amazon FBA, goods can only enter Fulfilment Centres when Amazon has accepted the request and a delivery date has been returned.
If you struggle for time to pick, pack and arrange regular deliveries of your goods to Amazon, FBA is perfect for you.
Here are just some FBA benefits:
- Amazon handles customer support AND shipping on your behalf.
- As people trust Amazon, conversion rates are generally much higher.
- Amazon offers their own delivery services, i.e. Priority delivery, Free Shipping and Free Enhanced delivery.
- Amazon will store your goods safely in their Fulfilment Centres.
- Items are available for sale 24/7, so customers can buy goods at any time.
- Amazon's returns process is really easy for your customers to follow.
- Low FBA fees (long term storage fees).
- Your goods are automatically elegible for Prime delivery. With 10.1 million UK households owning a Prime membership and over 100 million Prime members worldwide, that is a HUGE market to target!
- Prime members statistically prefer to buy goods with Prime benefits, giving your products a huge boost in front of the non-Prime market.
When Should You Choose FBM?
On the flip side, Fulfilled by Merchant is perfect if you sell exclusive products or you make one-off sales through Amazon; You can dedicate more of your time to making sure it all goes smoothly.
With FBM, you're in charge of storing, picking, packing and shipping all items.
You can use FBM to boost the chances of someone buying your items, everything else is simply down to you.
Here are just some FBM benefits:
- With a smaller number of goods, it's easier to update your inventory.
- There's less paperwork involved with FBM.
- With fewer goods, there are smaller costs involved.
- You respond to your customers, so maintaining your business reputation is easy.
Which is Best For You?
Making the best decision boils down to your business needs more than anything.
For example, if you ship goods in large numbers, it may be nice to split the responsibility between you and Amazon, rather than dedicating all your free time to picking, packing and shipping every order.
But at the same time, if you only occasionally ship goods to Amazon, you might decide that you don't need any help at all.
Plus, you may also find that you'd prefer to speak directly with your customers in case any issues arise; Amazon does have a great reputation for customer support, though!
Nonetheless, FBA is great if you have several pallets full of goods to sell, and collectively, it's much more cost-effective for regular Amazon sellers.
FBM is suited more to those who have around 1 or 2 pallets of goods to shift; If you are a regular Amazon seller, this option will prove more time-consuming and less cost-effective.
More About FBA with PalletOnline
PalletOnline is an approved carrier for delivering pallets to Fulfilment Centres throughout the UK; You can trust us to handle your FBA delivery.
As part of the secure Palletline network, we take the hassle out of shipping pallets to Amazon Fulfilment Centres, even during those busy peak seasons!
Plus, we offer some of the most competitive Amazon pallet delivery prices in the industry.
Book your FBA pallet delivery by heading to our home page and generating your unique quote.
We are available on Live Chat for fast support; Please let us know if you require further assistance booking your FBA pallet delivery.