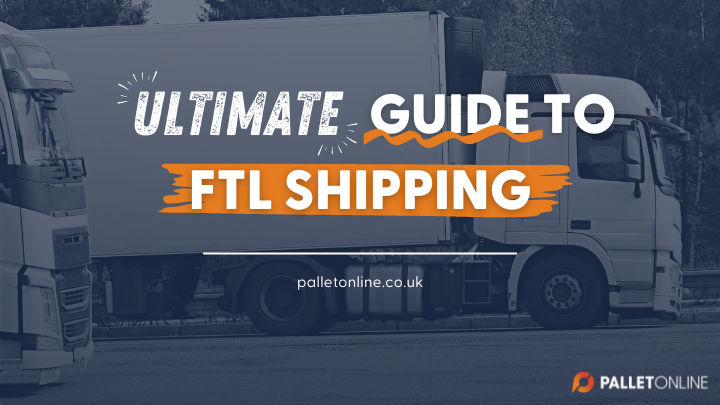 It's easy enough to plan several pallet deliveries, but did you know that you can save more money by grouping your pallets together in a single load?
For this, you would need to query with your pallet courier whether they offer FTL services - otherwise, you may want to source a courier that does.
But just before you do, here is everything you need to know about Full Truckload shipping:
What is FTL?
Sourcing an affordable means of shipping goods may have proven difficult in the past, but luckily, plenty of pallet couriers offer a variety of services, including FTL.
But what does FTL really stand for?
A Full Truckload means up to 26 standard pallets and one customer.
Said pallets would fill one trailer and no other pallets would be loaded to this vehicle - the vehicle is allocated to your delivery.
Remember for this service to fulfil its purpose of saving you money, you would need to be shipping at least 12 pallets or more.
Realistically, 12 is the minimum number of pallets for FTL; Any less and you'd essentially be losing money for no good reason!
Why Would You Need A Full Truckload?
Any reputable business responsible for shipping goods would naturally want to make sure everything is delivered on time and in the best condition, right?
More so if you are shipping hundreds or thousands of pounds worth of goods and want to make sure nothing is damaged or lost in transit, FTL is perhaps the safest option out there.
With only your pallets on the delivery vehicle, you can be sure that none of your goods will get damaged by any heavier pallets or even misplaced.
Not to mention that it's much easier to track shipments as your goods would be on just one vehicle, making it easier for the courier to get updates on the delivery status.
But let's say that you only needed to ship 6 pallets. In this case, the courier would more than likely advise you to arrange a normal pallet delivery.
After all, if you have only a few pallets to ship, FTL would only cost you more money.
How is FTL Similar To LTL?
Regardless of how similar they sound by name, FTL and LTL are two completely different services and you should be able to tell them apart.
Unlike Full Truckloads, LTL is made up of around 6 or fewer pallets and the trailer is split between multiple customers.
As the cost of shipping pallets is often determined by how much space you require on the delivery vehicle, both Full Truckload and Less than Truckload work out cheaper than arranging several smaller shipments.
At a reasonable cost, you can ship an entire, partial or small load of pallets with a pallet courier.
Again, the price depends on how many pallets you want to send.
The more pallets you send, the higher the shipping cost will be.
Some pallet couriers even have a maximum number of pallets you can select before you need to request a full load quote from them.
It may be worth checking in with your courier if you can't find the maximum number of pallets per delivery.
This will help clarify how many pallets you can send in one shipment before bumping the cost up to a Full Truckload.
The Benefits Of FTL
As expected, there are plenty of benefits of using Full Truckload courier services, including ease of tracking the shipment's whereabouts.
Another advantage is cost savings over multiple small shipments.
As you would essentially be sending your pallets all at once on one vehicle, the cost is noticeably lower than if you were to send several of those pallets all at different times.
Let's say you shipped 26 pallets in sets of 2, every few days.
It would cost you considerably more to organise 13 single pallet deliveries than if you were to book a Full Truckload with a pallet courier.
Normally, pallet couriers have a clever way of cutting costs when it comes to shipping lots of goods at once; This is the reason FTL is so popular with UK businesses.
Plus, as your pallets are the only pallets on the delivery vehicle, you can guarantee that they won't be misplaced on the courier's end.
There's also a much lower risk of damaged goods as all pallets should be packed properly and checked by the courier, leaving very little room for accidents.
How Much Does FTL Cost?
Now that you know how many pallets a Full Truckload can hold, you're probably wondering what cost is involved, right?
Well, the cost of FTL depends on many things.
The biggest contributing factor is, of course, the number of pallets.
Then distance is taken into account.
As you can imagine, the more distance between the collection and delivery point, the higher the delivery cost is likely to be.
PalletOnline offers reliable pallet delivery services at some of the most competitive rates in the industry!
Book your pallet delivery by heading to our home page and generate your unique quote in a few easy steps.
If you require any assistance, please feel free to send us a message on Live Chat and we will respond promptly.