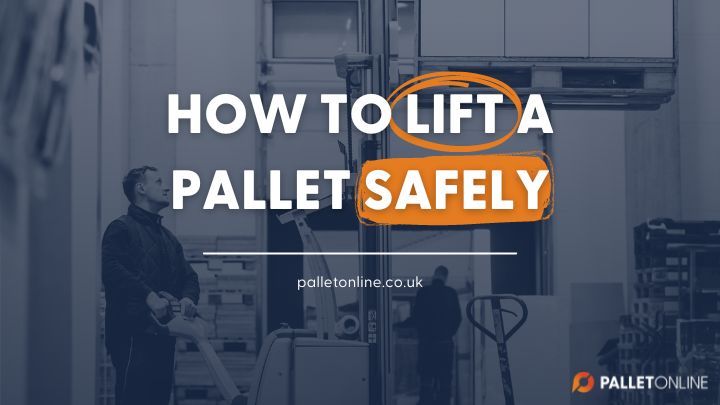 Mishandling pallets is an easy mistake to make, but carelessness will create problems and cost you more money further down the line.
Learning how to lift pallets the right way will help avoid damaging goods before they reach their destination. But what is the so-called 'right way'?
Here is everything you need to know about lifting pallets safely:
What is a Pallet Jack?
If you are planning to ship goods that you know are slightly heavier than average but are far too heavy to carry by hand, your saving grace would be a pallet jack.
Using a pallet jack allows swift movement of pallets from one place to another, without putting yourself or your goods at risk.
Should You Push Or Pull a Pallet Jack?
In order to handle pallets safely, you're probably wondering which way to move your pallet jack.
Well, steering your pallet jack is almost the same as navigating a shopping trolley around a supermarket; You have more control pushing, rather than mindlessly pulling it along.
It all boils down to simple physics.
You see, pushing your pallet jack will stop you from causing any muscle injuries and generally gives you more control over the direction of your goods.
Plus, you can see exactly where you are steering the pallet as well as anything in your way.
While if your pallet jack was left trailing behind, you would need to have eyes at the back of your head to dodge potential hazards!
How Much Weight Can a Pallet Truck Hold?
In an ideal world, there would be no weight limit for pallet trucks and thus, no damaged pallets due to overloading them.
But unfortunately, that ideal world just doesn't exist; There are restrictions in place for the safety of you and your goods.
Like most things, pallet trucks can only hold so much weight before they break; And when holding pallets, overloading them is a very risky move!
But the maximum weight limit depends on the type of pallet truck you use, i.e. a manual pallet truck has a smaller weight limit than a motorised one.
Cramming more weight onto a manual than it can hold will result in damaging the pallet truck itself, as well as the goods on the pallet.
Your choice of pallet truck will depend on the weight of each pallet you need to move.
Normally, most pallet couriers will be happy to arrive with a pallet truck to assist with loading your pallets; But you would normally need to request this yourself.
How Does a Pallet Jack Work?
Firstly, how you'd operate a pallet jack depends entirely on the type, i.e. manual or motorised.
Manual pallet jacks have levers on their handles that are used to lower the forks toward the ground, ready to lift the pallet.
You would then position the forks underneath the pallet and ensure the pallet is fully on the pallet jack before pumping the handle to lift it.
To lift the pallet off the ground, you would simply move the handle up and down several times.
Then, simply steer the pallet jack in the right direction and wheel it to the right spot before releasing the lever and lowering the pallet - make sense?
But motorised pallet jacks are operated using controls; Little to no effort is needed with these.
If you press the right buttons, motorised pallet trucks will do exactly what you want, whenever you want them to!
How Do You Get Something Heavy Off a Pallet?
Normally, pallets contain bulky or bulk items. These are generally goods that would otherwise be difficult for normal couriers to handle.
Getting everything onto a pallet to begin with may have proven quite the task, but offloading those heavy items can prove much trickier in many ways.
Attempting to offload heavy items the wrong way could cause serious harm to yourself or others working around you.
Fortunately, offloading the right way isn't as tricky as you think!
Using a loading ramp, you can offload heavy items in just a few simple steps.
Grab a large screwdriver or a pinch bar and slowly nudge your heavy items less than an inch at a time off the pallet, and onto the ramp.
Your items should then easily slide down the ramp and onto the ground, safely.
If there happens to be more than one heavy item to offload, simply repeat this process for each of them until the pallet is empty.
Will The Driver Help to Move The Pallet?
The idea of using a pallet courier is that they handle all the heavy stuff for you, so that you don't have to.
With PalletOnline, our drivers deliver everything to your chosen destination and will even assist with offloading if needed.
If you select the 'tail lift' option at the checkout, the driver will arrive with a pallet truck to help with moving your pallets.
For more advice on the safe handling of pallets, please send us a message using Live Chat. We're always happy to help!