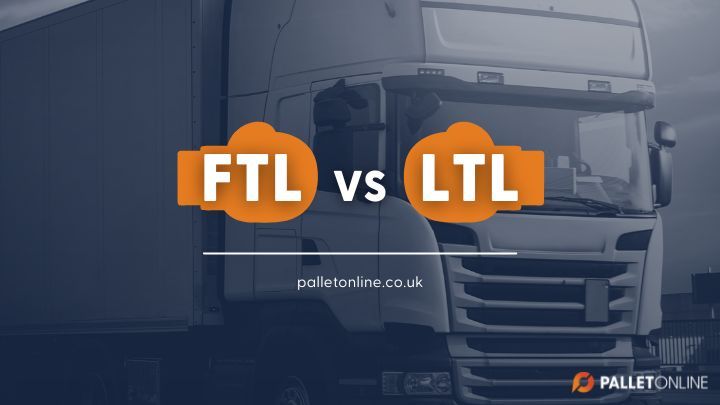 While you may already have a means of transporting goods safely, can you be certain that you're paying the best price?
You could be amongst the many thousands of businesses that are currently overspending on shipping costs, but there's an easy way to cut those costs!
Knowing the difference between LTL and FTL is crucial when trying to save money on shipping pallets.
Here's everything you need to know about both types of shipping:
How FTL and LTL Deliveries Work
Though many claim that FTL and LTL are virtually the same by name, you must never get the two confused!
FTL is one full trailer of up to 26 standard full pallets, and one customer; But the weight limit for FTL is 28 tonnes.
This means you can fit more than 26 pallets if they are of a smaller size, i.e. up to 30 quarter pallets, as long as they weigh less than 28 tonnes in total.
For a Full Truckload delivery, you would need to be shipping MORE than 12 standard pallets, while LTL is LESS than one full trailer and is normally 6 or fewer standard pallets.
For an FTL service, you would approach a pallet courier directly and a) query whether they offer this type of service, and b) if they do, request a quote from them to carry this out.
With all pallet networks, the courier needs to know the exact number of pallets and of which size you are sending.
From there, they will report back with current capacity and whether they can accept your FTL request on that occasion.
All pallet couriers offering FTL services will have a certain process in place; They will not collect a full trailers' worth of pallets on short notice.
Who Would Use FTL?
Normally, Full Truckload shipments are available to anyone looking to ship up to 26 standard pallets per booking, through a pallet courier.
As pallet couriers base prices on their network rates, Full Truckload shipping is much cheaper than sending several smaller shipments through an alternative carrier.
Usually, FTL is popular with businesses and people with plenty of goods to ship; Collectively, more money is saved this way.
Nonetheless, pallet couriers typically base their shipping rates on postcodes and a multitude of other things!
Not only does FTL have its benefits for businesses, but others can use this type of service too!
For example, if you are planning on moving premises or a large number of items as a one-off, you can request a quote for a Full Truckload pallet delivery.
Who Would Use LTL?
On the other hand, Less Than Truckload is a different process altogether.
Let's say you need to ship around 5 or 6 standard pallets, LTL is the most cost-effective solution to this.
With LTL, just enough space is reserved for the small number of pallets you need to ship, i.e. 1 pallet, 1 space or 1 pallet, 2 spaces.
Essentially, LTL allows you to ship the right number of pallets, without paying extortionate prices with an alternative carrier.
You just need to source a reliable pallet delivery service and ask about their shipping options; Do they offer LTL and FTL?
Less Than Truckload shipping is available to everyone; From businesses and wholesalers shipping in small numbers to people planning a house move!
Also, a lot of Amazon sellers use LTL to get their goods into Fulfilment Centres on time.
Plus, as you'd essentially be sharing the trailer with other customers, the cost of the journey is split.
Calculating LTL and FTL Cost
Realistically, LTL and FTL are sat on opposite ends of the price scale.
One allows you to ship up to the maximum number of pallets and the other allows you to ship a much smaller number, so there's bound to be a price difference there!
Regardless, both shipping methods are extremely cost-effective for anyone looking to distribute goods.
Remember that every pallet delivery is unique, so there may be a slightly different price each time; This depends on things like freight volumes and network rates, mostly.
Book your FTL pallet delivery by completing our simple pallet delivery quote form; We'll provide you with an instant FTL pallet delivery quote!
For help booking your FTL pallet delivery, please send us a message using Live Chat.