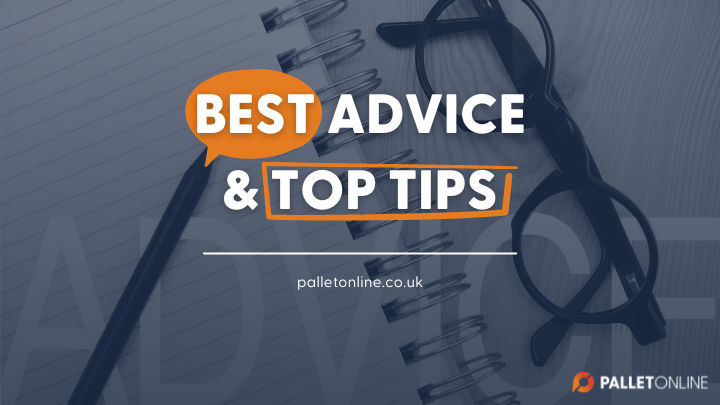 You may consider pallet shipping as easy as counting to 10, but occasionally, it helps to brush up on all the latest advice and top tips.
With network rules and regulations ever-changing, keeping up with the latest advice and top tips will help you prepare for future pallet deliveries.
Luckily, we can tell you everything you need to know...
From identifying oversized goods to shrink wrapping the right way, you can learn it all with our help!
Know Your Pallet Delivery Terms
All pallet couriers use specialised talk when it comes to shipping pallets.
While you may already know some courier terms like the back of your hand, others may sound like a foreign language.
So, if any of these words look unfamiliar to you, be sure to take note!
- Haulier: Responsible for transporting materials and goods by road.
- FTL: Full truckloads are up to 26 standard full pallets or more if you have smaller pallets.
- LTL: Less than truckloads would otherwise be too small for FTL services.
- Dedicated Service: A delivery just for you. The driver will meet you at your chosen pick-up point, collect your pallets and then deliver them to their destination.
- Distribution Network: A group of warehouses, hubs and depots are all responsible for collecting and delivering goods.
- Oversized Pallet: Goods that are too large to fit onto a standard pallet (overhang the length or width by even a few centimetres) are oversized. You can accommodate oversized goods by selecting additional pallet spaces.
Things To Consider Before Booking
When sourcing reliable pallet courier services, there are a few crucial things to consider.
One of the most important being whether you will need a tail lift, lift assist or forklift to load your pallets to the delivery vehicle.
If your items weigh more than 750KG, you will need to book a tail lift, but this is normally down to you.
And if you don't already have a pallet, you will need to source a courier that can supply you with one.
Then you should consider delivery insurance, more specifically, how much coverage is available for your goods; You must ask BEFORE handing your valuables over!
Finally, it's worth finding out whether the courier offers any other delivery options, i.e. lift-assist or tail lift to move your pallets, AM and PM delivery services or even specific time slots for collections.
Pallet Preparation Tips
Generally, pallet deliveries are the best and most affordable solution to shipping large numbers of goods (or bulky items).
But unless your courier offers a packing and wrapping service, you will need to prepare all pallets yourself.
We recommend revising your pallet sizes before selecting one for your delivery, as if this is wrong, you could face additional charges or even refusal.
All pallet size guides will differ slightly depending on the courier - each to their own and all the rest!
However, following courier guidelines will help avoid overhanging items and imposing danger to those handling your goods.
Plus, it's worth stocking up on a few protective packing materials for your pallets, i.e. corner boards, bubble wrap, packing peanuts etc.
Using such materials will increase the safety of your goods and prevent them from getting damaged on the move.
You should also cover your goods thoroughly with pallet wrap and strap down any loose or oddly shaped items with steel banding or ratchet straps.
The more materials you use, the less opportunity there is for damage!
Know The Pallet Types
Firstly, there are TWO main types of pallets that pallet couriers love: stringer and block pallets.
Stringer pallets are mostly wooden, but you will occasionally find some plastic options here and there.
Many reputable pallet couriers try to avoid using plastic stringer pallets as replacing them can be quite costly.
Plus, wooden stringer pallets are super easy to manufacture and can easily be carried by a forklift or pallet truck, too.
On the other hand, block pallets are considered the strongest pallet thanks to their additional spacers.
Their additional spacers also make the pallet easier to access from all four sides, so moving them is quick and easy.
Finding The Right Pallet Courier
You may have already found the ideal pallet courier, but there are a few things to remember before making a final decision.
Firstly, it works both ways when you reach out for an honest quote; You have to enter accurate details to get the most accurate price.
Details should include the total weight and dimensions of your pallets (with the goods loaded), the number of pallet spaces you need on the delivery vehicle and an accurate goods description.
Secondly, ask for several quotes from several different couriers and don't be afraid to compare rates!
When you do find the best pallet courier, they will tick ALL of your boxes.
What To Do When Your Pallets Are Delivered
Once your goods reach their final destination, take a good look at their general condition.
If your pallets arrive damaged, you must check that the driver has recorded the damage and informs your local depot - you will still need to follow the claims process.
Waiting to make a claim will only cause further complications later down the line.
Realistically, if there's something wrong with your pallets, you'll know at first glance as there will be some sign of destruction to the pallet itself.
You must report damaged goods to your courier immediately. This will help speed up the claims process.
However, if there's no sign of damage, you can go ahead and offload everything. In this case, you won't need to report anything to the driver.
To book a pallet delivery with PalletOnline, all you need to do is complete our simple pallet quote form, and we'll give you an instant price.
For advice or help booking your pallet delivery, please contact us on Live Chat for fast support. Our customer support team will be happy to help!