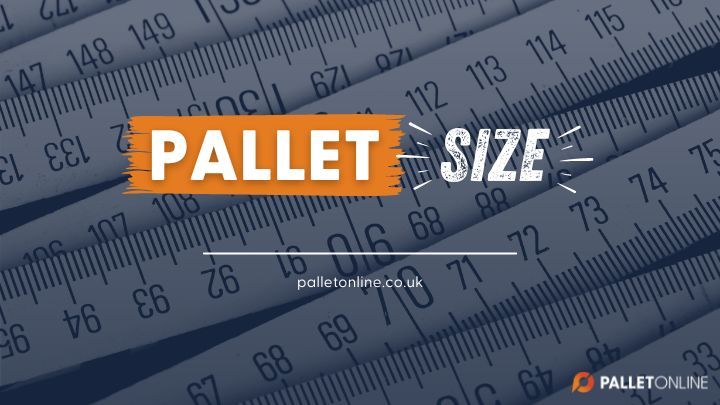 Whether you're shipping several boxes of goods, large home appliances or perhaps just one oddly shaped item, there are easy ways of finding the right pallet size that requires such little time!
In the hands of a trusted pallet courier (like us), working out which pallet size you need for the items you're sending takes very little time and effort.
But before we talk about the next steps, you need to know what we mean by 'pallet size'...
How is Pallet Size Measured?
First and foremost, pallet size depends on the type of goods.
When we say 'pallet size', we don't mean the size of the pallet itself, but how much space the goods take up on a standard-sized pallet.
For example, large (and heavy) home appliances are more likely to fit onto a full or oversized pallet depending on dimensions.
But essentially, the right pallet size will hold your goods without stretching the limits.
But what exactly do we mean by 'stretching the limits'?
Well, limits are standard for every pallet network and all pallets have to stick to them to be accepted.
If your goods are taller than 60cm and weigh more than 250KG (a quarter pallet), you'd need to select a half pallet instead.
While the maximum length and width are the same for quarter, half and full pallets, the larger you go, the taller and heavier the goods you can ship.
Moreover, oversized pallets are where it can all get a little confusing, but it doesn't need to be!
You see, in terms of pallet size, oversized is the largest you can go.
If your items stick over the edges of a full pallet, you'll need to find a way around this.
Usually, this means booking an oversized pallet delivery, which often means additional full pallet spaces.
1) Measure Your Goods
Using our pallet size guide, you can learn which pallet size you need by simply measuring your goods the old-fashioned way: with a measuring tape!
But just before you get started, remember that your measurements should always include the pallet itself.
And when measuring the height of your pallet, be sure to measure from the bottom (base of the pallet) to the highest point.
Lastly, remember to check those numbers against our size guide!
2) If in Doubt, Google it!
Are you finding your goods particularly tricky to measure? We hear you!
Perhaps they're oddly shaped, or come in multiple pieces; Fear not as Google has the answer to everything!
Avoid guessing dimensions as this will only cause complications and you may even face charges if additional pallet spaces are needed.
Luckily, you can source the correct measurements by simply Googling your items or checking the product manufacturer details.
Then, of course, you can use these details to find the right pallet size.
3) Consider Extra Length Or Width
Essentially, any extra length or width means your goods are too large.
As mentioned earlier, the maximum length and width are the same for quarter, half and full pallets.
But if either the length or width is exceeded (even by just a few centimetres), your items would be classed as oversized.
In this case, you'd need to work out whether your goods would fit an oversized pallet; If not, you may have to consider alternative courier services.
4) Look Out For Pallet Size Guides
Though they may point you in the right direction, not all pallet couriers will help you fit the perfect fit.
But realistically, you need to visualise pallet sizes - especially when numbers are involved!
Aim to find a pallet courier that can help you find the right pallet through a unique pallet size guide.
Remember that all pallet size guides and diagrams will differ slightly, depending on the network they use, i.e. Palletline.
With maximum dimensions and simple diagrams at hand, it becomes much easier to learn which pallet size you need for the items you are shipping!
5) Ask Pallet Experts For Help
We have said it before and we will say it again: There is NO shame in asking for help!
Occasionally, you may need a helping hand or a gentle nudge in the right direction - that's absolutely fine!
All pallet couriers want you to select the correct pallet size just as much as you.
So, speak up and don't be afraid to ask for help!
After all, there is no one better than pallet experts to set you on the right track; It's what pallet couriers do best!
6) Use PalletOnline's Simple Pallet Calculator!
At PalletOnline, booking pallet deliveries just got easier!
You no longer need to waste time trying to pick the right pallet size thanks to our simple online pallet calculator.
We know that you may be shipping items of all different shapes and sizes, so we've tailored our pallet calculator to your needs too.
We'll even tell you how many pallet spaces to book!
Just follow the steps below:
1) Enter the dimensions (in mm) of just one of your items, including length, width and height
2) Enter the weight (in kg) of just one of your items
3) Tell us how many items you'd like to ship
4) Tick the box if you're sending your pallets to an Amazon Fulfilment Centre
5) Click 'Calculate', and voila! Our system will tell you how to stack your boxes and exactly how many pallets you will need to book. It's as easy as that!
For further help selecting the right pallet size, please get in touch through Live Chat!