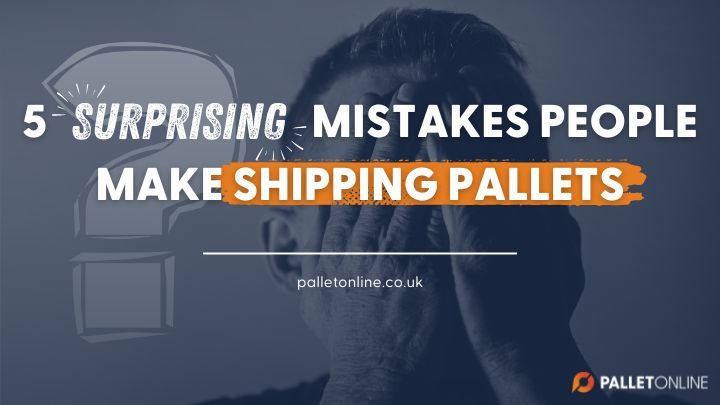 Amongst the pressures faced by newbies and regular shippers aiming to ship pallets in good time, mistakes are easy to make yet easily solved.
On that note, we thought we'd share 5 surprising mistakes people make when using pallet shipping services and how to avoid them...
1: Selecting The Wrong Pallet Size
Guessing is risky when shipping pallets; your goods need plenty of room for transit to avoid getting damaged!
At the best of times, pallet sizes can be confusing, and it's easy to select the wrong one. Then before you know it, you're faced with unexpected additional costs, and you still have NO idea why.
For this reason, it's always better to do some digging and find out which pallet size you need (using a pallet size guide) for your goods before securing everything to a pallet.
For example, your item may be 124cm long and 90cm wide, and you're likely wondering if it's worth the risk of squeezing it onto a standard full pallet; but it's really not a risk worth taking.
A standard full pallet measures 120cm x 100cm, so the additional 4cms would still need to be accounted for with an extra pallet space - make sense?
Guessing pallet size may result in having to unwrap and unload your goods, to do it all over again, and honestly, it's not worth the hassle!
2: Paying Without Checking The Shipping Address
Next up: the dreaded 'Oh no, that's not my address!' moment.
We've all been there - yes, even us!
It's an easy mistake to make, so it's always wise to double-check the addresses in your booking information before making payment.
Past the point of payment, there is usually no way to edit your booking without the help of the pallet courier themself. So, take your time and read carefully!
If somebody else is responsible for booking, see to it that they check that the details they have entered are correct and if something doesn't look right, be sure to speak up sooner rather than later.
3: Shipping Valuable Fragile Items
When knocked even slightly, fragile items are prone to damage, which is why shipping them on pallets is a big NO-NO.
Firstly, fragile usually means invaluable - even when too large to send in the post!
Pallet couriers operate through pallet networks, and pallets can move up to at least 8 times during their entire journey; even with protective packaging materials, fragile items should never travel through a pallet network!
For such items, it's better to arrange a private courier service or even make the delivery yourself to avoid any damage and unnecessary upset.
4: Relying On The Driver To Call Ahead
Despite how it seems, pallet collections and deliveries are similar to standard courier services in terms of what happens between booking and waiting for collection and delivery.
Let's say that you book a collection or delivery with Royal Mail; you certainly would not rely on a call from the postman or lady to tell you that they're on their way.
Realistically, it's easier for them to give a rough ETA along with automated notifications letting you know to expect the driver between two times that day, i.e. between 1pm and 2pm.
It works the same with pallet couriers as they deal with similar volumes of collections and deliveries, so in most cases, their busy schedules mean they don't always have time to call in advance.
5: Missing Collection Or Delivery
It's estimated that around 1 in 10 people miss collection or delivery due to miscommunication. And when you add that up, that's a lot of wasted journeys!
Should you know you're not going to make a collection or delivery, you should always let the courier know as it will save them a wasted journey, and you'll avoid additional charges, too.
That concludes our summary of 5 surprising mistakes made when shipping pallets; please get in touch on Live Chat if you have any questions!