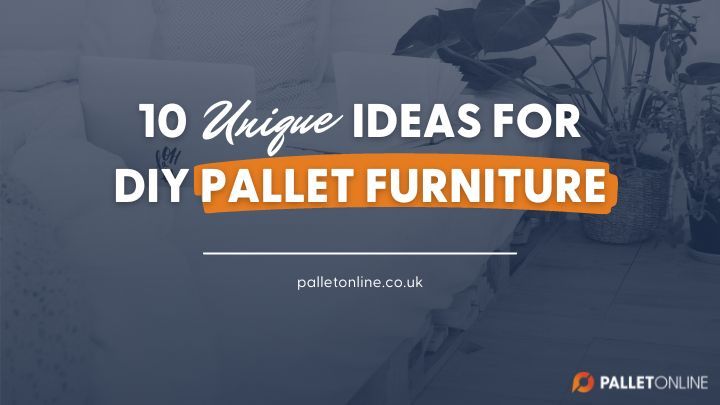 Pallets are ultimately the world's unsung heroes, as, without them, goods are far less likely to reach their destination unscathed.
But, there's more to them than what meets the eye...
Upcycling furniture has proven popular over the years, but it seems that recycling pallets and turning them into something much more unique and creative has taken the lead - as they say, ''one man's rubbish is another man's treasure!''
On that note, we've got 10 unique ideas for DIY pallet furniture just for you!
1: Pallet Board Shelf
The most popular idea is pallet board shelves, and they are super easy to put together!
All you need is a pallet, your toolbox and some sandpaper.
Then take your pallet apart and simply recreate the picture above, or create a pallet board shelf to your own taste!
2: Pallet Garden Shelf
If you've got a green thumb with a passion for gardening, this one's for you.
You can build a pallet garden shelf in minutes, with very few DIY skills needed.
Simply take the pallet, drill wall mounted plant pot holders into the pallet but space them out a little - and voila!
3: Pallet Bench with Storage
Everyone loves a good bench, especially a handmade one!
A lot of thought, care, blood, sweat and (often) tears go into building benches; some even have sentimental value, while others are a simply beautiful addition to your garden.
Skip the traditional garden bench design as there is nothing quite like a pallet bench with storage!
There will be plenty of space to store all your essential gardening tools while offering a comfortable rest stop after a long and tiring day.
Just add some cushions and a throw-over, and there you have your very own pallet bench with storage.
4: Pallet Wine Rack
The concept of a budget-friendly pallet wine rack is every homeowner's fantasy, but this one costs little to nothing and is super easy to make!
All you need is a wooden pallet, a saw, a hammer and some nails.
Depending on the style you're looking to build, you can find several handy step-by-step pallet wine rack guides online, or if you're feeling adventurous, you can even come up with your own design!
Put your stamp on by adding the family name and a little coat of paint - quirky, right?
5: Spice Rack Pallet
Calling all kitchen and cooking lovers!
Here's a budget-friendly yet quirky spice rack idea to complete any modern kitchen design.
All you need is a block pallet (or two), a drill and some screws.
You'll need the stringer board, block and bottom deck board; secure a wooden slat to cover up one gap, but leave the other open as this is where you will store your herbs and spices.
Secure some wall-mounted brackets and position the base towards the floor (lengthways). Then drill the brackets to the wall and mount your spice rack at last!
6: Garden Decking
Ever wondered how to make decking from pallets? Alas, we can tell you how in just a few short steps.
For this, you will need a sanding tool, a wrench bar, plenty of pallet wood, a hammer and lots of nails.
Firstly, pry apart your pallets carefully using a wrench bar; this will separate the wood without damaging any of the slats.
Each wooden slat will need all nails removed and sanding down thoroughly, and you'll need to make an A-frame before positioning your slats exactly where you want them.
Once you have laid your decking down, grab your hammer and nail each piece carefully.
You can even apply a decent coat of varnish for added protection, too.
7: Bookshelf
A pallet bookshelf is arguably one of the easiest things to build from pallets and requires limited DIY skills.
All you need is a couple of pallets, a wrench bar, a hammer and some nails.
Start by pulling your pallets apart with the wrench bar and remove stray nails using a hammer; this will help prevent damaging any books or ornaments you place on your pallet bookshelf.
Then build the base, the sides and the top - and voila!
8: Planter Boxes
Building planter boxes from pallets is possibly one of the most creative ideas!
Planter boxes can take any shape or form, so take your pick and make sure you have enough pallets, a drill and plenty of screws at hand.
You may even want to line your planter boxes with tarpaulin before filling them with soil and plants!
Plus, a good coat of varnish will help prevent them from weathering as quickly.
9: Wheelie Bin Storage
When you find yourself running low on space in your kitchen or pantry for recycling, you can always build extra wheelie bin storage out of pallets and keep everything neatly tucked away in your front garden.
For this, you'll need several pallets, plenty of nails, a wrench bar and a hammer. Plus, you can add doors to keep everything out of sight or create an open frame for easy access.
10: Pallet Sofa
Building a pallet sofa will save you a considerable amount of money!
All you need is around 10 pallets, a hammer, some nails and some paint; give your home living space a freshen up with a chic new pallet sofa.
The most popular design is typically a corner sofa, and of course, what purpose does a corner sofa serve without a matching coffee table?
Once finished, give your newly built pallet sofa a fresh lick of paint, find the perfect spot for it in your living room, kitchen, conservatory or even your home office space and relax!