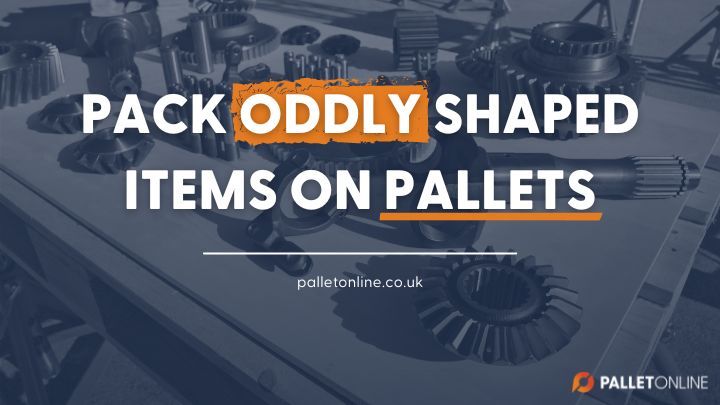 Without a doubt, pallet packing is key to ensuring safe transit but how exactly do you go about packing oddly shaped items?
There are many handy techniques and steps to ensure maximum safety for your unusually shaped items; we've listed a few of them below!
Step 1: Packing in Boxes
First and foremost, look at each item before arranging your pallet and consider its size.
In some cases, you can pack unusually shaped items into boxes before loading them onto a pallet, depending on how big or small they are.
For example, motorcycle helmets can easily fit into boxes, but a coffee table can't unless properly dismantled - make sense?
Our point is that if your goods are small enough to fit into boxes, use this to your full advantage!
As pallets can be moved up to 8 times between collection and delivery, packing in boxes where possible will help further protect your goods.
And believe us, protecting your goods in transit is worth the extra effort!
Step 2: Laying Loose Items Flat
To lay them flat or not is the real question; we've got the answer!
Items loose in transit are far more likely to suffer damage if they are not well packed and positioned.
For this reason, always aim to lay loose items flat on your pallet to minimise any movement.
But keep in mind that when laid flat, your items may measure differently, i.e. there will be more length and less height, so it's worth keeping this in mind when requesting your quote.
Step 3: Additional Pallets
Another thing to keep in mind is if your items happen to have extra length and width (overhang the pallet), the chances are you will need to source additional pallets for them to travel safely.
Naturally, additional pallets mean a slightly higher cost as your items will be taking up more room on the delivery vehicle.
If you're not sure how many additional pallets you will need, it's always best to check with your courier before arranging anything - they'll set you on the right track!
Pallet couriers can tell you if the goods you wish to ship are accepted through their network and exactly how many pallets you need to ship them safely, too.
Step 4: Using Plenty Of Dunnage
Naturally, oddly shaped items are more exposed in transit and thus need a little extra cushion to keep everything in shape.
Aim to use plenty of pallet packing materials, i.e. large bubble wrap, plenty of shrink and stretch wrapping film and ratchet straps.
Such materials will provide the same level of protection a box otherwise would!
Step 5: Strapping For Extra Support
Of course, your items are more likely to fall or slide off the pallet without additional protection from equipment like ratchet straps.
On that note, the final step of pallet packing is strapping your goods to the base of the pallet.
Why do this, you ask?
It boils down to safety and keeping everything in good condition on the move.
Even if you've applied countless layers of shrink wrap, occasionally things can happen that are simply beyond the couriers' control.
Essentially, if the pallet wrap was to become torn, the straps would hold everything firmly in place until your goods reach the delivery point.
That concludes our guide to packing oddly shaped items on pallets; if there's anything you think we've missed, please feel free to ask us on Live Chat.