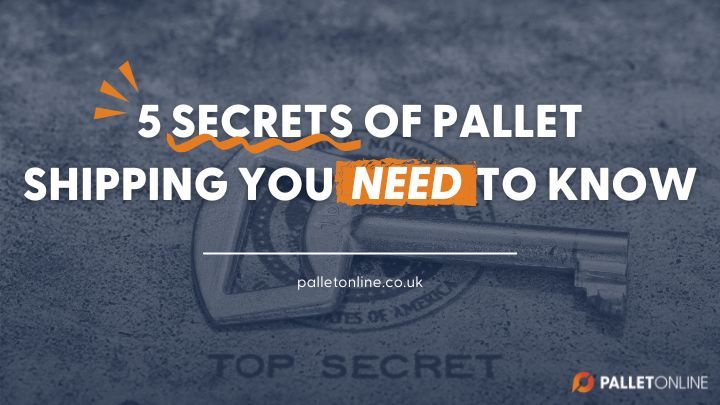 While you may already be familiar with the process of shipping pallets, you are still yet to uncover some of the industry's best-kept secrets of booking a pallet delivery...
Sneak a peek at everything from price lists and instant quotes to shipping dates and delivery ETAs; you can learn it all with us!
Not Every Pallet Courier Has a Fixed Price List
No matter what you're shopping around for, it's easy to switch to auto-drive, expecting all businesses to make life easier by offering a set-price list straight off the bat. But, that's not always how logistics works.
While some logistics operators offer one fixed rate per pallet size and number of pallets, most run an instant quote system based on postcodes - no two quotes are the same, in this case.
Of course, asking them for a price list once is fine, but if that courier doesn't have fixed rates, try to avoid comparing them to others that do.
If said courier operates via a pallet network, the chances are that they run everything differently to other non-network operated firms you may have previously used.
Besides, you're more likely to get a better deal with instant quotes as they depend on current volumes, demand and the distance between the collection and delivery location; you'll never be overcharged for pallet shipping services this way.
Items Larger Than Standard UK Pallets Are Oversized
You know that old saying, ''you'll never know if you don't ask''? Well, this is one of those situations.
If you aren't familiar with pallet shipping, you would never know that items larger than standard UK pallets are classed as oversized and need a little more attention.
But that doesn't necessarily mean you can't ship oversized items as many hauliers do still accept them. In most cases, it simply involves an additional pallet space or two depending on measurements.
Regardless, there should be no overhanging on your pallet, or you risk damaging your items before they even reach the delivery point.
It Pays to Get the Highest Insurance Coverage
Logistics can be unpredictable at the best of times, and a lot can happen, including damage, so it's crucial to get the right insurance coverage.
Higher insurance coverage is ideal for items of great value, such as home appliances and furniture, as you are likely to receive a higher amount of compensation in the unfortunate event of damage or loss.
Most pallet couriers calculate insurance based on the total weight of the goods rather than the full value, meaning heavier goods will naturally return more compensation than lighter goods.
But, not all couriers work this way, so it's worth throwing the question around and confirming this with them first to avoid any misunderstandings.
Pallets Are Much More Cost-Effective Than Parcels
The fact is that you would use pallets when shipping a large number of goods or heavy items, in which case, standard couriers would prove more costly.
Shipping such items individually on separate occasions would mean forking out more money and risking a staggered delivery.
Not only does this mean your goods will arrive on different dates, but you will also have the headache of tracking each shipment and reporting any delays.
With pallet couriers, you can ship large quantities and items to one or multiple locations, all at one cost. Plus, if you book each shipment together, you'll only have one tracking number so keeping tabs on your order is much easier!
Shipping Dates and ETAs Are Never Guaranteed
One last thing to keep in mind - shipping dates and ETAs are never guaranteed in logistics as many things can result in delays. Such things are often out of the couriers' hands, i.e. Customs clearance.
Occasionally, the dates you select when creating your booking may be physically unachievable, and as a result, your collection or delivery may fall behind schedule ever so slightly.
A prime example of a likely reason for this is the national HGV driver shortage; all UK hauliers have reported slight delays to collections, and thus, deliveries have naturally fallen behind, too.
Another example is UK Customs; your goods may require a lengthier inspection and take slightly longer to make their way through Customs for delivery. Therefore, your expected delivery date may indeed change slightly.