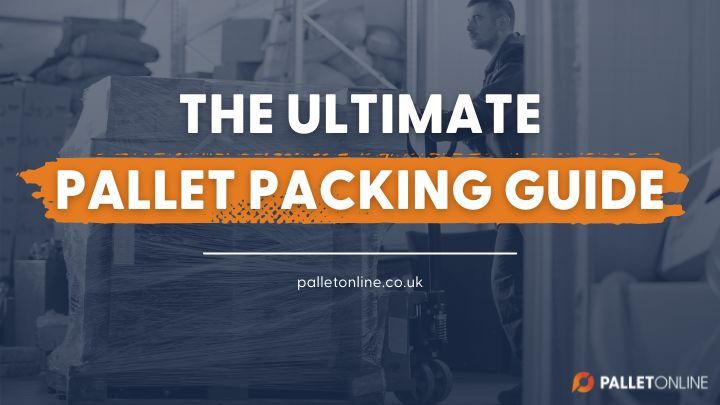 Hands up, who finds the pallet packing process a tad tricky at times? You're not alone!
Whenever one thing goes wrong, everything else usually follows suit, and it's often easier to turn a blind eye than to figure out how to get back on the right track.
Fortunately, we've compiled a few easy-to-follow steps that are sure to help you master pallet packing.
Build Your Pallet Outside!
First and foremost, before you begin building your pallet, always take your goods, pallet and packing materials outside; if you do this inside, squeezing everything through the door will prove extremely difficult!
We'd suggest placing your pallet at the collection point, as then you won't have to move the goods when the pallet is ready.
Believe it or not, it's merely impossible to fit a loaded pallet through an open doorway; there are no exceptions and building your pallet inside could land you with additional courier charges.
Keep Your Pallet Sheltered
Of course, if your pallet is ready-built and sat outside, you'll need to make sure it's sheltered from potential adverse weather, i.e. rain or snow.
If this isn't possible, try covering the goods with a few extra layers of pallet wrap to prevent any damp from getting into them. You will need to rebuild your pallet if this happens, so you should spend a little extra time on your packing routine.
As an extra precaution, it would be wise to wrap any boxes or items you plan to ship with heat shrink wrap, as well as the pallet itself; this will increase the protection if rain or snow leaks underneath the outer layer.
Load Any Boxes in Columns
You should stack boxes in columns to maximize their strength during transit; otherwise, you risk items falling off the pallet.
Make sure you take your time loading boxes, starting with the heaviest and leaving the lightest at the top. That way, the goods at the bottom of the pallet won't get squashed by the ones higher up.
Make Sure There's No Overhang
Overhanging items are a BIG no-no in logistics.
Not only does overhang risk damaging your goods, but it increases the chances of damaging other pallets, too.
Oversized pallets are one pallet, but take up much more room on the delivery trailer because of overhanging items. Regardless, pallet couriers calculate their shipping costs differently.
If your items overhang the pallet, the chances are that you will face additional courier charges, or worse - your goods may be refused altogether.
Strap or Wrap Everything
Packing your pallet should end with strapping or wrapping everything for extra security. It is the last - and perhaps most important - step.
We suggest using at least one, if not both options, so your goods stand a much better chance of reaching the delivery point unscathed.
Attach Your Shipping Labels
Lastly, attaching shipping labels to your pallet is crucial; without them, your courier won't know where they are headed and your pallet may become lost during its journey.
You can just as easily hand-write your shipping labels on a piece of plain A4 paper if you don't have access to a printer.