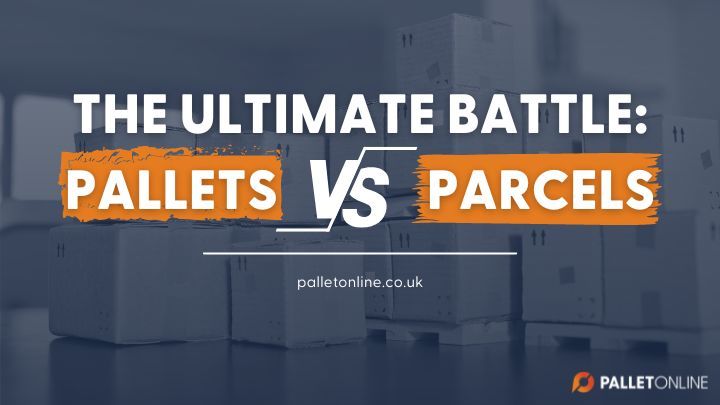 Pallets or Parcels? An easy choice for some, but for those making smaller shipments, the best choice might not be so obvious!
Your decision can make a huge difference when it comes to factors such as speed, fragility, and cost, so now is a great time to let us help you make the right choice!
Pallet Delivery
You've got two choices when shipping pallets: LTL shipping and FTL shipping. Odds are, if you're reading this article, LTL (less than truckload) will be the best option for you.
In general, pallet shipments are usually safer, as they go through fewer handling processes and are secured better than parcel shipments.
Generally, if you're transporting freight often and you require them to be together, going down the pallet route is the best option. Remember, it's all about efficiency when it comes to logistics!
Parcel Delivery
As you probably already know, parcels are small packages which can be easily moved by hand. The weight of a parcel can vary, depending on what's being transported.
Parcels are usually wrapped and labelled individually, meaning if you have multiple packages to ship, they may not always travel together!
Parcels are generally a lot easier to track than pallets. This is because parcel couriers have a strict daily route that rarely changes, whereas pallets take more time to load and unload, therefore, the driver's route may change throughout the day to accomodate the scheduled collections and deliveries.
We all know that tracking your shipments can be extremely useful if you want to know where that pesky shipment is going next!
Pallets vs Parcels: The Key Differences
Speed - Pallet shipments are more likely to experience unforeseen delays at collection and delivery points. Parcels, on the other hand, generally don't experience this issue as much because they're generally smaller and take less time than pallets to load and unload.
Tracking - Although parcels are typically considered the easiest to track, tracking pallets has become increasingly easier over the years, thanks to advanced technologies and pallet networks such as Palletline. Pretty much every major haulage service has a tracking system, including us!
Safety - As pallets are secured more than parcels, they're generally a lot safer and are less prone to damage than parcels. Many parcels are often seen dented or even ripped on arrival! Now that is every haulier's nightmare!
Cost - As pallets are heavier and larger than parcels, they're generally more expensive, but pallets can work out much cheaper than parcel delivery if you're looking to ship multiple items to a single location.
And there you have it! Now we've done the explaining, it's time for you to do the deciding!
If you decide that pallets are the way to go, did you know that you can get an instant quote with us? It takes less than 30 seconds to get a price, plus you'll get 10% off if it's your first booking with us!
Happy Hauling!