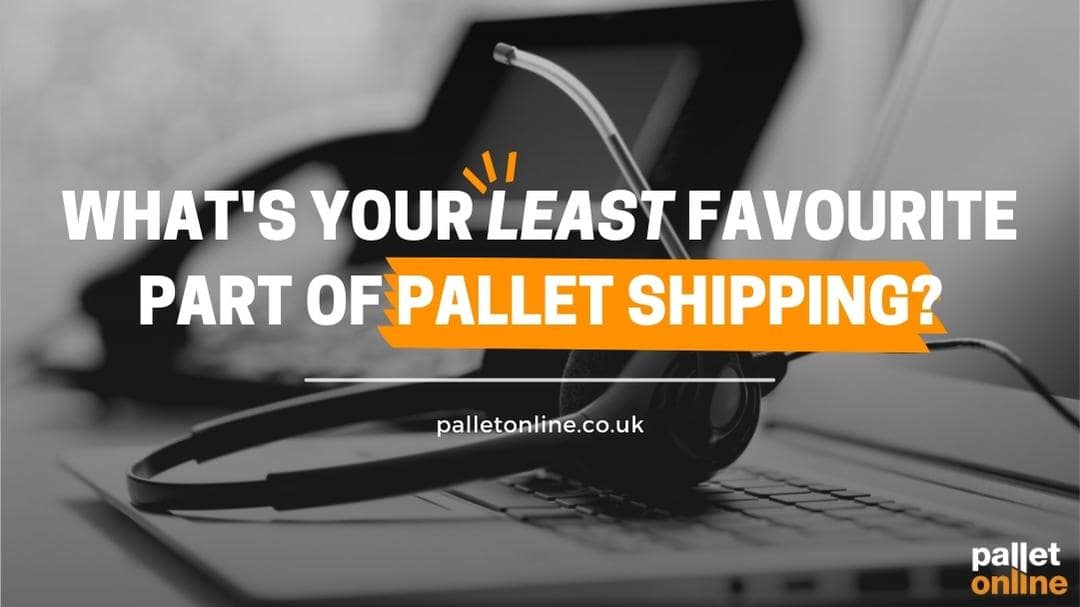 Nine times out of ten, you will only ever contact customer support if you feel you can't resolve a problem yourself. Rather than struggle, you reach out to those who you know can offer help at the click of a finger.
Customer support teams are designed to meet every need, no matter how big or small - and no one should be scared to ask for help because of a bad experience.
We're on a mission to change six factors that make customer support the least liked part of pallet shipping.
Wasting Time When You're in a Rush
You expect to hear back from customer support immediately, only to be told they'll get back to you within an hour - frustrating!
There's nothing worse than being held up when you are in a rush; it just fuels the fire even more, right?
Thankfully, not every pallet courier works like this.
Reputable couriers train their customer support agents to handle your needs quickly, so you don't have to wait long.
We're on a mission to change this with our dedicated team of LiveChat agents who are trained to answer your questions quickly, with honesty and transparency.
Waiting for a Call Back
One of the most frustrating things a customer support agent can do is promise a call back the same day.
In logistics, things can occasionally go wrong when you're least expecting them to, and current post-pandemic situations mean there may be fewer people in the offices dealing with customer enquiries.
Of course, if the person who promised a call back suddenly falls ill, they won't be there to continue dealing with your problem, and the chances are, only they will know where they were up to with it all.
That's why it's handy to book your pallet delivery with a company who uses an instant messaging service, or 'live chat'. Instead of waiting on hold for what feels like a lifetime, you can send a quick message to us, carry on with your day, and get notified whenever our team of proactive agents has an update for you.
Explaining Your Issue Repeatedly
We all know the struggle of repeating something many times before finally getting through to the person on the other end of the conversation.
You don't expect to have to explain yourself over and over again when you contact customer support, nor should you.
A skilled customer support representative will listen carefully, make notes and take your issue or query directly to the right department without you having to repeat it several times.
Limited Contact Methods
It's no secret that, in this day and age, people love having more options to choose from when it comes to getting in touch with a business about their purchase/booking.
Naturally, most people prefer to contact businesses via instant messenger or live chat support rather than ways that take up more of their time, like phone calls and emails.
People may even feel uncomfortable calling a representative, so live chat gives them the advantage of discussing their questions and getting replies in writing.
Most pallet couriers are moving towards modern technology, but some are still reliant on email and telephone for their communications.
Unhelpful Call Agents
We've all been there: angry with a call agent who took a harsh tone or attitude when all you wanted was a little assistance.
Many things can go wrong in logistics without warning, and call agents are often just as surprised as you when problems occur; after all, they didn't expect anything to go wrong either.
When they seem unhelpful, their hands may be tied, and at this point, they can only do their best to help.
Talking to Automated Response Robots
No matter what method you use to get in touch, getting automated responses is frustrating at the best of times, especially if you're expecting a quick fix and you feel like you're getting nowhere.
It's okay to have a couple of automated responses, but if they dominate the conversation, chances are your questions will remain unanswered, and thus your problem as well.
That's why we operate a no-robot policy; when you speak to us via our Live Chat facility, you're speaking to real people!
In conclusion, before making a pallet delivery booking, make sure you're choosing a company that offers great after-sales support to guide you through and offer solutions on the rare chance that anything goes wrong with your booking.
The best way to check if a company has good customer support is to check their reviews. But it's not just the customers' feedback you should check; be sure to take note of the way the company responds to their reviews too!