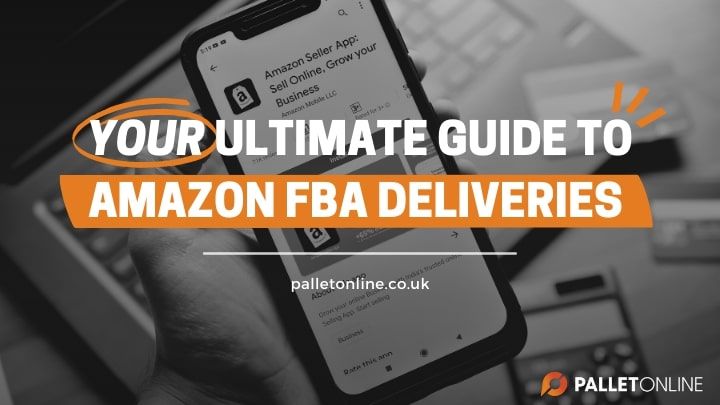 You can run into many problems by ignoring the Amazon FBA pallet requirements. You can waste time and miss out on lucrative sales. And let's face it, rules and regulations exist for a reason.
If you're looking to get your goods accepted into Amazon on-time, every time, you must follow the Fulfillment by Amazon guidelines. Every time you do this, you're increasing the chances of delivering successfully.
Why Are Goods Refused?
It's all too common that goods get turned away from UK Amazon FBA centres. It's nothing new, and Amazon workers have seen it all before! But from a sellers' perspective, it's not always clear why goods get refused. Luckily, we're here to offer some clarity.
Amazon warehouses reject around 124,000 items per week simply because of how they're packed. As part of the UK Amazon FBA pallet requirements, your goods need to be loaded to a specific type of pallet, in a particular way. Otherwise, they run the risk of getting refused at the Fulfilment Centre. And thus, you will have to start the process all over again.
If Amazon reject your goods, getting them back depends on the type of courier service used to get them to the Fulfilment Centre in the first place. A reliable pallet courier will be at hand to assist if any of your pallets get refused. They will arrange delivery back to the original collection point. But, if they're unreliable, they may leave you to do all the back-breaking work yourself, and if your goods aren't recovered quickly, your items could end up getting destroyed.
How Do I Get My Goods Accepted Every Time?
First and foremost, when it comes to your Amazon pallet delivery, it's crucial to take Amazon's requirements seriously to ensure a smooth process.
You'll want to use wooden pallets for your Amazon shipments, and these should measure 1 meter by 1.2 meters. It's a good idea to confirm this size requirement with your chosen courier to avoid any hiccups.
Additionally, remember that you can only send 4-way pallets to Amazon. Given the sheer volume of pallet shipments they handle weekly, Amazon warehouses can get quite hectic. To keep things running efficiently, it's essential that workers can access your pallets from all four sides. This not only expedites your Amazon pallet delivery but also makes life easier for Amazon employees by eliminating the need to rearrange other pallets to reach yours.
We strongly advise against using particle boards, cardboard pallets, or even plastic pallets. Amazon strictly accepts wooden pallets, and using any other type increases the risk of having your shipment rejected and sent back to you. You can find this information in Amazon's official pallet requirements.
It's worth noting that particle board and cardboard pallets tend to be less robust and can result in damaged goods. As a result, Amazon won't assume any liability for such shipments. So, to ensure a successful Amazon pallet delivery and protect your products, sticking to wooden pallets is the way to go.
Top Amazon Pallet Prep Tips
Whether you're an experienced FBA seller or you're new to Fulfillment by Amazon, you should know that there's a specific process for preparing your pallets for transit. Unfortunately, you can't call upon your pallet courier to pack them for you. This is prohibited in the book of Amazon FBA pallet requirements.
Instead, we've sourced some of Amazon's top pallet prep tips to help make sure you're on track to successful, clean delivery - every time:
Tip #1: Source GMA Grade B or higher pallets.

These are the only pallets Amazon accepts. They should also measure 1m by 1.2m, and be 4-way access wooden pallets.

Tip #2: Don't use an inkjet printer to print your shipping labels.

Before printing, make sure your labels display the correct vendor name, delivery address, from address, PO numbers, and the number of cartons inside. Ensure they're placed on all sides of the pallet, squarely and not at an angle. If the shipment contains only one ASIN, each pallet should be labelled as a 'Single ASIN Pallet'.
Tip #3: Only send the number of pallets quoted on your booking. If you try to send more than this number, there's a good chance Amazon will refuse to handle your shipment.
Tip #4: Go the extra mile and pack your goods thoroughly. The more protective packaging you use, the better the chance your goods have at arriving in pristine condition.
Since it's down to you as an FBA seller to pack your own pallets, be sure to check the Amazon FBA pallet packing requirements once in a while. It's always better to be on the safe side!
What Happens if Pallets Don't Meet the Standards
Lastly, if your pallets don't meet the FBA requirements set by Amazon, there's an even bigger chance you'll lose sales as well as valuable time. Not only will you have to re-arrange collection AND delivery with your pallet courier, but if your pallet was made up of foodstuff or drinks, you may also need to re-order stock from your supplier.
Of course, this means spending more money and working against the clock. It's just not worth the stress!
Ultimately, choosing a reliable courier to send your goods into Amazon is the best way to go. If you choose to send your goods to Amazon with PalletOnline, your pallets will go through thorough quality checks before they reach Amazon to ensure that your goods will be accepted. We also handle the booking in process, so you don't have to!
Final Things to Remember
To help streamline the process when your shipment enters the courier's delivery network, consider tagging individual SKU units as 'Sold As Set.' This simple step can save you some hassle.
We also suggest bundling units from a set together within a single box to prevent any accidental separation during transit.
If you need more information on booking an Amazon pallet delivery with PalletOnline, don't hesitate to reach out to us directly. Alternatively, you can visit our Help Centre for additional helpful tips and expert guidance. We're here to assist you!
If you're looking for an Amazon-approved, reliable pallet courier, get your instant quote through PalletOnline today!