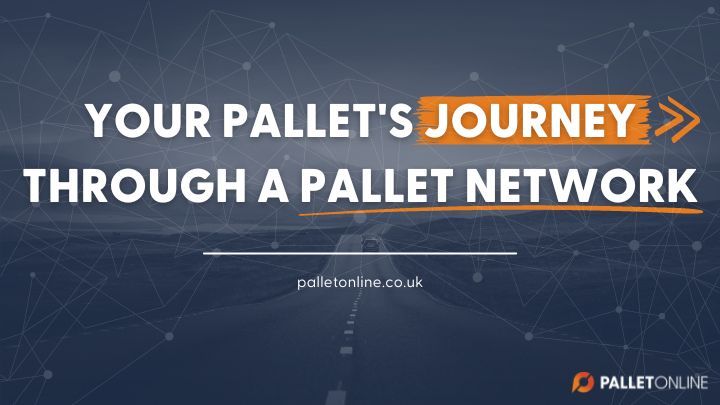 Have you ever wondered what happens to pallets when they head through a pallet network? You hand your pallet over to the driver, and they load it on their trailer - but that's not the whole story! You only see one very small part of its journey to the endpoint.
Here's an exclusive sneak peek at what really goes on behind the scenes in the transport industry.
Tracking Your Pallet & How it Works
Here is a breakdown of every notification you'll see as you track your pallet delivery through the Palletline network:
Step #1: Collection: First of all, when you book your collection and delivery with PalletOnline, your booking is sent through the network and pings the depot closest to the collection point. Then, a driver from that depot will arrive onsite and pick up your pallet, scan it onto their vehicle, and take it back to the collection depot for the next step.
Step #2: Quality Control: Next, your goods are passed through a rigorous quality control process. This process ensures that any potential issues are identified and rectified before delivery.
Step #3: Journey to the Hub: Now that everything has been checked and scanned in, your goods are ready to move to the central Palletline network hub for distribution!
Step #4: Arrival at the Delivery Depot: This is confirmation that your goods have landed safely at the depot closest to the delivery point and are ready to be loaded onto a delivery vehicle.
Step #5: Ready for Delivery: Your goods have been loaded and scanned onto the delivery vehicle, ready for the last leg of the journey!
Step #6: Out for Delivery: The journey to the endpoint has begun! This is confirmation that the delivery vehicle has left the depot and is on route to the delivery point.
Step #7: At Delivery Location: The driver has arrived at the delivery point with your goods and is waiting to unload. Please bear in mind that all Palletline drivers have just 15 minutes to wait, so make sure you're ready to receive the goods!
Step #8: Delivery Complete: Finally, your goods have landed at the delivery point! The driver has successfully dropped of your goods.
Top Pallet Packing Tips & Techniques
Before sending your goods through a pallet network, you should know how important it is to wrap your pallets thoroughly. When pallets aren't packed properly, the risk of damaged goods increases. Getting it right saves a lot of time and money in the long run, so learning how to do it right from the get-go is imperative!
Tip #1: Avoid Pyramid Stacking
First, load your goods to the pallet with care. If you're shipping boxed goods, avoid pyramid stacking! Load your pallet with the heaviest boxes first and the lightest or most fragile at the top. This way, the goods at the bottom of the pallet won't get crushed, and nothing will come loose in transit.
Tip #2: Use Corner Edge Protectors
Once you've stacked your pallet, we recommend placing a corner edge protector on all corners of your pallet before applying pallet wrap. These will help protect your pallet from chips and scuffs as it makes its way through the network.
Tip #3: Apply Generous Layers of Wrap
Lastly, make sure you apply generous layers of wrap to your pallet; the more you use, the better! Stretch wrap is generally the quickest and easiest wrap to apply, or, you can use shrink wrap; you'll need to apply this with heat, so be careful and take your time!
Pallet Network Vs Courier
Pallet networks are the unsung heroes of the transport industry. When it comes to shipping big and bulky items, or lots of little ones, they're your best bet at a safe delivery. No other courier can handle such goods with the same standard of care! Not to mention that the cost of transporting your goods through a courier can be extortionate.
Regardless, the cost of using a pallet network is ALWAYS cheaper than using a courier!
If you're wondering if using a network over a courier is really worth it, getting a quote through PalletOnline is so quick and easy! Simply visit palletonline.co.uk and generate your quote in less than 30 seconds (yes, we've tested it!)
>> Book your pallet collection & delivery today!