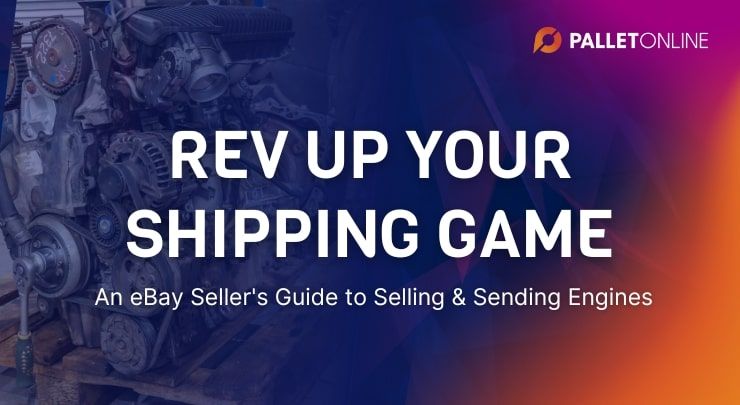 Selling an engine on eBay? It's more simple than you think! Shipping an engine can be a smooth and successful process with the correct planning and preparation.
As the UK's most reliable pallet delivery service, we understand the importance of proper packaging and secure transportation to ensure that your engine arrives at its destination safely and in perfect condition.
In this blog post, we will walk you through the steps involved in selling an engine on eBay. Let's get started!
Creating Your eBay Listing
Before someone can buy your engine, you'll have to list it on a site such as eBay. Nowadays, this is pretty simple. This is pretty simple. We've laid out the process step-by-step below, to save you another google search!
1. Navigate to www.ebay.co.uk, and click the "sell" button in the top navigation bar.
2. Click "list an item", and input what you're selling. In this case, it'll probably just be "engine".
3. You'll then be prompted to select a product category. Here's where you can also choose from the most popular items sold in the "engine" category.
4. Once you've selected the condition of your engine, you'll then be asked to login or sign up.
5. Now comes the fun part! After you've logged in, you can now upload any photos or videos of your engine and add a title for your listing.
6. When you get around to the description and tags section, it's vital that you include as many relevant keywords as possible. Believe it or not, eBay actually acts as a search engine, so the more relevant it finds your listing, the higher it'll appear in the search results.
7. Lastly, you'll be asked to price your item. We're not here to tell you how much your engine is worth, but you do have two options: a direct sell or a bid. You can choose which one is best for you.
For a more in-depth guide, eBay's help page is available to view online.
Now that your engine has been listed, you'll want to keep on top of any messages or questions. This will help build trust and make you a reputable seller.
Understanding the Shipping Process
Sold your engine? Great! But, before you ship your engine to your customer, it's important to get an understanding of how the process works.
Due to the large and heavy nature of engines, the best way to ship an ATV, combustion, or hybrid engine is on a pallet.
Pallets can withstand up to 2 tonnes of weight, which makes them the perfect choice for shipping motorbike engines, car engines, gearboxes, and even truck engines!
Before committing to one courier, we advise doing some research to ensure you're getting the best service possible. It's always a good idea to check out company reviews, as well as add-ons such as insurance. Remember, although the cheapest option may be better for your wallet, the quality of service should come first. Choosing a poor service could result in more money being spent to fix problems!
Gathering the Essentials
Once you've chosen a reliable pallet delivery service such as PalletOnline, it's time to gather the essential supplies for your shipment.
As you're organising a pallet delivery, it would make sense to source a pallet, right? Standard UK pallets can be found from a variety of locations, including DIY stores, distribution yards and even online!
Alternatively, if you're using a carrier such as PalletOnline, you can book a Pallet & Wrap service, which means we'll come equipped with a pallet and stretch wrap upon collection.
As with all pallet deliveries, it's imperative that you use as much protection as possible to avoid damage during transit. Because of this, we recommend that you use stretch wrap to ensure your engine is protected from any minor knocks or bumps.
Along with stretch wrap, ratchet straps are also highly recommended. This will make sure your engine is securely attached to your pallet, and that it won't run the risk of moving about during transportation.
Need some supplies? We've got you!
Preparing the Engine for Shipping
Now that you've got everything you need to properly ship your engine, it's time to assemble your pallet.
Before you do anything, though, you must ensure your engine is fully drained of all fluids. Your shipment will get rejected if it's not purged before the driver arrives to collect it.
After you've drained the engine, to help soak up any remaining fluids, you can put your engine onto a rag or even a special oil mat – we recommend doing this 24 hours before the driver is due to arrive to ensure that there are absolutely no fluids remaining in any of the chambers.
If you can, it's always best to place your engine flat on the pallet. We understand that engines are complex structures, and you may be unable to do this in every situation, especially if a sump is present.
If you are unable to lay it flat, make sure that it's in a stable position where it's unlikely to move or topple over. You can also place your engine in a car tyre to increase stability.
If you're using stretch wrap, you must ensure a hole is made so that the driver can access the dipstick.
Once stabilised on the pallet, it's essential to use at least one ratchet strap. Tighten the strap/s so that they prevent the engine from moving when a force is applied to it.
Finalising Collection and Delivery
Great! Your engine is now secure and properly assembled on your pallet. In order to progress with your pallet delivery booking, you'll need to take accurate measurements of your engine. This includes the weight, length, width and height. Make sure to do this properly, as even a small discrepancy can result in additional fees!
Once you've done this, you can go ahead and get a quote. If you're using PalletOnline to ship your engine, our simple pallet size guide will help you get an instant price in no time.
Now you've got your quote, you'll usually be able to select any additional services, such as Pallet & Wrap, as well as your collection and delivery dates.
When you've double, even triple, checked the booking details such as collection and destination address, as well as contact details, you'll be given your shipping labels. Usually, you'll need to stick these on all 4 sides of your pallet so they can be easily identified from all angles.
If you're using PalletOnline, we'll collect and deliver on the specified dates. You'll also be able to track your shipment from the moment your goods are picked up, to the moment they're dropped off at the delivery point. Plus, our free insurance cover will protect your goods in the extremely unlikely event of damage or loss.
---
Shipping an engine on a pallet is a task that requires attention to detail and proper preparation, but by following the steps outlined in our guide, you can ensure that your engine is shipped safely and arrives at its destination in good condition. Choosing a reputable shipping carrier like PalletOnline can make the process even smoother.
Ready to ship? Our delivery service is the best way to deliver your engine cross-country or around the globe!