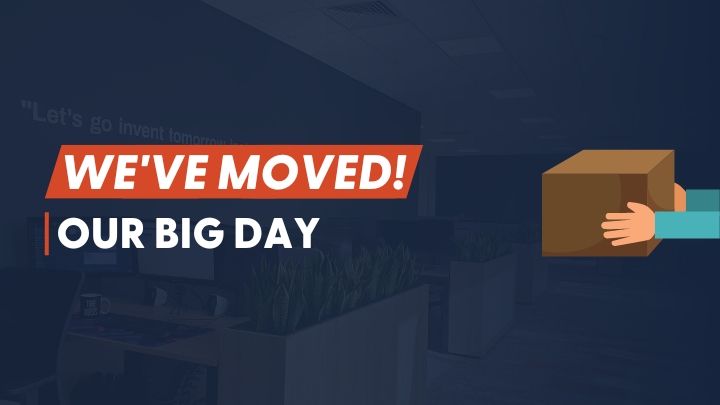 It's official: we've now moved into our custom-built offices, and we're so excited to share the news.
Back in June, we made one of the biggest announcements in the history of PalletOnline: we're moving! And this week, our move finally became reality.
In this update, we'll share the ins and outs of our move, why we've moved and the benefits that you'll see as a customer.
A Fresh Start
Over the past year or so, PalletOnline has seen enormous growth! Because of this, we've ran out of space in our current office building to employ more team members.
Our last premises served us extremely well, accommodating our parent company for over 40 long years. However, due to limited space and outdated infrastructure and road access, it was time to say goodbye.
Last year, we announced that we'd be moving into a fully custom-built, state-of-the-art office building and warehouse, and we're thrilled to announce that the move is well and truly complete!
Our new two-storey office suite boasts ultra-modern technologies and training facilities, as well as lots more space for new team members, meaning we can provide you with an even more streamlined service!
Get the Scoop on the New Premises
Although our move is a welcome change, we didn't want to stray too far from our roots, which is why the empty plot of land we saw just 300 metres down the road was the perfect spot.
PalletOnline are constantly progressing and expanding, which means our new site will give us a lot more room to breathe while providing you with superior customer support and logistics.
Aside from more room, our new office space boasts all the bells and whistles, including an incredible ambience, sophisticated warehouse management systems and foolproof security measures.
The Move and the Future of PalletOnline
Our move was strategically planned to achieve minimum disruption, so our support channels were kept open during the big day.
The move to our new premises has been a long time coming, but we're extremely happy and proud of how far it's come, and we simply can't wait to bring you along.
PalletOnline never plan to stop growing, and our efforts to provide our customers with an industry-leading service they can trust will only continue to advance as we settle into our new home.
What Will You Get From Our New Premises?
I know what you're thinking. "Will I benefit from the move?".
Yes, you absolutely will!
Our new office spaces were planned and structured with you at the forefront of our proceedings, so it was vital to us that we could optimise the way we work.
Now that our move is complete, you'll see a drastic increase in our customer service levels, as we make use of our shiny new training facilities ready for two new members to join our powerful team. This will result in even better customer service, as well as much shorter waiting times on Live Chat and phone lines!
This change will also completely optimise the way we work as we see a welcome boost in efficiency, allowing us to make even more technological advances, making it easier than ever to book your pallet collection and delivery.
Exciting times ahead, right?
---
There you have it!
We hope you're just as delighted as we are about completing our big move.
From state-of-the-art technologies to better support and faster shipments, our new site is set to take both you and PalletOnline to the next level.
Interested in more insights? Why not meet the team behind the screen!