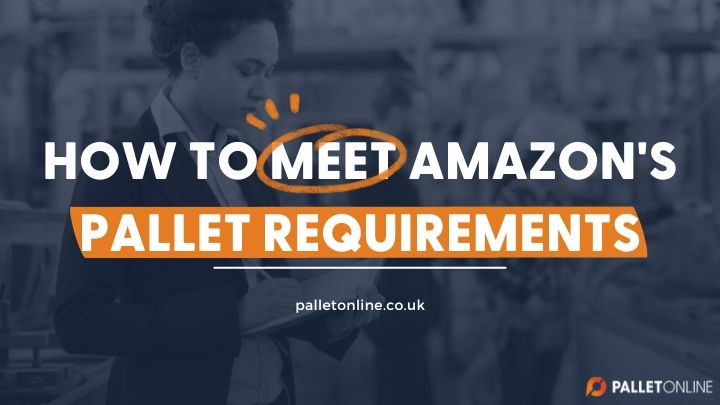 Do your pallets often get rejected by Amazon? Or are you new to FBA shipping and want to know more about their strict guidelines?
Whatever it may be, we've got you covered! In this blog, we'll talk about the ins and outs of Amazon's pallet inspections, and how to get your goods passed in no time.
What is Amazon's Pallet Inspection?
Believe it or not, Amazon ships around 7.7 billion packages per year worldwide! And with over 175 fulfilment centres globally, they have a staggering amount of goods to monitor.
To ensure goods meet their quality standards, Amazon have a strict vetting and inspection procedure which involves multiple checks, including damage, labelling, goods description, quantity and more.
Amazon are very meticulous when it comes to their pallet inspections, and it's hardly surprising considering the volume of goods they see on a daily basis!
While Amazon's inspection process may seem strict, following their rules and regulations will ensure your pallets are accepted in no time.
Here's what you should do before your goods get collected and sent off to an Amazon fulfilment centre:
Choose the Right Pallet
When shipping your goods, it's important that you choose the correct pallet. Yes, you heard that right. There are certain types of pallets that Amazon will not accept.
All pallets must be accessible from all four sides, so stringer pallets are out of the equation. Amazon have thousands of pallets in their warehouses, so it's important that they are able to transport your pallet as quickly as possible.
Want to ship your goods on a plastic pallet? Well, sadly, you're out of luck. Amazon state that all pallets must be made out of wood; they will not accept plastic pallets inside their fulfilment centres.
Check the Dimensions
To ensure uniformity in their warehouses, Amazon will likely reject any pallets that are above or below a predefined size.
In order to pass their inspection process, the dimensions of your pallet base should be 1.2x1.0x0.15 metres.
It's not just your actual pallet that needs to be in check, though. The size of your goods must also follow the regulations. Amazon have a maximum height limit of 1.8 metres. This is including the pallet.
While overhanging goods are usually frowned upon in logistics, Amazon do allow a small overhang of 2cm.
Finally, your pallet must weigh less than 1000kg in order to be accepted into their fulfilment centres.
Use Correct Labels
Labels are arguably one of the most important parts of your shipment, and for good reason!
Without labels, nobody would know what your goods are, where they're from and where they're going to, so it's vital that your labelling is intact and correct.
When shipping your goods to Amazon, it's important to follow their labelling guidelines. Your labels must include certain information, including:
To: address
From: address
Purchase Orders
Number of Cartons
Number of Units
Pallet Count
Use High-Quality Materials
When shipping your palletised goods, the pallet you're using must be of a high quality, durable and structurally sound.
Pallets are split into three main categories, or grades, based on their condition:
GMA Grade A: grade A pallets are pallets that look new and don't need any repairs. These are suitable for use on retail floors and displays. You'll usually see new pallets fall under this category.
GMA Grade B: grade B pallets are pallets that have been repaired in the past, however, they're still structurally safe for use in logistics.
GMA Grade C: pallets that fall under this category have had many repairs carried out, and they may not be structurally safe. Grade C pallets are at high risk of failure or collapse.
It's important to note that Amazon only accepts GMA Grade B pallets or higher.
Shipping your goods on an unstable pallet is a recipe for disaster, as a collapsed pallet could cause extensive damage to your goods and possible injury to workers.
Repair or Replace Damaged Pallets
If you notice your pallets show signs of damage, such as broken or cracked boards, it's important to get them repaired before you use them for shipping.
If they look damaged beyond repair, you should replace them. Pallets can be found in a number of places, including distribution yards, DIY stores and online.
Before you go ahead and dispose of your damaged pallets, did you know that there's a huge range of eco-friendly pallet upcycling projects you can get stuck into?
That's right! From compost bins to beds, we've got a list of projects you can try today.
FBA vs FBM Regulations
Amazon's rules also differ depending on which distribution method you use.
Amazon FBA (Fulfilled By Amazon) shipping involves Amazon storing, packing and distributing your goods. This method requires much stricter regulations to avoid damage to your stock and injury to their workers. Following their regulations also speeds the process up, as once they've determined which goods to accept or reject, they can then focus on fulfilment.
FBM (Fulfilled By Merchant) shipping is different. As your goods are stored and packaged by the supplier, you aren't bound to Amazon's strict regulations.
FBM sellers are, however, required to follow regulations regarding proper labelling and packaging.
---
And there you have it! With these tips in mind, you should be well on your way to passing Amazon's pallet inspections in no time.
Once you've followed all the above tips, you're ready to book your Amazon FBA delivery. Did you know that PalletOnline are an Amazon-approved carrier? Simply get your free, no-obligation quote today!