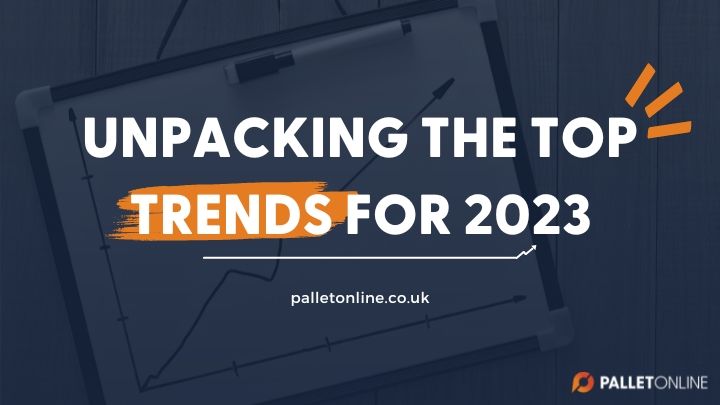 In recent years, logistics has become a critical part of the global economy. With the emergence of Ecommerce, the need for effective supply chain management and efficient transportation of goods has grown exponentially. Logistics has become an extremely competitive field, with companies striving to find ways to streamline their operations and stay ahead of the competition.
As we look ahead further into 2023, we'll be discussing the upcoming trends in the industry this year, what they mean for supply chains around the globe, and the future impact they'll have; let us know what you think in the poll below!
The Growing Popularity of E-Commerce Shopping
During the peak of the COVID-19 pandemic, lockdown wreaked havoc on traditional brick-and-mortar retail stores and has drastically accelerated the shift towards Ecommerce. As people stayed at home, physical stores lost a serious amount of footfall, and many physical businesses had to permanently shut their doors as a result.
As expected, the Ecommerce sector saw a staggering increase in business, with Amazon seeing a near 200% increase in profits due to COVID. As the pandemic starts to dwindle, we're seeing a slow return to physical shopping, however, it's hard to look past the 17,000 store closures reported in 2022.
Another trend that is expected to rise in popularity is subscription-based Ecommerce models. These models are already extremely popular, with the likes of Amazon, Hello Fresh and Dollar Shave Club all adopting this approach. There are three main Ecommerce subscription models that are expected to take off in 2023:
Access subscription model - this model involves a customer paying a recurring fee in return for access to a product or service. The fee is usually paid on a monthly or yearly basis, and is adopted by the likes of Amazon's Prime service and Netflix.
Replenishment subscription model - the replenishment model involves the customer receiving regular "replenishment" deliveries for a recurring fee. This model is useful for shipments of the same items, such as groceries or medication. Amazon also use this model under the name "Subscribe and Save".
Curation subscription model - this model is based around a "surprise" element and involves the customer paying a fee in return for a personalised product or service. This model is heavily used by the likes of Hello Fresh and Graze.
2023 will also see the rapid growth of social commerce, which is expected to grow to more than $2 trillion by 2025. Since the cooperation of TikTok and Shopify in October 2020, the popularity of TikTok Shop has soared, with many creators using the app to promote products.
In addition to TikTok Shop, Facebook Marketplace has been described as the "modern Craigslist", and with over 1 billion active users, the convenience of buying from local sellers is clearly extremely attractive.
A Shift Towards Eco-Friendly Practices
While logistics plays a huge role in the global economy, it also has a significant impact on the environment. To reduce this, many companies are exploring the possibility of modern technologies to streamline routes and reduce emissions.
It's no surprise that many logistics firms are implementing more eco-friendly and sustainable solutions, and with building pressure and expectations from customers and regulators, companies are doing all they can to reduce their carbon footprint.
Even the government are doing what they can to push all industries to be more environmentally friendly, with the 2040 diesel HGV ban being one of the biggest changes in logistics so far.
In response to this, leading HGV manufacturers such as Scania, MAN and DAF have already begun prototyping fully electric trucks, however, Tesla is currently ahead of the curve. PalletOnline are proud to be rolling out a fully electric forklift truck fleet, as we gradually evolve into eco-friendly logistics.
The Impact of Global Politics and Economics on Logistics
2023 will also see a strong focus on increasing and stabilising the resilience of supply chains after the financial pandemonium we saw last year.
Inflation in the UK is expected to settle and fall by mid-2023, but the threat of recession may still loom, causing a fall in consumer demand across all industries.
We will also see an increase in consumer needs, with many customers wanting convenience over anything else. Increasing demands for multiple payment methods and delivery options for most, if not all, products are to be expected.
The Impact of Drones on Logistics and Delivery Services
The continuous advancements in drone technology could mean drone deliveries may be a possibility near you very soon. New technologies such as path planning, autonomous navigation and human interaction can be used to solve common issues, such as hard-to-reach delivery locations.
In fact, an estimated 1.5 million deliveries were carried out by drone technology in 2022.
Drones can serve as an extremely useful tool in logistics, not only for parcel deliveries, but for many other jobs too, including warehouse surveillance, pallet scanning and even traffic monitoring.
There are, however, strict laws in many countries that regulate the use of drones. In the UK, the drone code sets out a list of operator responsibilities, including information about where you can fly. The code also makes it clear that it is an offence to endanger the safety of an aircraft with a drone.
Unlocking the Benefits of Data-Driven Logistics
Machine learning algorithms and artificial intelligence are forever growing, and continuous advancements in AI technology have made it easier than ever to automate specific parts of the logistics industry.
The use of this technology in logistics is mainly analytical, with many supply chain companies utilising AI for GPS tracking, inventory management systems and customer behaviour patterns.
2023 will see an influx of generative AI technology, most notably the incredibly popular ChatGPT platform, which is quickly proving its potential in logistics.
ChatGPT could soon reform logistics, with advanced personalisation and customer support being a couple of the potential aspects that could become fully AI-driven.
The Impact of Same-Day Delivery on Supply Chains
Next-day, and even same-day, deliveries are now commonplace in the western world, and because of this, demands for consumer convenience are now higher than ever.
After the introduction of Amazon's same-day delivery service, many customers are now starting to expect this to be the norm, with the global same-day delivery market being valued at over $24 million in 2022.
This, of course, will have a big impact on the logistics operations of supply chains, especially small ones, as they try to meet the demands of a same-day delivery service. This won't be easy, and could lead to future issues such as overworked staff and fulfilment errors if done incorrectly.
New Government Regulations and the Impact on Logistics
There are many new government regulations in place for 2023 that will have an effect on the logistics industry:
HGV Road User Levy reintroduction - this fee was introduced in 2013, and was put in place to make sure that heavy vehicles contributed to the repair of road wear and tear. It was suspended in 2020 as logistics companies were deemed "essential" in keeping the country running.
Glasgow LEZ enforcement and London ULEZ expansion - the Glasgow Low Emission Zone scheme will be enforced in June 2023. This is different to similar zones in England, as they completely ban non-compliant vehicles instead of charging a fee. London's ULEZ system will also be expanded into the entire region of Greater London.
20mph speed limit introduction in Wales - the introduction of Wales' plan to lower restricted roads to 20mph will be enforced in late 2023. This change will be put in place to help reduce road collisions, encourage more cycling and walking opportunities and to safeguard the Welsh environment.
Just these few regulations may have a big impact on supply chains operating in the above areas, as vehicle restrictions and lower speed limits may mean a change of routes and potentially longer delivery times.
How Increased Competition is Shaping the Logistics Industry
Competition in logistics is expected to be fierce throughout 2023 as Ecommerce continues to grow exponentially. With the current advances in technology such as automation and robots, we will be bound to see more and more companies battling for the top spot.
We will also see a shift to companies prioritising last-mile delivery, as they start to put customer experience above everything else. Delivery times, driver friendliness and aftersales support will soon be the biggest priority for many logistics firms.
---
The logistics industry is facing a variety of changes that will have a profound impact on the industry in 2023. Here are the key takeaways from this blog:
T

here will be an increase in Ecommerce and online shopping as a result of the lingering effects of the COVID-19 pandemic, forcing more businesses to sell online.
2023 will involve a focus on sustainability and eco-friendliness, with more logistics firms switching to a more environmentally friendly approach.
We will see a focus on increasing the resilience of supply chains after the previous years' recession.
Drones will be used for more deliveries as technology advances, equipping them with features such as GPS planning, human interaction and autonomous navigation.
There will be an increase of companies utilising machine learning algorithms and AI technologies to automate logistical processes.
We will see an increase in businesses using same-day delivery services to satisfy the growing needs of their customer base.
New government regulations may mean a reshuffle for logistics firms.
Competition will soar as we see a rapid rise in technology, allowing more businesses to fight for the top spot.
We hope you've enjoyed reading our top logistics trends for 2023. We have a long library of industry-related blogs. Why not give them a read?