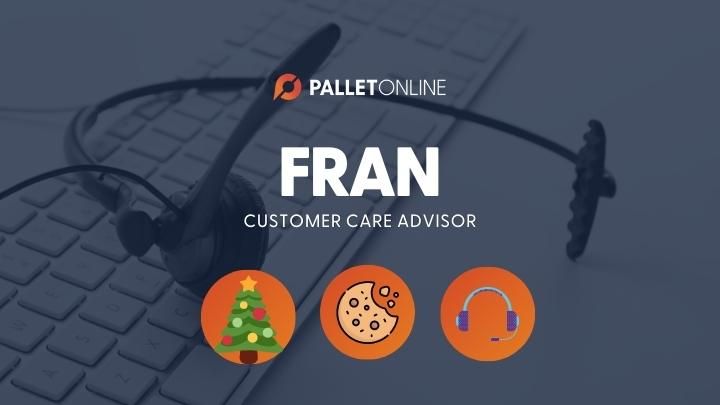 With Christmas just around the corner, we thought we'd spruce things up for this months Meet the Team blog!
In this blog, we'll be introducing you to Fran, one of our newest members of the customer care team.
We hope you enjoy our extra special festive interview; take it away!
Hi Fran! Tell us a bit about yourself and what you do here at PalletOnline
Hi, I work in the Customer Care team, helping and talking to customers on our Live Chat and phone, hopefully answering queries as best I can. I am the newest member in Customer Care and having no background in logistics, it has been a big learning curve and I am still learning new things every day!
Outside of work, I am a big gamer, I love playing video games, anything from the bigger RPGs to survival games. I even do a little live streaming on Twitch which I love as I have built up a lovely community of viewers and made some really good friends along the way.
Wow, nice! And what's the best thing about working in customer care?
Being able to help customers is always nice, in all situations from the easier queries to those where you have to delve a little deeper to resolve an issue. Of course, it can be stressful at times but overall, it is an enjoyable job for sure, especially here with such a lovely group of people!
Time for a very festive quick-fire round... let's go!
What's the best – or worst – Christmas present you've ever received?
Oh that's a tough one, I can't think of anything horrendous I've had for Christmas but I remember a good one last Christmas, getting a hand-carved wooden map of Middle Earth from Lord of the Rings, it is amazing so that has to be up there!
What Christmas film do you watch every year?
It has to be The Muppets Christmas Carol, I watch it every year on Christmas Eve! Elf and Love Actually have to be watched too. It's that debate on if it is a Christmas film, but I also watch Die Hard each year too.
Ahh yes, the old Die Hard debate. What do you think?
If you could travel anywhere for Christmas, where would you go?
I think I'd have to pick somewhere warm, I really don't like the cold so I could maybe see what a hot Christmas is like? Either that or go very cold and visit Finland for Lapland.
Roses, Heroes, Quality Street or Celebrations?
I think I'll have to go for Celebrations for those Malteaser ones! It's always a fight for those in my house!
Live scenes in the Fran household:


What is your all-time favourite Christmas song?
Quite a few good ones aren't there!? Maybe Fairytale of New York or whichever one that guy screams IT'S CHRISTMAS!
How early do you start decorating?
I usually wait for the start of December, can't do it too early!
Are you an early or last-minute shopper?
Over the last few years I have become a last-minute shopper but this year, I have surprised myself with actually being organised and having the majority of it done already!
Which of your coworkers do you think would make the best Christmas cookies?
I think Sue would make some cracking cookies, maybe I can drop some hints to her so we can test my theory?
Good call, but I think she's too busy tending to her horses!
Do you make New Year's resolutions? Have you ever completed one?
Definitely not, I did a couple of times when I was younger but I never stick to them, so now I think there is no point
Real tree or fake tree?
Fake for me, forget having all those needles everywhere, can't be bothered getting the hoover out that often!
Speaking of Christmas trees, did you know that a Christmas tree's favourite singer will always be Spruce Springsteen?
---
We hope you've enjoyed getting to know Fran in this very merry Meet the Team interview!
There will be a short break in our Meet the Team blogs while we find some new recruits, but don't worry, we'll still be rolling out some fresh content for you to enjoy!
Santa's Surprise
Fancy a festive five percent off this Christmas? Here's our gift to you!