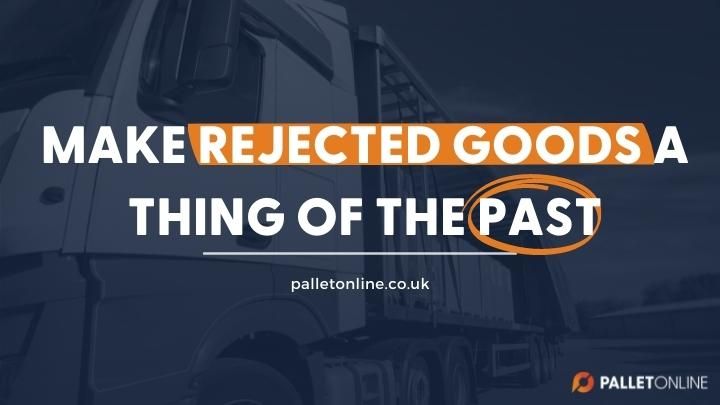 We get it. Rejected goods are a nightmare!
But with careful planning, you can rest assured knowing that your goods will arrive safely.
Want to ensure smooth delivery of your pallets? In this blog, we'll be revealing the most common reasons why goods get refused, and what you can do to get your goods accepted every time.
Why Do My Goods Get Rejected?
Your items may be rejected for a variety of reasons. Here are the four most common reasons for rejection.
Attempting To Send Prohibited Items
The primary cause of products being returned is sending an item that is inappropriate or prohibited.
If you're using a network-based pallet delivery service, they will likely have a predetermined list of prohibited or restricted goods. Examples of common prohibited items include:
Currency
Narcotics
Offensive material
Perishable goods
Fragile items
Undrained engines
Always check with your pallet carrier first, as they might have different restrictions.
Attempting To Send Damaged Goods
Damaged goods are another reason why your pallet might get rejected. If your goods are damaged before the driver collects them, your carrier will refuse to move them.
This is because pre-damaged goods are not covered by insurance.
If anything was to go wrong during your pallets' journey, it would be difficult to prove how much damage was made during transit, and what was already damaged prior to pick up.
Plus, the value of damaged goods would be difficult to determine when it comes to arranging compensation.
Damaged goods can cause mayhem for others, too. If your goods are damaged or unstable, they may tip over inside the trailer, causing further damage to both your and other customers' goods, too.
Sending the Wrong Sized Pallet
The third most common reason why your goods may get rejected is size discrepancy.
For example, if a pallet is booked as a full space when, in reality, your pallet exceeds the maximum dimensions of a full pallet, your goods may not be able to move forward.
Vehicles are carefully scheduled as per the number of pallet spaces booked. If your pallet is too big, there may be insufficient space in the trailer to load your goods.
Nobody Available to Receive the Goods
Believe it or not, we often see goods being rejected due to there being nobody at the collection point.
Many, if not all, couriers will never assume which pallet to collect, so it's up to the collection point to tell them.
If nobody is there to inform the driver, they will simply move on to the next job.
Make sure you double, even triple, check your collection and delivery dates.
Collections are typically made between 9am and 5pm, unless you have booked a timed collection, so you'll need to ensure someone is present between those times.
Why Does My Engine Have To Be Drained?
Unlike many other pallet carriers, PalletOnline will happily accept engines and gearboxes through the network, however, there are some rules that you must follow to ensure a smooth delivery.
Gearboxes and engines are notoriously difficult to transport due to the fluids inside them. Any spilt liquid can cause a lot of damage, however, oil is the most damaging of them all.
Not only is oil a slip-risk, capable of turning a stable trailer floor into a sinister ice rink, but it's also a highly flammable substance which could spell disaster in a warehouse full of wooden pallets!
Plus, due to its flammable nature, oil is classed as hazardous goods, which we aren't insured to carry.
To reduce the risk of your engine getting rejected, our handy blog will tell you all you need to know about shipping engines safely.
How Do I Stop My Goods from Getting Rejected?
We understand that rejected goods can be a complete and utter nightmare. They don't just result in delays and extra costs, but they can also cost you a customer and damage your own business' reputation.
That's why it's vital to follow your carrier's guidance to steer clear of refusals completely.
But how can you prevent rejected goods? Well, it all boils down to preparation and planning.
#1 - Read Through Your Courier's Restricted Goods List
It's a good idea to become familiar with the list of restricted or inappropriate goods, which can usually be found on your courier's website. It's best to be on the safe side and contact them if they don't have one.
#2 - Do NOT Send a Damaged Pallet
Before sending a pallet out for delivery, make sure to check your items and pallet thoroughly, and do not send them if there are any visible damages. When you ship with a pallet courier, they typically have their own insurance policy in case your products are damaged or lost during transit.
#3 - Pack Your Pallets Properly
It's vital that your goods are properly packaged on your pallet. Not only does packaging act as a cushion to protect your goods, but it also keeps them secure.
We recommend that you're liberal with the stretch wrap, as there's no such thing as "too much".
If you have them to hand, ratchet straps are another excellent way to secure your goods. Ratchet straps are especially important when you're sending oddly-shaped goods such as engines or gearboxes.
#4 - Check Your Booking Details
It's extremely important that you double-check your booking details on the order confirmation email to ensure everything is correct. Details worth checking over are addresses, contact info and number of pallet spaces. If any of your details are incorrect, you must get in contact with us to avoid further issues.
#5 - Notify Us of Any Access Issues
Many of our roads are notorious for being small and windy in nature, and sometimes, our larger 7.5-tonne vehicles may be unable to fit down them. If you suspect any access issues, you must inform us in your booking notes so we can send a smaller vehicle.
Why Is My Pallet Getting Held at Customs?
Now that the UK is no longer part of the European Union, customs has become much more strict.
That's why it's vital to ensure your goods are suitable and your documentation is correct, or you could face hefty fees!
The most common reason why your goods may become held or rejected at customs is due to an incorrect commercial invoice.
A commercial invoice is a legal export document that is required for shipping goods internationally. It includes information about your goods such as the total purchase price and weight.
If any information on your commercial invoice is declared incorrectly, your goods will likely be delayed, or even refused and returned. It's, therefore, vital that everything is accurate.
We've created a handy commercial invoice checklist so you'll never miss a thing!
If you're still unsure about how to create your commercial invoice, PalletOnline has a team of pallet delivery experts at hand, ready and waiting, to answer your questions. We're always happy to help.
---
We can all agree that rejected goods are an inconvenience for everyone, so we hope this article has given you an insight on how to avoid them and ensure your goods are delivered on time, every time.
Speaking of deliveries being on time, did you know PalletOnline has one of the highest success rates in the industry? Get your free, no-obligation quote today!